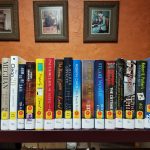 Be the first to check out read one of these new books!
The Art of Reading by Damon Young
A beautiful celebratory tribute to the powers of one of our most undervalued skills.
Clean 20 by Ian K. Smith
A guide to clean eating outlines a diet and exercise program for minimizing unhealthy processed foods as part of a lifestyle practice for weight loss, disease prevention, and overall better health, citing the importance of not eliminating food groups and meeting nutritional needs.
Cutting Edge by Jeffery Deaver
Returning to New York City after their Italian honeymoon, Lincoln Rhyme and Amelia Sachs investigate a new killer who targets newly engaged couples terrorizing the city.
The Family Gathering by Robyn Carr
After leaving the military, Dakota Jones visits Sullivan's Crossing to clear his head before moving on to his next adventure, but as he spends time with his siblings and becomes drawn to the simple way of life there, he finds the home and family he has always wanted.
A Higher Loyalty by James Comey
The former FBI director shares previously undisclosed experiences from some of the highest-stakes situations of his career, from Mafia prosecutions and the Martha Stewart scandal to the Bush administration's electronic surveillance and the Clinton email investigation.
How to Be Safe by Tom McAllister
A teacher, still furious over the injustice of being suspended over a so-called outburst, must deal with her town's relentless scrutiny and judgement after she is erroneously named as a suspect in a shooting at the school where she works.
Love and Ruin by Paula McLain
The best-selling author of The Paris Wife returns to her fan-favorite subject, Ernest Hemingway, in a tale set on the eve of World War II that is inspired by his passionate, stormy marriage to a fiercely independent, ambitious young Martha Gellhorn, who would become one of the 20th century's leading war correspondents.
The Mars Room by Rachel Kushner
A woman begins serving two life sentences at Stanville Women's Correctional Facility, deep in 2003 California's Central Valley, reflecting on the San Francisco of her youth and her relationship with her young son while navigating the harsh realities of a bare-essentials life of casual violence at the hands of the guards and her fellow inmates.
Meghan: A Hollywood Princess by Andrew Morton
By the New York Times best-selling author of Diana: Her True Story, comes a revealing biography of Meghan Markle, the American actress who won Prince Harry's heart.
My Friend Dahmer by Derf Backderf
In a graphic novel that was originally self-published, the author offers an account of growing up in the same schools as Jeffrey Dahmer, who went on to become one of the most notorious serial killers and cannibals in U.S. history.
Property by Lionel Shriver
A collection of 10 short stories and two novellas by the author of the National Book Award finalist, So Much for That, is set in America and Britain and explores the dynamics of real estate and personal possessions and how they act as both revelatory proxies and the catalysts of power dynamics in relationships.
Robert B. Parker's Old Black Magic by Ace Atkins
After a Boston journalist receives paint chips from a painting stolen decades earlier, private investigator Spenser enters the shady world of black market art dealers, aged Mafia bosses, and vendettas in hopes of locating it.
Shoot First by Stuart Woods
New York City cop-turned-Manhattan law firm rainmaker Stone Barrington navigates a case that becomes so scandalous that it tests the limits of his skills and credibility.
Sixth Day by Catherine Coulter
When several major political figures who are linked to sophisticated drone assassinations die under mysterious circumstances, the Covert Eyes team follows leads to a wealthy cybersecurity genius and descendant of Vlad the Impaler who is desperate to unlock the secret of curing his severely ill twin brother's blood disorder.
The Thief by J. R. Ward
Longing for the man she left behind when she ran from a drug lord's family, former cat burglar Sola Morte returns to her past when he falls into a coma, but his secret may have her running again.
Twenty-One Days by Anne Perry
Daniel Pitt, the young lawyer son of London's Special Branch investigation team leader Thomas Pitt, puts himself at odds with his father as he races against time to save his client, an arrogant biographer, from execution.