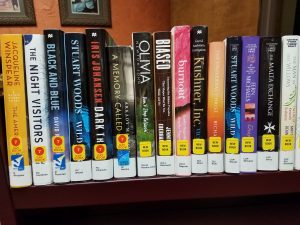 Murder mysteries that take place on both sides of the Atlantic, as well as in a universe of the future, are part of this week's new books.  Books providing insight into hidden bias, burnout, politics, and spiritual perspectives are also on the shelf.
American Agent by Jacqueline Winspear
Coordinating an effort between Scotland Yard and the Secret Service, Maisie Dobbs investigates the murder of an American war correspondent in London during the Blitz.
Biased: Uncovering the Hidden Prejudice by Jennifer Eberhardt
A leading expert on unconscious racial bias examines the manifestations of automatic racism in contemporary society and how they influence race relations and criminal justice.
Black and Blue by David Rosenfelt
The cold case department is checking evidence from a murder case Officer Doug Brock was investigating before he was shot in the line of duty, but the DNA points to a man Doug eliminated as a suspect.
Burnout: The Secret to Unlocking the Stress Cycle by Emily Nagoski
With insights from the latest science, prescriptive advice, and helpful worksheets and exercises, the author explains why rest, human connection, and befriending your inner critic are key to recovering from and preventing burnout.
Dark Tribute by Iris Johansen
Kidnapped by a mysterious adversary from her grandfather's past, violin prodigy Cara Delaney struggles to escape and protect her loved ones from becoming casualties of dark forces from her tragic childhood.
Don't Stop Believin' by Olivia Newton John
A legendary musician, actress, activist and icon reveals her life story—from her unforgettable rise to fame in the classic musical Grease to her passionate advocacy for health and wellness in light of her battles with cancer.
Kushner, Inc. by Vicky Ward
The investigative journalist and best-selling author of The Liar's Ball traces the controversial rise of Jared Kushner and Ivanka Trump, exploring their personal lives, relationships and agendas to offer cautionary insights into their toxic political influence.
Memory Called Empire by Arkady Martine
Taking over for an ambassador who died a suspicious death, Mahit Dzmare investigates the potential murder while navigating the alien culture of the multi-system Teixcalaanli Empire, which is hiding a technological secret that could impact the universe.
Night Visitors by Carol Goodman
A social worker living alone in a run-down house in the woods offers shelter to a young boy and a woman fleeing an abusive relationship before their lives are threatened by dangerous secrets.
Universal Christ: How a Forgotten Reality Can Change Everything We See, Hope For, and Believe
by Richard Rohr
Drawing on history, theology and psychology, a globally recognized ecumenical teacher paints a new portrait of Jesus Christ, dispelling preconceived notions of culture, nationalism and even Christianity and providing readers with a broad and science-friendly spiritual perspective.
Wild Card by Stuart Woods
A peaceful country retreat with his latest paramour is interrupted by an unknown, ruthlessly vengeful adversary who orchestrates multiple plots targeting Manhattan rainmaker Stone Barrington and his associates.