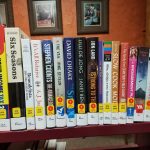 What do you want to learn this year?  There are resources in this week's new books to help with several areas from genealogy (learn tools for locating tombstones, learn how one man attempts to coordinate the biggest family tree in history), home decor (learn to decorate in retro style, learn how to organize with a pleasing look), finance (learn how to prepare your 2017 tax return, learn the best strategies for taking money out of your retirement plans), cooking (learn some great modern recipes for slow cookers, learn the best ways to make use of garden grown produce), knitting (learn how to make mittens), or just fun facts (learn almost anything about 2017).
The Alice Network by Kate Quinn
In 1947, pregnant Charlie St. Clair, an American college girl banished from her family, arrives in London to find out what happened to her beloved cousin Rose, who disappeared in Nazi-occupied France during the war, and meets a former spy who, torn apart by betrayal, agrees to help her on her mission.
Armageddon File by Stephen Coonts
When a new President-elect's chief of staff discovers evidence of vote tampering, the validity of the election is brought into question at the same time the agendas of dangerous adversaries are revealed.
The Engagement Plot by Krista Phillips
Six months after Hanna had her heart shattered by Will on national television, Will arrives in her hometown looking for forgiveness and a pretend engagement.
Family Tree Cemetery Field Guide by Joy Neighbors
Cemeteries are crucial for any genealogist's search, and this book will help you discover tools for locating tombstones, tips for traipsing through cemeteries, an at-a-glance guide to frequently used gravestone icons, and practical strategies for on-the-ground research.
It's All Relative by A. J. Jacobs
The best-selling author of The Year of Living Biblically traces his three-year investigation into what constitutes family, describing how after receiving an e-mail from a stranger who claimed to be a distant cousin, he embarked on an effort to build the biggest family tree in history.
J.K. Lasser's Your Income Tax 2018 by J K Lasser Institute
The latest edition of the classic tax-preparation guide includes usable tax forms, thousands of tips and strategies, up-to-date coverage of the nation's tax laws, filing advice, a quick-reference section highlighting recent changes, links to online forms and tax-preparation help and a quick topic index that helps readers find the right deductions.
Lilli de Jong by Janet Benton
Banished from her Quaker home and teaching job after being abandoned by her lover, a pregnant woman gives birth at an institution for unwed mothers in 1883 Philadelphia and refuses to give the child up, braving moral condemnation and poverty in her resolve to support her baby.
The Mindful Way to a Good Night's Sleep by Tzivia Gover
A certified dream specialist, combining the aspects of dream work and mindfulness, presents an all-natural wellness program—which includes lifestyle advice, yoga poses, simple meditations, journaling prompts, breathing exercises and more—that aims to foster restful sleep and positive dreaming.
The Mitten Handbook by Mary Scott Huff
The Mitten Handbook provides a list of mitten ingredients (thumbs, cuffs, tops, edgings, and different constructions), then outlines the best tools and techniques for readers to combine them to knit their own unique creations.
Modern Retro Home by Jason Grant
Jason Grant takes us inside homes that embrace aesthetics from the 60s, 70s, and other classic decades of design, and walks us through why the styling of each room works.
Remodelista: The Organized Home by Julie Carlson
The founders of an inspirational home lifestyle website offer a visual guide to organizing your belongings and living spaces, turning areas of clutter into stylish, purposeful and personal spaces, from the medicine cabinet to the bedroom closet.
Six Seasons: A New Way with Vegetables by Joshua McFadden
A chef and "vegetable whisperer" offers 225 vegetable-centric recipes that provide a new way to view and utilize their attributes throughout their growing seasons.
Slow Cook Modern by Liana Krissoff
Liana Krissoff offers modern slow cooker recipes that are sophisticated, full of flavor and spice, and thoughtfully designed for those who wish to use their slow cookers on weekdays, when they can leave the Crock-Pot on all day.
The Spark by David Drake
Pal, a rural youth who can wield weapons of the ancient civilization, heads to the capital, Dun Add, to seek out the Leader and to become a Champion and maintain law and justice in this universe and beyond.
Strong to the Bone by Jon Land
Fifth generation Texas Ranger Caitlin Strong pursues a killer who eluded her grandfather more than half a century earlier, a case that reveals a conspiracy connecting a World War II-era Nazi POW camp and a modern-day neo-Nazi gang.
The Vanishing Season by Joanna Schaffhausen
Ellery Hathaway, a police officer who hides her identity as a serial killer's only surviving victim, fears that someone has discovered her secret when three people from her quiet town disappear, and reaches out to the FBI agent who saved her years earlier for help.
Wolf's Revenge by Lachlan Smith
Attorney Leo Maxwell defends a young woman who was manipulated into murdering a white supremacist in San Francisco's Tenderloin district, bringing unexpected trouble to his own family.
World Almanac and Book of Facts 2018 by Sarah Janssen
Containing thousands of facts that are unavailable publicly elsewhere, the 2018 150th anniversary edition of a best-selling reference reviews the events of 2017, providing information and trivia in areas from history and sports to geography, pop culture and much more, in a book that has a special section called "150 Years of The World Almanac." Simultaneous.