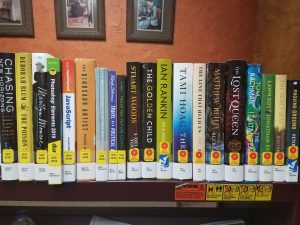 Science and technology take the front row on this week's shelf of books.  Four of our selections are listed on the Smithsonian's Ten Best Science Books of 2018 list, four more will help you improve your technology skills, and another will develop your inner scientist in the garden.
Blogging for Dummies by Amy Lupold Blair
Blair presents detailed information about blogging, discussing how to set up and maintain a blog, find the right audience, add photographs and audio, use social networks for promotions, and explore money making options.
The Boy by Tami Hoag
When a 7-year-old boy is brutally murdered at the same time his 13-year-old babysitter goes missing, detectives Nick and Annie sift through a grieving mother's troubled past to uncover the truth.
Chasing New Horizons: Inside the Epic First Mission to Pluto by Alan Stern
Stern shares a behind-the-scenes account of the science, politics, egos, and public expectations that shaped the New Horizons' mission to Pluto and beyond, citing the endeavor's boundary-breaking achievements and how they reflect the collective power of shared human goals.  (One of Smithsonian's Ten Best Science Books of 2018)
Delicate Touch by Stuart Woods
Asked by an old acquaintance for help solving a tricky puzzle, Stone Barrington unwittingly stirs up a decades-old scandal in high-society New York and must risk his life to protect innocent lives.
The Dinosaur Artist: Obsession, Betrayal, and the Quest ­for Earth's Ul­ti­mate Tro­phy by Paige Williams
A New Yorker staff writer analyzes the perilous world of the international fossil trade through the story of one man's devastating effort to sell a Gobi Desert dinosaur skeleton from a nation that forbids natural-history trafficking.  (One of Smithsonian's Ten Best Science Books of 2018)
Facebook, Twitter, and Instagram for Seniors by Marsha Collier
Collier offers advice on how to enjoy the three most popular social media options while avoiding worry about who sees what you share.
The Golden Child by Wendy James
After moving back to Australia, Beth Mahony is forced to examine her children's actions when her daughter Charlotte is accused of bullying.
In a House of Lies by Ian Rankin
When the remains of a private investigator who went missing a decade earlier are discovered, Siobhan Clarke uncovers disturbing evidence implicating her mentor, Inspector Rebus.
It's Not Supposed to be This Way by Lysa Terkeurst
Offers advice for readers suffering from disappointment and disillusionment, counseling them to see disappointments as opportunities to encounter God, and advising them of better ways to process unmet expectations.
The Italian Teacher by Tom Rachman
An Italian youth raised to revere the genius artist father who abandoned their family strives to become worthy of his father's attentions through a series of failed career pursuits before he hatches a scheme to secure his father's legacy.
JavaScript in 24 Hours by Phil Ballard
Designed for beginners with no previous programming experience, this book's straightforward, step-by-step approach shows you how to use JavaScript to add a wide array of interactive features and effects to your web pages.
Lawn Boy by Jonathan Evison
Faced with a life of menial prospects in the years after high school, Mike Muänoz, a young Mexican-American, attempts over and over to change his life for the better and achieve the American dream, only to be stymied by social-class distinctions and cultural discrimination.
The Line that Held Us by David Joy
A deer hunter and his friend cover up the accidental shooting death of a man from a notoriously violent family, who discover the crime and retaliate in nightmarish ways.
Marilyn Monroe: The Private Life of a Public Icon by Charles Casillo
Casillo draws on new research and interviews to reveal how Monroe's traumatic childhood contributed to her struggle with bipolar disorder and impacted her career and personal life.
The Mercy Seat by Elizabeth H. Winthrop
In the hours leading up to the scheduled execution of a black teen for the alleged rape of a white woman in 1943 Louisiana, the convicted boy, his father, the District Attorney, and other townspeople consider what the execution means to their community.
Photoshop Elements 2019 for Dummies by Barbara Obermeier
Photoshop Elements 2019 For Dummies offers photographers of all skill levels the power to turn run-of-the-mill digital pictures into beautiful photographs.
The Poison Squad: One Chemist's Single-Minded Crusade for Food Safety at the Turn of the Twentieth Century by Deborah Blum
Blum relates the story of Dr. Harvey Washington Wiley and his thirty-year campaign for food safety and consumer protection, describing the battle with American corporations to enact government regulations against harmful food additives.  (One of Smithsonian's Ten Best Science Books of 2018)
Proving Ground by Peter Blauner
When Nathaniel Dresden's father is found murdered near the peaceful confines of Brooklyn's Prospect Park, he is forced to deal with the troubled legacy of their unresolved relationship and with the growing suspicions of NYPD Detective Lourdes Robles, a brash Latina cop with something to prove, who thinks Natty might bear some responsibility for his father's death.
Seed Garden: The Art and Practice of Seed Saving by Lee Buttala
Filled with advice for the home gardener and the more seasoned horticulturist alike, The Seed Garden: The Art and Practice of Seed Saving provides straightforward instruction on collecting seed that is true-to-type and ready for sowing in next year's garden.
The Three Secret Cities by Matthew Reilly
When his victory in the Great Games throws the four legendary kingdoms into turmoil, Jack West, Jr. races to find the Three Secret Cities to protect the world from vengeful shadow forces.
Travel as a Political Act by Rick Steves
Steves presents advice on traveling to different countries of the world as a way of increasing our understanding of different cultures and political systems, and appreciating the interconnectedness within the global community.
What the Future Looks Like by Jim Al-Khalili
Taking in genomics, robotics, AI, synthetic biology, interstellar travel and more, an award-wining science writer and his team of experts, drawing on their mastery of revolutionary scientific research, predict what advancements will shape the future just around the corner and beyond.  (One of Smithsonian's Ten Best Science Books of 2018)