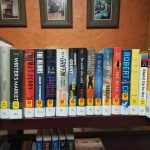 Lots of suspense and thrills by old favorites such as James Lee Burke, Jayne Ann Krentz, Robert Crais, and W.E.B. Griffin plus several that include characters that are forced to confront their past.  Maybe you would like to try your hand at writing your own bestseller after perusing Writers Market 2018 by Robert Lee Brewer.
Ants among Elephants by Sujatha Gidla
A woman, born as an "untouchable" into the Indian caste system, describes how she was educated by Canadian missionaries in the 1930s and what it was like growing up in a world full of poverty and injustice but also full of incredible possibility.
Wall Street Journal Top 10 Nonfiction Book of 2017; Publishers Weekly Best Book of 2017; Shelf Awareness Best Book of 2017
Beneath a Scarlet Sky by Mark Sullivan
A teenage boy in 1940s Italy becomes part of an underground railroad that helps Jews escape through the Alps but is forced by his parents to enlist as a German soldier for his own protection, where he becomes a spy for the Allies.
The Blinds by Adam Sternbergh
Helping maintain an uneasy peace in The Blinds, a rural Texas community of criminal misfits who were given a chance at a new life after having their memories altered, sheriff Calvin Cooper struggles with personal secrets in the wake of a suicide and murder.
Edgar Award-nominated author; BOLO Top Read of 2017;  PopSugar Best Book of 2017
Bomb Maker by Thomas Perry
When half of the entire LAPD Bomb Squad is obliterated by an explosion, the unit turns to Dick Stahl to put an end to the bomb-building mastermind who is funded by a shadowy organization intent on destroying the Bomb Squad itself.
Coldwater by Samuel Parker
When ex-convict Michael returns to his hometown, he finds himself hunted by men from his past, but a powerful, sinister force within him may protect him–or destroy everything in his path.
Death at Nuremberg by W. E. B. Griffin
Assigned to the Nuremberg war trials to protect the chief prosecutor from a rumored kidnapping, special agent James Cronley, Jr., finds himself fighting wars on multiple fronts as he also hunts down an organization that helps Nazi war criminals escape to South America.
False Witness by Andrew Grant
Investigating the disappearances and murders of women on sequential birthdays, Detective Devereaux makes a high-profile arrest, only to discover that the wrong person has been taken into custody, a situation that leads to a race against time to prevent another killing.
Firefly Cove by Davis Bunn
Lucius Quarterfield, terminally ill but determined to make every moment count in the time remaining to him, returns to the home of his youth to reunite with the only woman he ever loved.
He Said/She Said by Erin Kelly
Traveling to a festival in Cornwall to see a total eclipse, an eclipse chaser and his girlfriend intervene in a crime that they cannot prove until a dangerous enemy's activities during a subsequent eclipse force them to confront the past.
It's Complicated: The Social Lives of Networked Teens by Danah Boyd
Surveys the online social habits of American teens and analyzes the role technology and social media plays in their lives, examining common misconceptions about such topics as identity, privacy, danger, and bullying.
The Music Shop by Rachel Joyce
The owner of a 1988 music shop in a down-at-heel suburban community uses his talent for connecting customers to the music they seek and resists a chance at an intimate relationship with a beautiful young woman who hides a mysterious agenda and compels him to confront painful elements from his past.
Promise Not to Tell by Jayne Ann Krentz
After one of her artists sends her a painting before apparently taking her own life, Seattle gallery owner Virginia teams with private investigator Cabot to catch the true killer and uncover the truth about the cult they were a part of as children.
Robicheaux by James Lee Burke
While investigating a homicide, Dave Robicheaux, who is struggling with PTSD, alcoholism, and the loss of his wife, suspects he may have been the killer and endeavors to clear his name and make sense of the killing.
Stand Up to the IRS by Frederick W. Daily
Provides information, tips and strategies for dealing with the IRS, including how to prepare for an audit, how to protect your assets and reduce tax penalties, avoid property seizures, stop collection efforts and appeal the auditor's decision.
Vanity Fair Diaries by Tina Brown
The diaries of the author's years as editor-in-chief of "Vanity Fair" provide a portrait of the 1980s in New York and Hollywood, describing her summons from London to save Condé Nast's troubled periodical and her experiences within the cutthroat world of glamour magazines.
The Wanted by Robert Crais
Investigator Elvis Cole and his partner, Joe Pike, take on a case involving a client who fears her troubled teen son is dealing drugs, an investigation that reveals the young man's role in a string of high-end burglaries that have resulted in a murder and a disappearance.
Woman in the Window by A. J. Finn
An agoraphobic recluse languishes in her New York City home, drinking wine and spying on her neighbors, before witnessing a terrible crime through her window that exposes her secrets and raises questions about her perceptions of reality.
Writer's Market 2018 by Robert Lee Brewer
The standard guide for writers contains more than 3,500 up-to-date entries, along with submission information, editorial requirements, interviews with successful writers, thousands of phone and fax numbers, email addresses and guidance on how much to charge for freelancing.