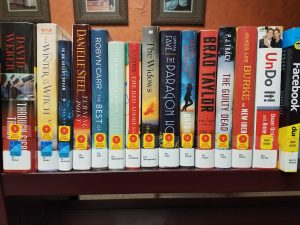 This week's shelf offers some next-in-series books including characters Dave Robicheaux, Pike Logan, and Vasya, the heroine of the Winternight series, in addition to books by other favorite authors and some new authors to discover.
The Best of Us by Robyn Carr
During her aunt Helen's visit, Dr. Leigh Culver takes her to Sullivan's Crossing, where each meet someone special and must decide if they are ready to take a risk on love.
Burned: A Story of Murder and the Crime That Wasn't by Edward Humes
The Pulitzer Prize-winning author of No Matter How Loud I Shout reveals key flaws in forensic science that have sent thousands of innocent people to jail, tracing the 1989 story of a wrongly convicted mother of three.
Daughter of War: A Pike Logan Thriller by Brad Taylor
Pike Logan and the Taskforce uncover a Syrian plot to create a weapon of mass destruction against American and Kurdish forces, a situation that is complicated by a violent North Korean retaliation against western sanctions.
Facebook for Dummies by Carolyn Abram
Abram provides the trusted guidance you need to set up a profile, add content, and apply the many tools Facebook provides to give you control of your content. but also how to make sure you control who sees—and doesn't see—your posts.
The Guilty Dead by P.J. Tracy
When a philanthropist is found dead under suspicious circumstances on the anniversary of his son's fatal overdose, Monkeewrench computer genius Grace MacBride assists the Minneapolis police to connect the case to a plot threatening hundreds of lives.
In an Absent Dream by Seanan McGuire
The story of Lundy, a very serious young girl who would rather study and dream than become a respectable housewife and live up to the expectations of the world around her.
The New Iberia Blues by James Lee Burke
The shocking death of a young woman leads detective Dave Robicheaux into the dark corners of Hollywood, the mafia and the Louisiana backwoods.
PCs for Dummies by Dan Gookin
Gookin tells you how to make a PC purchase, what to look for in a new PC, how to work with the latest operating system, ways to protect your files, what you can do online, media management tips, and even basic topics you're probably too shy to ask a friend about.
The Paragon Hotel by Lyndsay Faye
Fleeing to Oregon from New York City in 1921, Alice James takes refuge in the city's only black hotel and helps new friends search for a missing child, hide from KKK violence, and navigate painful secrets.
The Red Address Book by Sofia Lundberg
Living alone in her Stockholm apartment, a ninety-six-year-old woman reminisces through the pages of a long-kept address book before starting to write down stories from her past, unlocking family secrets in unexpectedly beneficial ways.
Through Fiery Trials by David Weber
The initial relief of the war's end between the island realm of Charis and the radical Luddite Church of God's Awaiting turns to diligence for cybernetic avatar Merlin and the colonies of Safehold when dangerous ancient secrets emerge.
Troubleshooting and Maintaining Your PC by Dan Gookin
Gookin provides information on personal computer maintenance and repair, covering such topics as hardware, software, networking, device manager, system restore, and security.
Turning Point by Danielle Steel
Chosen for their elite records to work with Parisian counterparts in a mass-casualty training program, four trauma doctors from a busy San Francisco hospital confront unexpected and exciting new challenges that force them to make life-shaping choices.
Undo It!: How Simple Lifestyle Changes Can Reverse Most Chronic Diseases by Dean Ornish
The founder of the Preventive Medicine Research Institute outlines scientifically based recommendations for reversing heart disease and other chronic health problems through lifestyle changes designed to slow cellular aging.
Untouchable by Jayne Ann Krentz
Engaging in deep meditation therapy to navigate the darkness of his work as a cold-case arson investigator, FBI consultant Jack Lancaster is targeted by a returned Quinton Zane, who has resolved to eliminate Anson Salinas's foster sons.
Water Cure by Sophie Mackintosh
Raised on an isolated island where they are ritualistically taught to fear men, three sisters engage in a psychologically and sexually charged game of cat-and-mouse with three strangers who wash ashore during a blistering summer week.
The Widows by Jess Montgomery
Vowing revenge against her sheriff husband's killers in 1924 Ohio, Lily Ross offers help to a fellow widow and uncovers dangerous evidence revealing her husband's corrupt secret life and the complexities that triggered his death.
Winter of the Witch by Katherine Arden
After Moscow is struck by disaster and a wicked demon determined to spread chaos returns, Vasya joins with the winter king Morozko to battle mortal and magical enemies in an effort to save both the seen and unseen Russias.