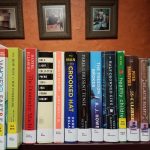 If you are planning to do more healthy cooking this year, you might want to check out the How Not to Die Cookbook or the Whole30 Fast & Easy Cookbook.  If you are just wanting to eat out less, Dining In: Highly Cookable Recipes just might be the ticket.  All three cookbooks are part of this week's line up along with a new quilt book, a book for writers, some new exciting fiction, and more.
Babylon's Ashes by James S. A. Corey
Summoned by the remnants of old political powers for a desperate mission to reach Medina Station at the heart of the gate network, James Holden and the crew of the Rocinante are challenged by alliance vulnerabilities, an alien mystery, and a band of desperate vigilantes.
Ballad of Black Bart by Loren D. Estleman
The four-time Shamus Award-winning author of Cape Hell depicts the suspenseful Old West rivalry between a legendary Wells Fargo chief of detectives and a notorious stagecoach robber who between heists poses as an upper-class San Francisco gentleman.
Dining In: Highly Cookable Recipes by Alison Roman
This debut cookbook from the former senior food editor at Bon Appétit pairs trendsetting, quality recipes with beautiful photos and warm and edgy commentary and titles like "Shrimp in the Shells with Lots of Garlic and Probably Too Much Butter."
Doomsday Machine: Confessions of a Nuclear War Planner by Daniel Ellsberg
The Nuclear Age Peace Foundation Senior Fellow and iconic whistleblower who revealed the Pentagon Papers presents an eyewitness exposé of the dangers of America's secret, long-standing nuclear policy.
Draft No. 4: On the Writing Process by John McPhee
A guide to writing long-form nonfiction is presented as a series of lighthearted essays that share insights into the lessons the author has learned on the writing process during his years at Princeton University.
The Freedom Broker by K. J. Howe
Kidnap negotiator Thea Paris' worst nightmare comes true when her father is kidnapped and the only way to rescue him may involve an unthinkable sacrifice.
Frommer's Hawaii 2018 by Martha Cheng
Frommer's Complete Guides are packed with dazzling photos and detailed , opinionated and honest reviews, giving you the low-down on what's worth your trip and what's not. The destinations are broken down into easy to navigate sections and include a full size pull out map to help you plan the perfect trip.
Half-Drowned King by Linnea Hartsuyker
Betrayed by his usurping stepfather during his return trip to his ancestral lands, young warrior Ragnvald Eysteinsson resolves to exact revenge at the side of Norse fighter Harald of Vestfold, who is rumored to be a prophesied king.
Half-Light: Collected Poems 1965-2016 by Frank Bidart
The collected poems of the award winning American poet Frank Bidart.
How Not to Die Cookbook by Michael Greger
The author of the best-selling How Not to Die presents a fully illustrated companion cookbook of health-bolstering, plant-based recipes based on the latest nutrition science, from Superfood Breakfast Bites and Spaghetti Squash Puttanesca to Two-Berry Pie with Pecan-Sunflower Crust.
If We Make It Home by Christina Suzann Nelson
After learning that Hope, their friend from college has died, Jenna, Ireland, and Vicky embark on a wilderness adventure in her honor.
Locking Up Our Own by James Forman
Examines the debates surrounding the criminal justice system and its activities involving mass incarceration, aggressive police tactics, and their impact on at-risk people of color and beleaguered law-enforcement officers.
The Man in the Crooked Hat by Harry Dolan
Having spent two years searching for the man he believes murdered his wife, private investigator Jack Pellum follows a bewildering message to a winding trail of unsolved murders and a philosophical man with a dark and secret past.
Paris in the Present Tense by Mark Helprin
When faced with a series of challenges to his principles, livelihood and home, Jules—a 74-year-old maître at Paris-Sorbonne, cellist, widow, veteran of the war in Algeria and child of the Holocaust—must confront his complex past and find a way forward.
Spy of the First Person by Sam Shepard
A novel that tells in a brilliant braid of voices the story of an unnamed narrator who traces, before our rapt eyes, his memories of work, adventure, and travel as he undergoes medical tests and treatments for a condition that is rendering him more and more dependent on the loved ones who are caring for him.
Whole30 Fast & Easy Cookbook by Melissa Hartwig
A Whole30-diet-compliant cookbook includes kitchen hacks and easy recipes for making meals in 30 minutes or less using widely-available ingredients found in any supermarket
Wise Craft Quilts by Blair Stocker
In Wise Craft Quilts, celebrated quilt designer and crafter Blair Stocker shares ways to use cherished fabrics, such as a wedding dress, baby's first clothes, or worn denim, to make quilts with more meaning.