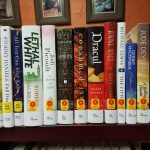 October seems a fitting month to offer a book about leading vampire Prince Lestat and another book about how Dracula came to be.  All this and more in this week's list.
Alaskan Holiday by Debbie Macomber
Josie Avery takes a summer position cooking at a lakeside lodge in a remote Alaskan town and quickly falls for Palmer Saxon, a famed sword smith, but Josie intends to return home to her career in Seattle, until fate intervenes.
All You Can Ever Know by Nicole Chung
A Korean adoptee who grew up with a white family in Oregon discusses her journey to find her identity as an Asian American woman and a writer after becoming curious about her true origins.
Blood Communion: A Tale of Prince Lestat by Anne Rice
Navigating his new leadership of the vampire world, Lestat uncovers the story of a mysterious outcast demon who he traces to 18th-century Petersburg and the court of Empress Catherine.
Consumed by J. R. Ward
A demoralized arson investigator examines a suspicious series of fires that compel her partnership with an elite firefighter who navigates his demons to protect her from a murderous arsonist.
Dracul by Dacre Stoker
A prequel to Dracula, based on original author notes and co-written by a family descendant, reveals the iconic vampire's origin story, the early years of Bram Stoker and the tale of the enigmatic woman who connected them.
An Easy Death by Charlaine Harris
In this alternate history where the US has collapsed during WWII and been split into five different countries, including the southwestern territory of Texoma, Gunnie Lizbeth Rose is hired by two Russian magicians to find Alex Karkarov, and his family, as they need to bring them back to the New Russia-held west coast states for the blood of the Karkarov line is healing to the ruling family.
Fifth Risk by Michael Lewis
The best-selling author of Liar's Poker presents a narrative account of the post-2016 election chaos that took over Washington to reveal how a small number of uninformed Trump appointees are triggering devastating world consequences.
Full Disclosure by Stormy Daniels
Adult film star Stormy Daniels tells all in Full Disclosure, a behind-the-scenes memoir sharing her childhood journey to the national stage, featuring never-before-revealed intimate details of her relationship with Donald Trump.
Hope in the Dark: Believing God is Good… by Craig Groeschel
In Hope in the Dark, Groeschel explores the story of the father who brought his demon-possessed son to Jesus, saying, "I believe! Help my unbelief!"
Labyrinth of Spirits by Carlos Ruiz Zafon
In late 1950s Barcelona, Bea, the wife of Daniel Sempere, and his friend Fermâin are trying to help him recover from the mysterious death of his mother when a woman offers to lead him to the secret of his family's past.
Lethal White by Robert Galbraith
When a troubled young man asks him to investigate a crime he thinks he saw as a child, Cormoran Strike sets off on a twisting trail that leads from London's backstreets, into a secretive inner sanctum within Parliament, and to a country manor house.
A Spark of Light by Jodi Picoult
When a deranged gunman forces his way into the Center, a women's reproductive health services clinic, and takes hostages, the police hostage negotiator discovers his daughter is inside the clinic.
Where the Dead Sit Talking by Brandon Hobson
Literally and figuratively scarred by his unstable upbringing, Cherokee teen Sequoyah is placed in foster care with the Troutt family, and bonds with fellow foster child Rosemary, who shares his Native American background and tumultuous past.
Whiskey in a Teacup by Rees Witherspoon
The award-winning actress reflects on her Southern heritage and how it is infused into every part of her life, and shares some of her grandmother Dorothea's favorite recipes and traditions.
A Willing Murder by Jude Deveraux
After two bodies are found in a quiet Florida community, old secrets and deadly grudges are exposed, prompting retired novelist Sara Medlar, her niece Kate, and long-term houseguest Jackson to team up to try to unmask the killer.