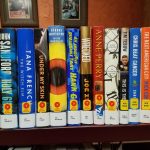 If you recognize the name Hannah Swensen, William Monk, Virgil Flowers, Dalton Lee, or Isaiah Quintabe then know that we have the latest book in the series on this week's list.  And if you aren't sure what to read next, check out the mother-of-all lists by James Mustich.
1,000 Books to Read Before You Die by James Mustich
A celebration of the reading life presents a cross-genre, historically representative compendium of one thousand works of literature, complemented by essays on each book's particular relevance.
An Absolutely Remarkable Thing by Hank Green
The first to document the appearance of the Carls, giant robot-like statues popping up around the world, April May finds herself at the center of an intense international media spotlight that puts her relationships, identity and safety at risk.
Chris Beat Cancer by Chris Wark
Wark, a colon cancer survivor who opted against chemotherapy and radiation, provides the toxin-free diet, lifestyle, and therapy guidelines he used to help himself heal.
Christmas Cake Murder by Joann Fluke
Juggling the responsibilities of opening her shop with the demands of Christmas, Hannah Swensen is surprised by the writing talents of an elderly local whose murder story chillingly comes true.
The Clockmaker's Daughter by Kate Morton
More than 150 years after an artist's retreat on the banks of the Upper Thames ends in murder, theft and ruin, a London archivist is drawn by a striking photograph and a sketchbook to discover a manor's secrets.
Dark Tide Rising by Anne Perry
A ransom exchange gone violently wrong forces Commander William Monk to investigate the unthinkable possibility that one of his own men has betrayed him.
Holy Ghost by John Sanford
A mayor's half-baked scheme to revive a floundering Minnesota community by turning it into a religious shrine is thrown into chaos by the discovery of a body.
Killing Commendatore by Haruki Murakami
A portrait painter deals with the upcoming divorce from his wife by moving into an old house in rural Japan that used to belong to a famous artist.
Murder Becomes Mayfair by Jeffrey Eaton
Scotland Yard asks Dalton Lee and his team of architect/detectives to come to London to help them solve the murder of a Savile Row tailor whose body bears the infamous calling card of the cult terrorist group, The Organization.
Next American City by Mick Cornett
The four-term Oklahoma City Mayor profiles working examples of civic engagement, inventive public policy and smart design in dynamic and inventive urban centers that are predicted to lead a near-future America.
This is the Day by Tim Tebow
The NFL star, media icon and best-selling author of Shaken shares motivational advice on how readers can tap their inner courage and overcome fear-based obstacles in order to pursue their dreams.
Under My Skin by Lisa Unger
Emerging from grief a year after her beloved husband's unsolved murder, a haunted widow has nightmares and blackouts before realizing she is trapped in a surreal game of cat and mouse.
Winter in Paradise by Elin Hilderbrand
When Irene Steele discovers that her husband is dead, she is shocked to find out he died on the white, sandy beaches of St. John where he kept a secret, second family.
Witch Elm by Tana French
Left for dead by burglars while partying with friends, a happy-go-lucky charmer takes refuge at his dilapidated ancestral home before a grisly discovery reveals an unsuspected family history.
Wrecked by Joe Ide
With a full-fledged partner and a legitimate business marking him as successful, Isaiah Quintabe finds a meaningful new connection when a young painter approaches him for help tracking down her missing mother.