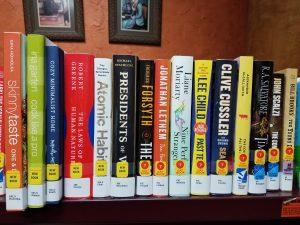 Although January is usually the month for resolutions of self-improvement, you can get a jump-start on the project with this shelf of books by learning to trade bad habits for good ones, cook like a pro or at least cook healthy, redecorate your home in a minimalist style, increase your knowledge of history, or better understand the motivations of other people.
Atomic Habits by James Clear
One of the world's leading experts on habit formation reveals practical strategies that will teach readers exactly how to form good habits, break bad ones and master the tiny behaviors that lead to remarkable results.
The Colors of All the Cattle by Alexander McCall Smith
Mma Ramotswe reluctantly agrees to run for the city council when a developer announces plans to build a flashy hotel beside a graveyard, while Charlie volunteers to be the lead investigator in a case that lands him in hot water.
The Consuming Fire by John Scalzi
Interdependency leader Emperor Grayland II races to safeguard humanity's interstellar empire from the collapse of the extra-dimensional conduit that billions depend on for survival.
Cook Like a Pro by Ina Garten
The James Beard Award-winning host of Barefoot Contessa, Ina Garten, shares a brand-new collection of recipes, tips, and techniques, so readers can cook with confidence no matter how much experience they have in the kitchen.
Cozy Minimalist Home by Myquillyn Smith
A popular Nesting Place blogger explains that cozy doesn't have to mean cluttered and minimal doesn't have to mean cold in her latest decorating guide for real life.
The Feral Detective by Jonathan Lethem
Convincing an enigmatic loner to help her search for a friend's missing daughter, Phoebe traverses the outskirts of California's stunning Inland Empire, where she discovers her companion's complicated relationship with warring tribes of outcasts.
The Fox by Frederick Forsyth
When America's intelligence agencies are breached by a teen hacker, a British MI6 leader endeavors to use the boy's talents to safeguard both nations from unseen enemies.
How to Fracture a Fairy Tale by Jane Yolen
Creative adaptations of classic fairy tales by the iconic fantasy author include the stories of a spinner of straw as a falsely accused money-lender, a philosophical bridge who longs for its troll and a villainous wolf nursing-home retiree.
The Laws of Human Nature by Robert Greene
Draws on ancient wisdom to offer advice on how to understand the unconscious motivations of others, exercise self-control, and avoid conformity to develop an individual sense of purpose.
Nine Perfect Strangers by Liane Moriarty
Gathering at a remote health resort for a 10-day fitness program, nine strangers and their enigmatic host become subjects of interest to a brokenhearted novelist who develops uncomfortable doubts about the resort's real agenda.
Past Tense by Lee Child
Taking a detour on his hitchhiking tour to his father's childhood hometown, Jack uncovers disturbing family revelations, while at the same time becoming entangled in the problems of two stranded Canadians involved in a dangerous high-ticket sale.
Presidents of War by Michael Beschloss
The best-selling author of The Conquerors charts the controversial leadership, public reputations and evolving political powers of American wartime Presidents from the War of 1812 through Vietnam, including Lincoln, Wilson and LBJ.
Sea of Greed by Clive Cussler
As the world's oil supply is vanishing and the stock market is plummeting, the NUMA team must solve a baffling historical mystery in order to save the future.
Skinnytaste One and Done by Gina Homolka
The award-winning blogger and best-selling author of The Skinnytaste Cookbook blends family-friendly, illustrated tips and nutritional information, in a collection that adapts her signature healthy, flavor-forward recipes for one-pot cooker convenience.
Summerland by Michael Chabon
Ethan Feld, the worst baseball player in the history of the game, finds himself recruited by a 100-year-old scout to help a band of fairies triumph over an ancient enemy.
Timeless by R. A. Savatore
A debut entry in a trilogy by the New York Times best-selling author of Maestro continues the story of beloved dark elf Drizzt Do'Urden to reveal the stories of his parents as well as the friendship between Zaknafein and Jarlaxle.