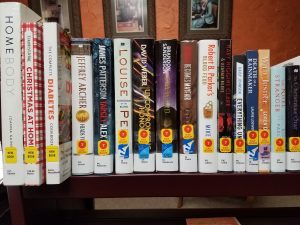 If you are in the Christmas spirit you will find several books on this shelf that might interest you from the fiction of  Donna VanLiere and Richard Paul Evans to Country Living's Christmas at Home book of ideas for decorating, baking, and crafting.  But there are also plenty of good selections to take you away from the stress of the holidays by best-selling authors that include James Patterson, Louise Penny, Mary Higgins Clark, and much more!
The Christmas Star by Donna VanLiere
Befriending a precocious foster child with a penchant for matchmaking, a school maintenance worker is repeatedly set up with his ex-wife, with whom he begins to realize a bond beyond their past heartaches.
The Complete Diabetes Cookbook by America's Test Kitchen
Vetted by a dietician and a doctor, and meticulously tested by America's Test Kitchen, this cookbook serves up more than 400 diabetes-friendly recipes that maximize healthy ingredients without sacrificing flavor.
Christmas at Home by Country Living
The popular country lifestyle magazine offers 200 ideas for decking the halls and feasting during the holidays, including table settings, wreaths and no-sew stockings and recipes like Turkey Roulade with Sausage-Cornbread Filling, Brown Butter Mashed Potatoes and Red Velvet Snowballs.
Death of a Rainmaker by Laurie Loewenstein
When a rainmaker is bludgeoned to death in the pitch-blackness of a colossal dust storm, small-town sheriff Temple Jennings shoulders yet another burden in the hard times of the 1930s Dust Bowl.
Everything Under by Daisy Johnson
An eerie, watery reimagining of the Oedipus myth set on the canals of Oxford, in this novel shortlisted for the 2018 Man Booker prize.
Heads You Win by Jeffrey Archer
When Alexander Karpenko and his mother must flee Russia, they flip a coin to see if they will emigrate to London or New York and in a single moment, a double twist decides Alexander's future in a story spanning two continents and thirty years.
Homebody: A Guide to Creating Spaces You Love by Joanna Gaines
The co-host of HGTV's Fixer Upper demonstrates how to create a home that reflects the individuals who live there, sharing in-depth, comprehensive guidelines for developing an authentic personal design style.
Kingdom of the Blind by Louise Penny
Still coping with the events that led to his suspension, Armand Gamache is curious when he discovers that an elderly woman who was a complete stranger to him has named him as one of the executors of her will.
The Noel Stranger by Richard Paul Evans
Still reeling from a scandal that ended her marriage, Maggie Walther finds renewal in a relationship with the kind man who owns the local Christmas tree lot and is also starting his life over, but just as she begins to trust him, she discovers a dark secret from his past.
Murder Becomes Mayfair by Jeffrey Eaton
The corpse of a mild-mannered tailor is found in a wooded corner in a park in London's Mayfair district, and Dalton Lee and his team of architect/detectives must continue their fight against The Organization's horrific scheme.
Robert B. Parker's Blood Feud by Mike Lupica
When her ex-husband is nearly killed by an unknown shooter, Sunny becomes the unlikely protector of the Burke Mafia family against a deranged mastermind with a very personal vendetta.
Target: Alex Cross by James Patterson
When the U.S. President is assassinated by an unknown sniper, Alex Cross takes a personal role with the FBI to lead an unprecedented investigation that is complicated by Constitutional crises.
We Say #neveragain by Melissa Falkowski
Demonstrating the growing journalistic prowess of teens directly impacted by school shootings, an anthology of school newspaper articles, journalism class writings, student broadcasts and social media op-eds recounts the day's tragedy and related fight for stricter gun control.
Wide Justice by Loren Estleman
Deputy U.S. Marshal Page Murdock reflects on the highs and lows of a career shaped by a veteran judge, whose body he accompanies on a cross-continent railroad journey marked by visits from a wide range of mourners and outlaws.
You Don't Own Me by Mary Higgins Clark
Television producer Laurie Moran sets aside her wedding plans to solve the murder of a celebrity doctor, placing herself in the path of a mysterious stalker.
Uncompromising Honor by David Weber
After the League, committing atrocities such as the galaxy has not known in a thousand years, kills many of the people she loves, Honor Harrington, a.k.a. the Salamander, is about to show the League members something they could have never imagined.