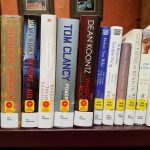 Beliefs, inspiration, family grief, and silence are featured in this week's selections along with a couple of authors who crank out a book every month (with a little help from others!)  Don't see anything of interest?  You can suggest library purchases and/or request that we order your book from another library through interlibrary loan.
God, Faith, and Reason by Michael Savage
The host of The Savage Nation streaming radio program describes his absolute beliefs about the greatness of God and the significance of faith in America and in everyday people, arguing that the nation was founded on faith and that dwindling numbers of believers are having negative political consequences.
Gold Dust Woman by Stephen Davis
An in-depth portrait of the classic-rock artist covers her role in the stardom of Fleetwood Mac, the affairs that inspired her greatest songs, her struggles with addiction, and her successful solo career.
Inventing Joy by Joy Mangano
The visionary entrepreneur and inventor shares an inspirational blueprint for promoting personal success and fulfillment, sharing stories from her childhood, family, and career experiences that illustrate how healthier perspectives can significantly improve one's life.
Past Perfect by Danielle Steel
An abrupt job relocation that takes them from their well-ordered Manhattan life to San Francisco triggers a collision between the past and present for a successful married couple who during a small earthquake experience visions of their new home's original inhabitants from a century earlier.
The People vs. Alex Cross by James Patterson
Charged with gunning down followers of his nemesis Gary Soneji in cold blood, Alex Cross is wrongly portrayed as a trigger-happy corrupt cop while he struggles to prove to a skeptical jury and dwindling supporters that his actions were in self defense.
Promise Me, Dad by Joe Biden
A chronicle of the vice president's experiences in the most momentous and challenging year of his life describes how in 2015 he struggled to balance the requirements of his job with the realities of his eldest son's failing health, a challenge marked by international crises, his growing friendship with Barack Obama and his deepening perspectives on his family ties.
The Revolution of Marina M. by Janet Fitch
A young woman of privilege coming of age in 1916 St. Petersburg finds her life and ambitions violently upended by historical events that find her joining the cause for workers' rights, falling in love with a radical poet and navigating devastating betrayals.
Secrets of Cavendon by Barbara Taylor Bradford
In the summer of 1949, a new generation running Cavendon Hall is torn by scandal, intrigue, and romantic betrayals that force the Inghams and Swanns to protect each other from unimaginable threats.
Silence: In the Age of Noise by Erling Kagge
A compact meditation on the role of silence in a creative life contrasts silence to the constant distracting noises of today's connected world while describing the experiences of fellow poets, artists and explorers as well as his personal experiments during a 50-day solo walk in Antarctica without radio contact.
The Story of Arthur Truluv by Elizabeth Berg
Making daily visits to the grave of his beloved late wife, Arthur forges unexpected relationships with a nosy neighbor and a troubled teen who dubs him "Truluv" before the trio discovers healing and family together.
Tom Clancy Power and Empire by Marc Cameron
A newly belligerent Chinese government leaves U.S. President Jack Ryan with only a few desperate options to control a series of attacks designed to sabotage peace negotiations.
The Whispering Room by Dean Koontz
Her husband dead and her son in hiding, rogue FBI agent Jane Hawk finds a connection between a schoolteacher's murderous, and ultimately suicidal, rampage; the teacher's secret journal; and a cabal of power players bent on controlling America.