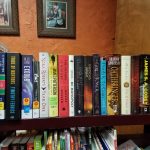 When you see a book that has won an award, or several awards, you may wonder what that means.  There are several posts on this website that describe the various awards, who is responsible for selecting the winners, what the winners receive, etc.  Search Book Awards on our website to find them.  This week's books include several award winners that may be worth your reading time.
Best of America's Test Kitchen 2018 by America's Test Kitchen
The best of the best–including recipes, tastings, and testings–from the current year, all compiled into one must-have collection from America's most trusted test kitchen.
Count to Ten by James Patterson
Summoned by the head of the world's top investigation agency to join a new office in Delhi, former Private India head Santosh Wagh struggles to set aside his personal demons before tackling a case involving murderously corrupt authorities and human remains found at a government site.
Dare to Sketch by Felix Scheinberger
An inspirational, instructional, and visually stimulating guide to sketching and drawing that is filled with practical tips about which materials to use, a variety of subject matter ranging from easy to more challenging, and wisdom about overcoming creative blocks and fear of making mistakes.
Demon Crown by James Rollins
The members of Sigma Force reluctantly join forces with their most hated enemy to stop a primordial threat with ties to the American Civil War and the secret work of Alexander Graham Bell.
Elmet by Fiona Mozley
A reclusive former enforcer thinks he has established a peaceful existence in the remote woods of Yorkshire with his children, Cathy and Daniel, until a powerful landowner shows up, which sets off a chain of violent events.  Finalist for the 2017 Man Booker Prize, The Guardian Best Books of 2017
Enchantress of Numbers by Jennifer Chiaverini
Educated in math and science by her mother, the only legitimate child of Lord Byron is introduced into London society before forging a bond with Charles Babbage and using her talents to become the world's first computer programmer.
Even if It Kills Her by Kate White
Sixteen years after her college roommate's family was brutally murdered, journalist-turned-sleuth Bailey Weggins helps investigate when the man convicted of the crime is exonerated and secrets from her roommate's past begin to surface.
The Future is History by Masha Gessen
The award-winning Russian-American journalist and author of the best-selling The Man Without a Face traces how within the space of a generation, Russia has succumbed to a more virulent and resistant strain of autocracy as demonstrated by the experiences of four prototype individuals born at the once-presumed dawn of Russian democracy.  Winner of the 2017 National Book Award in nonfiction.  Named a Best Book of 2017 by the New York Times Book Review, Los Angeles Times, Washington Post, and Newsweek.
The Ghost of an Innocent Man by Benjamin Rachlin
The true story of a man who was wrongly convicted of rape and sent to prison for life, who worked tirelessly for 24 years to prove his innocence and finally founded North Carolina's Innocence Inquiry Commission to help others in similar predicaments.  A Library Journal Top Ten Book of the Year.  A New York Times Book Review Editors' Choice.
The Girl in the Tower by Katherine Arden
Vasya, forced to choose between an arranged marriage and life in a convent, flees in the disguise of a boy before her defeat of a band of terrorizing bandits earns her the admiration of the Grand Prince of Moscow.
Home Fire by Kamila Shamsie
Given a chance to resume a deferred dream years after raising her troubled siblings, Isma worries about the influence of a powerful politician's son who drives the family to choose between love and loyalty, with devastating consequences.  Longlisted for the 2017 Man Booker Prize.  Named a Best Book of 2017 by the New York Times Book Review and The Guardian. 
Insidious Intent by Val McDermid
While Tony and Carol investigate a serial murderer luring single women from weddings, Paula McIntyre and her partner Elinor work to find a blackmailer targeting their ward.
No Time to Spare by Ursula K. Le Guin
Drawing on her blog, the award-winning author shares a collection of thoughts on aging, belief, the state of literature and the state of the nation.
Oathbringer by Brandon Sanderson
Taking refuge from the formidable Everstorm in the tower city of Urithiru, Dalinar and the Alethi forces join the newly raised Knights Radiant to explore the legendary city's mysteries and confront long-lost truths that challenge everything they believe.
Pachinko by Min Jin Lee
In early 1900s Korea, prized daughter Sunja finds herself pregnant and alone, bringing shame on her family until a young tubercular minister offers to marry her and move with her to Japan, in the saga of one family bound together as their faith and identity are called into question.  National Book Award finalist, New York Times Notable Book of 2017
Persepolis Rising by S. A. James Corey
As humanity's presence in space expands and new colony worlds struggle to survive, the crew of the aging gunship Rocinante struggles to keep the fragile peace as ancient patterns of war and subjugation return.
Smashing the DC Monopoly by Tom Coburn
Argues that the only way to limit federal overreach is to use Article V of the American Constitution to propose amendments designed to address issues such as mandatory balancing of the federal budget and term limits on members of Congress.
Tribe of Mentors by Timothy Ferriss
Life-changing wisdom from 130 of the world's highest achievers in short, action-packed pieces, featuring inspiring quotes, life lessons, career guidance, personal anecdotes, and other advice.
Year One by Nora Roberts
With the world in chaos and survivors heading west, those immune to the sickness that decimated half the world's population and the gifted are targeted by the authorities.