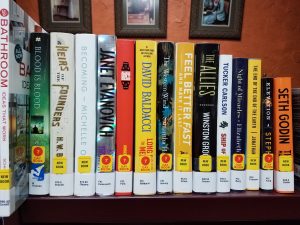 Among this modest shelf are the latest from David Baldacci, Janet Evanovich and Stephen King, along with a couple of new history books by two Pulitzer Prize nominees.
Alice Isn't Dead by Joseph Fink
Spotting her late wife in news-report backgrounds, truck driver Keisha Taylor stumbles into an otherworldly conflict on the nation's highway systems.
All New Bathroom Ideas that Work by David Schiff
Essential information on all aspects of a bathroom update or complete remodel, from fixtures to lighting and cabinetry to flooring, so homeowners can make smart choices about what they want and can afford.
Allies Winston Groom
The story of the alliance formed at the end of World War II by Franklin Roosevelt, Winston Churchill, and Joseph Stalin to control the war in Europe and the Pacific, in the process shaping the political landscape of the world.
Becoming by Michelle Obama
An intimate and uplifting memoir by the former First Lady chronicles the experiences that have shaped her remarkable life, from her childhood on the South Side of Chicago through her setbacks and achievements in the White House.
Blood is Blood by Will Thomas
When an office bombing leaves Cyrus Barker injured, his soon-to-be-wed partner, Thomas Llewelyn, teams up with Barker's long-lost, untrustworthy brother to identify the bombers before an unknown enemy kills off all the suspects.
Elevation by Stephen King
A timely tale about the power of finding common ground traces the story of Scott Carey, whose mysterious affliction unites the small community of Castle Rock, Maine.
End of the Earth by Jonathan Frazen
A provocative new essay collection by the award-winning author of Freedom and The Corrections includes an exploration of his complex relationship with his uncle, an assessment of the global seabird crisis and his young adulthood in New York.
Feel Better Fast and Make It Last by Dr. Daniel Amen
A psychiatrist, physician and New York Times best-selling author offers innovative, brain-based techniques and strategies to help readers feel happier, more positive and more resilient fast and make it last without turning to self-medicating behaviors.
Heirs of the Founders by H. W. Brands
The Pulitzer Prize-nominated historian and author of The General vs. the President chronicles the efforts of three second-generation political giants who at the beginning of the 19th century battled to complete the unfinished initiatives of the Founding Fathers.
Long Road to Mercy by David Baldacci
Devoting her life to bringing criminals to justice after her twin is murdered in childhood, FBI agent Atlee Pine investigates a missing-persons case in the Grand Canyon that may be tied to a string of disappearances.
Look Alive Twenty-Five by Janet Evanovich
When three consecutive managers from a famous deli go missing, leaving no clues behind but a single shoe each, latest manager Stephanie Plum navigates Lula's theories about alien abductions to avoid becoming the next victim.
Night of Miracles by Elizabeth Berg
A baking class instructor, her haunted assistant, and a youth reeling from a family tragedy discover the power of community while navigating complicated choices and uncertain futures.
Ship of Fools by Tucker Carlson
The host of Fox News' Tucker Carlson Tonight offers a scathing critique of the current ruling-class elites from both parties and discusses what can be done to put America back on the correct course.
This is Marketing: You Can't Be Seen Until You Learn to See by Seth Godin
The author of Tribes argues that real marketing isn't about racking up clicks and tweets; it's about connection, empathy and making a difference.
The Western Wind by Samantha Harvey
In 1491, when the wealthiest resident of the small village of Oakham is swept away by the river in the early hours of Shrove Saturday, the local priest, John Reve, attempts to discover the cause of the suspicious death, revealing some of the villager's darkest secrets.