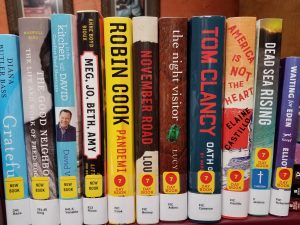 An author's work can be furthered long after they are gone, such as two examples on this week's shelf.  Tom Clancy passed away in October of 2013, but Jack Ryan, who first appeared in Clancy's best-seller The Hunt for Red October, is still protecting the United States in Marc Cameron's Tom Clancy Oath of Office.  In another example, Anne Boyd Rioux writes in Meg, Jo, Beth, Amy to remind us that Little Women, celebrating its 150th anniversary, still matters today.
America is Not the Heart by Elaine Castillo
Hero De Vera arrives in the United States from the Philippines to stay with her uncle Pol, who has offered her a fresh start and a promise not to ask about her past during the violent political history of their home country.
Comfort Food Shortcuts by David Venable
The host of QVC's In the Kitchen with David is back with a brand-new cookbook featuring 110 comfort food recipes that save on time—without skimping on flavor.
Dead Sea Rising by Jerry B. Jenkins
Leading her first archaeological dig in Jordan to search for concrete evidence from the life of biblical patriarch Abraham, Nicole discovers a 4,000-year-old complex with ties to an ancient puzzle and modern-day Jewish-Islamic peace efforts.
Good Neighbor: The Life and Work of Fred Rogers
Drawing on original interviews, oral histories and archival documents, the author traces the iconic children's program host's personal, professional, and artistic life through decades of work.
Grateful: The Transformative Power of Giving Thanks by Diana Butler Ross
The author of the multiple award-winning Grounded and leading trend spotter in contemporary Christianity explores why gratitude is missing as a modern spiritual practice, offers practical suggestions for reclaiming it, and illuminates how the shared practice of gratitude can lead to greater connection with God, our world, and our own souls.
How to Instant Pot by Daniel Shumski
A guide to the Instant Pot multipurpose cooker makes use of the popular appliance that is a slow cooker, pressure cooker, rice cooker, sauté pan and more all in one.
Meg, Jo, Beth, Amy: The Story of Little Women and Why It Still Matters by Anne Boyd Rioux
A 150th anniversary tribute describes the cultural significance of Alcott's classic, exploring how its relatable themes and depictions of family resilience, community and female resourcefulness have inspired generations of writers.
Night Visitor by Lucy Atkins
Hiding a dark secret that, if exposed, could cost her everything, TV presenter and historian Professor Olivia Sweetman must keep the only person who knows what she has done quiet and happy until a bizarre act of violence changes everything.
November Road by Lou Berney
A street lieutenant for a New Orleans mob boss flees when his knowledge about JFK's assassination makes him a target, a situation that is dangerously complicated by his relationship with a fugitive housewife.
Pandemic by Robin Cook
When a heart-transplant recipient abruptly dies under suspicious circumstances, veteran medical examiner Jack Stapleton follows leads to a gene-editing biotechnology and the unethical requirements of a megalomaniacal businessman.
Tom Clancy Oath of Office by Marc Cameron
When a change of regimes in Iran presents new opportunities for a balance of power in the region, President Jack Ryan becomes a lone Western voice urging caution in the wake of an international arms dealer's rise to power.
Waiting for Eden by Elliot Ackerman
A veteran enduring life trapped in his own mind begins to find a way to communicate before troubling realities about his marriage come to the surface. By a National Book Award finalist.