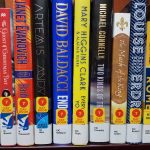 Our favorite authors never seem to write fast enough!  We wait with anticipation for the next book about characters who have become as familiar as our friends.  Bestselling authors David Baldacci, Michael Connelly, and Janet Evanovich are three of those who top this week's list.  If you've been waiting to hear more about Will Robie, Harry Bosch, or Stephanie Plum, they are as close as your hometown library.
Artemis by Andy Weir
Augmenting her limited income by smuggling contraband to survive on the moon's wealthy city of Artemis, Jazz agrees to commit what seems to be a perfect, lucrative crime, only to find herself embroiled in a conspiracy for control of the city.
Bobby Kennedy: A Raging Spirit by Chris Matthews
A portrait of Robert F. Kennedy depicts him as a perpetual family underdog, sharing insights into his decision to join the Navy as a common sailor, his ability to connect with voters from all walks of life, and his assassination during his 1968 campaign.
End Game by David Baldacci
Returning home from an overseas mission to discover that his boss has gone missing in remote Colorado, Will Robie and his sometime partner, Jessica Reel, team up in an increasingly violent small town, where their lives are soon in jeopardy.
Every Breath You Take by Mary Higgins Clark
A single night of passion with enigmatic billionaire Mitchell Wyatt draws Kate Donovan into a perilous criminal case when police suspect that Mitchell may have been responsible of the disappearance and possible murder of his own brother.
Future Home of the Living God by Louise Erdrich
A tale set in a world of reversing evolution and a growing police state follows the efforts of a pregnant woman who investigates her biological family while awaiting the birth of a child who may emerge as a member of a primitive human species.
The Ghost of Christmas Past by Rhys Bowen
Struggling with depression in the aftermath of the 1906 San Francisco earthquake and a miscarriage, semi-retired private detective Molly Murphy Sullivan and her husband, Daniel, accept an invitation to spend the holidays at a Hudson mansion, only to be embroiled in the mystery of their hosts' daughter's disappearance.
Hardcore Twenty-Four by Janet Evanovich
Reluctantly agreeing to babysit a professional grave robber's pet boa constrictor, Stephanie Plum is embroiled in a bizarre series of crimes that escalate from the violation of stolen corpses to the murder of a homeless man, a case that is complicated by the return of the hunky but reckless Diesel.
Panther's Prey by Lachlan Smith
A public defender in San Francisco, Leo has partnered with Jordan Walker, a promising young lawyer on loan from a well-heeled law firm and together they defend Randall Rodriguez, a mentally ill homeless man who they contend falsely confessed to the rape of a San Francisco socialite.
Rick Steves Rome 2018 by Rick Steves
In these self-guided tours, you'll walk the same streets as the Caesars, discover the secrets of the Colosseum and the Roman Forum, avoid the lines at the Vatican Museum and St. Peter's Basilica, take a night walk across the city and enjoy floodlit fountains and piazzas, and grab a sidewalk table at the locals' favorite trattoria and watch the world go by.
Two Kinds of Truth by Michael Connelly
An investigation into the murder of a young pharmacist leads Harry Bosch and San Fernando's detective squad into the big-business world of pill mills and prescription-drug abuse at the same time that an old case from Bosch's days with the LAPD returns to haunt him.