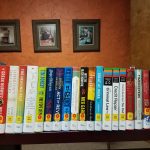 Two books on this week's list offer insight into the lives of a President's daughters and the lives of a President's wife and her family.  Several books by Nolo Press offer tax help for small business owners, advice on credit repair, and guidance for navigating the criminal justice system.  Throw in a few cozy mysteries and a few knuckle-whitening suspense novels and all you need is a few hours and a Starbucks coffee.
Act of Revenge by Dale Brown
When Boston is hit by a coordinated string of terrorist attacks, robotics innovator Louis Massina leads a team of tech geniuses to deploy every bot, drone and cyberweapon at their disposal to save the city and bring the plot's mastermind to justice.
Credit Repair by Amy Loftsgordon
Presents information on credit repair, covering such topics as cleaning up credit reports, improving credit scores, paying debt, considering bankruptcy, dealing with collection agencies, and the best ways to build credit for the future.
Criminal Law Handbook: Know Your Rights, Survive the System by Nolo Press
This book covers search and seizure arrest, booking, and bail Miranda rights arraignment plea bargains trials sentencing working with defense attorneys common defenses constitutional rights juvenile court preliminary hearings appeals, and public defenders victims' rights.
Dark in Death by J. D. Robb
When a young woman is brutally murdered while attending a screening of Psycho at Times Square, Eve Dallas is contacted by a writer of crime fiction who recognizes the case, and other recent killings, from storylines in her books.
Death by Chocolate Cherry Cheesecake by Sarah Graves
Opening a waterfront bakery in a coastal Maine fishing village, Jake Tiptree and her best friend, Ellie, find their summer launch complicated by an unseasonal hurricane and the murder of a corrupt health inspector.
The Grave's a Fine and Private Place by Alan C. Bradley
Joining her older sisters for a recuperative boating trip in the aftermath of a devastating tragedy, twelve-year-old Flavia de Luce discovers a body in the water near the church of a murderous vicar.
Great at Work by Morten Hansen
The best-selling author of Great by Choice shares authoritative, practical advice on how to bolster individual performance, drawing on an in-depth study involving thousands of managers and employees to outline seven work practices for improving focus, scheduling and organization in accordance with the examples of inspiring high-achievers.
The Healing Self: A Revolutionary New Plan to Supercharge your Immunity and Stay Well for Life
by Deepak Chopra
The best-selling authors of Super Brain and Super Genes outline a mind-body integrative approach to establishing lifelong health and heightened immunity in today's world of environmental toxins, potential epidemics, superbugs and age-related disease.
Hellbent: An Orphan X Novel by Gregg Hurwitz
When the man who raised and trained him warns him that secret government forces are trying to eliminate all surviving members of the Orphan Program, Evan Smoak is challenged to track down and protect his teacher's last protégé from a brutal new Program leader.
Home Business Tax Deductions by Stephen Fishman
Fishman details how to deduct start-up costs, home office expenses, vehicles and travel expenses, entertainment and meals, medical expenses under Obamacare, and retirement expenses as well as  how to keep accurate, thorough records in case the IRS ever comes calling.
House of Secrets by V. C. Andrews
Working as a servant at a gothic mansion, Fern develops a close bond with the son of her wealthy employer before becoming subject to the new lady of the estate, a cruel mistress who interferes with the young couple's plans for the prom by exploiting family secrets.
Into the Black Nowhere by Meg Gardiner
An FBI profiler is forced to navigate the twisted mind of a charismatic, ruthless serial killer responsible for the murders of a series of women in southern Texas, in a thriller inspired by the case of Ted Bundy.
Jackie, Janet, & Lee: The Secret Lives of Janet Auch­in­closs and her ­daugh­ter­s, Jac­que­line Kennedy O­nas­sis and Lee Radzi­will by Randy Taraborrelli
A portrait of Jacqueline Bouvier Kennedy Onassis; her mother, Janet Lee Auchincloss; and her sister, Princess Lee Radziwill, discusses their ambitions, status-seeking marriages, illicit liaisons and psychological profiles as based on interviews with close friends and family members.
Jefferson's Daughters: Three Sisters, White and Black­, in a Young Amer­i­ca by Catherine Kerrison
A portrait of the divergent lives of Thomas Jefferson's three daughters shares insights into how, in spite of privilege and education, his white daughters struggled with the realities of lives they were ill-prepared to manage, while the daughter he fathered with a slave did not achieve freedom until adulthood and endured a mysterious and highly ironic existence.
Killer Choice by Tom Hunt
When his pregnant wife falls dangerously ill, a financially strapped man is approached by a mysterious benefactor who offers him money for treatment in exchange for committing a murder.
The Monk of Mokha by Dave Eggers
Eggers tells the incredible true story of a young Yemeni American man, raised in San Francisco, who dreams of resurrecting the ancient art of Yemeni coffee but finds himself trapped in Sana's by civil war.
Perish by Lisa Black
Maggie and Jack investigate the brutal murder of the founder of a large financial company and enter the cutthroat world of big finance, but their investigation takes an unexpected turn when disturbing evidence emerges in an unrelated series of killings.
Pope of Palm Beach by Tim Dorsey
Venturing into the cozy Riviera Beach of their youths on a frenzied literary pilgrimage, Serge Storms and his sidekick, Coleman, investigate the stories of a popular local surfer and an eccentric hermit before drawing the attention of a murderous band of villains.
Still Me by Jojo Moyes
Louisa Clark arrives in New York to start a new life and a long-distance relationship with Ambulance Sam while working for the super-wealthy Gopniks, a job that introduces her to New York high society and a secretive man who reminds her of her own past.
Tax Savvy for Small Business by Frederick Daily
Daily provides valuable tax-related strategies and information to help small business owners save money and run their businesses without running into trouble with the IRS.
Timekeepers: How the World Became Obsessed with Time by Simon Garfield
An authoritative, upbeat exploration of how and why time has become a dominating force in a world that not long ago was measured by the movement of the sun shares stories that reflect humanity's growing obsession with time and its management throughout the past 250 years.
Traitor: A Thriller by Jonathan De Shalit
Years after an Israeli government advisor betrays state secrets to a CIA agent who is actually a Russian mole, a top-secret investigative team is forced to consider an act of treachery to outmaneuver one of history's most ruthless double agents.
White Chrysanthemum by Mary Lynn Bracht
Having spent her entire youth under Japanese occupation, a young woman in World War II-era Korea follows in her mother's footsteps as an elite female diver, only to be forced into prostitution in order to save her beloved younger sister.