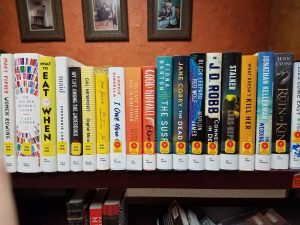 Check out this week's line-up of new fiction and nonfiction, full of mystery and mayhem, comedy and romance, and information that can make your life better.
Black Leopard, Red Wolf by Marlon James
Engaged to track down a mysterious boy who disappeared three years earlier, Tracker breaks his own rule of always working alone when he finds himself part of a group that comes together to search for the boy.
Connections in Death by J. D. Robb
Homicide officer Eve Dallas investigates the death of child psychologist Dr. Rocelle Pickering's brother, a case that takes her into the underground world of tattoo parlors and strip joints to find his murderer.
The Dead Ex by Jane Corry
A man's disappearance throws the lives of four women into chaos, including his ex-wife, who struggles to prove her innocence in spite of an unreliable memory.
Dear America: Notes of an Undocumented Citizen by Jose Antonio Vargas
The Pulitzer Prize-winning journalist, filmmaker and immigration-rights activist presents a debut memoir about how he unknowingly entered the United States with false documents as a child.
Digital Minimalism: Choosing a Focused Life in a Noisy World by Cal Newport
A Georgetown University computer scientist argues that the world urgently needs a reduction of personal online time as part of a healthy lifestyle choice and offers a thirty-day digital declutter process that helps people feel less overwhelmed and more in control.
The Forgiving Jar by Wanda E. Brunstetter
Learning that the grandparents she never knew are Amish, Sara travels to Pennsylvania for a visit and is outraged to discover that a stranger has been impersonating her and living in their home, a deceit they readily forgive.
Good Riddance by Elinor Lipman
In a fit of decluttering, Daphne discards her mother's old yearbook full of her handwritten and sometimes uncharitable observations, but when it's found in the recycling bin by a busybody neighbor/documentary filmmaker, the yearbook's mysteries—not to mention her own family's—take on a whole new urgency, and Daphne finds herself entangled in a series of events both poignant and absurd.
I Owe You One by Sophie Kinsella
Struggling to hold her late father's business together in spite of her less-motivated siblings, Fixie Farr cashes in an IOU from a handsome stranger to find employment for her childhood crush.
Lies Come Easy by Steven Havill
A toddler's horrifying abandonment, the disappearance of a Forest Service unit and the brutal murder of a border-town resident overshadow the holiday for the Posadas County Sheriff's Department and their families.
Maid: Hard Work, Low Pay, and a Mother's Will to Survive by Stephanie Land
Stephanie Land, who worked for years as a maid, pulling long hours while struggling as a single mom to keep a roof over her daughter's head, reveals the dark truth of what it takes to survive and thrive in today's inequitable society.
Medical Medium Liver Rescue by Anthony William
The #1 New York Times best-selling author of Life-changing Foods and Thyroid Healing explains how to strategically improve liver health to alleviate a range of physical and mental symptoms, from digestive issues to emotional struggles to weight gain.
My Life Among the Underdogs by Tia Torres
The star of Pit Bulls & Parolees and founder of the Villalobos pit-bull rescue center shares the story of her life and her relationships with some of her most-loved canine companions, explaining the reasons behind her passionate efforts to reverse negative stereotypes associated with pit bulls.
The Ruin of Kings by Jenn Lyons
Raised on storybook tales of royal adventure, Kihrin discovers his identity as the illegitimate son of a treasonous prince and is rendered a pawn in the royal family's power schemes before embracing his anti-hero destiny.
She Has Her Mother's Laugh by Carl Zimmer
The award-winning columnist and author of Parasite Rex presents a history of our understanding of heredity and how it has shaped human society, chronicling the transitions brought about by gene research and sharing anecdotal insights into his own family's experiences while making predictions about how evolving understandings are likely to impact the future.
Stalker by Lars Kepler
Detective Joona Linna–recently returned from compassionate leave–reunites with hypnotist Erik Maria Bark in a search for a seemingly unassailable sadistic killer.
The Suspect by Fiona Barton
Pursuing the story of two British teens who disappeared during a Bangkok hostel fire, journalist Kate Waters struggles to remain objective when her estranged son is declared the main suspect.
Wedding Guest by Jonathan Kellerman
Psychologist Alex Delaware and LAPD homicide detective Milo Sturgis investigate the morbidly staged murder of an unknown young woman at a run-down former strip joint during a raucous Saints and Sinners-themed wedding reception.
What Doesn't Kill Her by Christina Dodd
Unlikely survivor Kellan Adams, suffering from a year-long gap in her memory, defends herself against an unimaginable menace in order to protect the family she never knew.
What to Eat When: A Strategic Plan to Improve your Health and Life through Food
by Dr. Michael F. Roizen
NY Times best-selling author Dr. Michael Roizen reveals how the food choices you make each day–and when you make them–can affect your health, your energy, your sex life, your waistline, your attitude, and the way you age.
Women Rowing North by Mary Pipher
The best-selling author of Reviving Ophelia presents a guide to wisdom, authenticity and bliss for women as they age, exploring how the myriad roles and challenges of women can help promote balance and a transcendent sense of well-being.