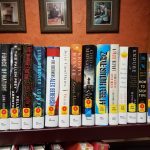 An interesting mix of books in this week's list from short stories to essays, an Oprah pick, a memoir about 17 brushes with death, a journalistic investigation on a rape incident, a report from a former agent for the U. S. Border Patrol and a number of books from the ever popular genres of suspense, espionage, and fantasy.
An American Marriage by Tayari Jones
Newlyweds Celestial and Roy, the living embodiment of the New South, are settling into the routine of their life together when Roy is sent to prison for a crime he didn't commit.
Amish Cooking Class: The Celebration by Wanda E. Brunstetter
Taking in a pair of recently orphaned children, Amish couple Lyle and Heidi organize a series of cooking classes to help their young charges adapt and make friends, an endeavor that is complicated by the private challenges of the families also attending the class.
Beautiful Days: Stories by Joyce Carol Oates
A collection of thirteen short stories explores the most secret, intimate, and unacknowledged interior lives of characters, who assert their independence through bold acts of defiance.
The Book of Mistakes: 9 Secrets to Creating a Successful Future by Skip Prichard
An accomplished CEO, growth-oriented business leader and keynote speaker presents a self-help story wrapped in fiction that reveals the nine mistakes that prevent many of people from achieving their goals and shows readers how to overcome these obstacles and reinvent their lives.
Child of a Mad God by R. A. Salvatore
Aoleyn, a witch's young daughter who was born under a fateful Blood Moon, finds herself alone in a tribe of vicious barbarians and dreams of escaping by learning to use the mysterious power known as the Song of Usgar.
A Death in Live Oak by James Grippando
When the president of a black fraternity is murdered, defense attorney Jack Swyteck navigates a maelstrom of racial uprisings as he investigates the chief suspect.
The Deceivers by Alex Berenson
In the wake of a fatal incident in Dallas that may have been staged to look like a terrorist attack, former CIA agent John Wells is dispatched to Colombia to collect information from an old asset, a mission involving an audacious Russian plot that proves to be the most deadly of his career.
Endure: Mind, Body, and the Curiously Elastic Limits of Human Performance by Alex Hutchinson
An elite distance runner explores the science of human endurance and performance and discusses the cutting-edge studies that show it is the brain—and not heart size, lung capacity or muscle strength—that dictates how far a person can go.
A False Report: A True Story of Rape in America by T. Christian Miller
Two Pulitzer Prize-winning journalists present the true story of two detectives who teamed up to discern the truth about a case involving a teen who was charged with falsely reporting a rape, an investigation that revealed the work of a serial rapist in multiple states.
Feel Free: Essays by Zadie Smith
A collection of both previously unpublished works and classic essays includes discussions of recent cultural and political events, social networking, libraries, and the failure to address global warming.
Force of Nature by Jane Harper
When one member of a five-woman team of co-workers goes missing during a corporate retreat, federal police agent Aaron Falk uncovers dark secrets in his search for the woman, a whistleblower and major contributor to his latest case.
The Great Alone by Kristin Hannah
When her volatile, former POW father impulsively moves the family to mid-1970s Alaska to live off the land, young Leni and her mother are forced to confront the dangers of their lack of preparedness in the wake of a dangerous winter season.
How to Stop Time by Matt Haig
A man with a secret rare condition that has enabled him to survive for centuries moves to London to become a high-school history teacher and considers defying his protective guardians' rule against falling in love when he becomes entranced by a captivating colleague.
I Am, I Am, I Am: Seventeen Brushes with Death by Maggie O'Farrell
The award-winning author of The Hand That First Held Mine presents a memoir told entirely in 17 near-death experiences stemming from a dangerous childhood illness, accidents, an encounter with a disturbed person and the author's daily efforts to protect her daughter from the vulnerabilities of a high-risk condition.
It's Even Worse that You Think by David Cay Johnston
Examines the Trump administration's policies in its first one hundred days to reveal how its policies are affecting the daily lives of Americans and how the actions of federal government agencies have been quietly approved by the administration without drawing attention from the media.
The Line Becomes a River: Dispatches from the Border by Francisco Cantu
An award-winning writer and former agent for the U.S. Border Patrol describes his upbringing as the son of a park ranger and grandson of a Mexican immigrant, who, upon joining the Border Patrol, encountered the violence and political rhetoric that overshadows life for both migrants and the police.
Look for Me by Lisa Gardner
Detective D. D. Warren teams up with Flora Dane from Find Her in an investigation involving the sinister disappearance of a 16-year-old girl whose family has been brutally murdered
This Fallen Prey by Kelley Armstrong
A follow-up to A Darkness Absolute finds police detective Casey Duncan navigating the activities of a dangerous criminal whose arrival has coincided with a spate of murders throughout off-the-grid Rockton, where someone else is working in secret as a killer's accomplice.
Winter Station by Jody Shields
An aristocratic Russian doctor stationed in the railway outpost city of Kharbin in Manchuria races to contain a deadly plague before it spreads to the rest of the world.