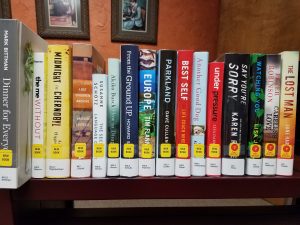 Books for animal lovers – a woman converts her farm into a foster home for dogs, an authority on cats provides a crash course in how to speak cat; books for those longing to slow down – a journalist changes her habits, an author eplores the idea of invisibility in a world of hyper-surveillance; a book for parents/guardians of teen girls provides guidance on protecting them from toxic cultural pressure; and more!
Another Good Dog: One Family and Fifty Foster Dogs by Cara Sue Achterberg
The best-selling author of Girls' Weekend describes her decision to convert her Pennsylvania farm into a foster home for dogs, recounting her experiences with dozens of remarkable canines throughout her first two years.
Best Self: Be You, Only Better by Mike Bayer
A well-known life coach, personal development coach, and addiction specialist provides a program to help readers examine where their lives are now and determine who they want to be.
Careless Love by Peter Robinison
Detective Superintendent Alan Banks and his crack investigation team look into two suspicious deaths that are complicated by a shocking revelation and the return of an old enemy.
Dinner for Everyone by Mark Bittman
The one book a cook needs for a perfect dinner–easy, fancy, or meatless, as the occasion requires by Mark Bittman, who is revered for his simple, straightforward, and flexible approach to everyday cooking.
Europe: A Natural History by Tim Flannery
A scientist, explorer and conservationist provides a natural history of Europe that begins 100 million years ago and explores the impact of comet strikes and atmospheric shifts through modern dangers on the terrain and organisms that evolved there.
From the Ground Up: A Journey to Reimagine the Promise of America by Howard Schultz
The founder of Starbucks shares his untold personal story–from his childhood in Brooklyn's housing projects to his rise as a business icon–and lays out his vision for how companies can improve their social impact.
How to Disappear: Notes on Invisibility by Akiko Busch
The author of Nine Ways to Cross a River explores the idea of invisibility in nature, art and science as part of the search for a more joyful and peaceful way of life in today's increasingly surveilled and publicity-obsessed world.
Lost Children Archive by Valeria Luiselli
Traces a profoundly human family summer road trip across America that is shaped by historical and modern displacement tragedies as well as a growing rift between the two parents.
The Lost Man by Jane Harper
Meeting at the remote fence line separating their cattle ranches on an isolated belt of the Australian outback, two brothers navigate the haunting realities of the isolation that ended their third brother's life.
The Me, Without: A Year Exploring Habit, Healing and Happiness by Jacqueline Raposo
A journalist describes how she got out of a deepening rut by removing some of her most constant habits, including social media, shopping, sugar and negative thoughts and offers insights on the impact of daily choices on our mental health.
Midnight in Chernobyl: the Untold Story of the World's Greatest Nuclear Disaster
by Adam Higginbotham
Higginbotham draws on twenty years of research, recently declassified files, and interviews with survivors in an account of the 1986 Chernobyl nuclear power plant disaster that also reveals how propaganda and secrets have created additional dangers.
Parkland: Birth of a Movement by Dave Cullen
The New York Times best-selling author of Columbine offers a deeply moving account of the extraordinary teenage survivors of Parkland who became activists and pushed back against the NRA and Congressional leaders—inspiring millions of Americans to join their grassroots #neveragain movement.
Say You're Sorry by Karen Rose
FBI Special Agent Gideon Reynolds receives a vital piece of evidence on a cold case from a woman whose fighting skills helped her escape a serial killer still on the loose.
The Secret Language of Cats by Susanne Schotz
A leading authority on cat communication provides a crash course in speaking cat, describing what feline vocalizations mean in different situations, and provides practical advice to help better understand pets.
Under Pressure: Confronting the Epidemic of Stress and Anxiety in Girls by Lisa Damour
A clinical psychologist who specializes in working with girls presents facts about psychological pressure, including the underappreciated value of stress and anxiety, while explaining how to protect girls from toxic cultural pressure.
Watching You by Lisa Jewell
When a murder occurs in Melville Heights, one of the nicest neighborhoods in Bristol, England, dangerous obsessions come to light involving the headmaster at a local school, in this place where everyone has a secret.