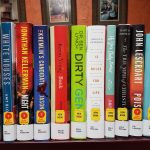 This is the week of the "How-to."  Books explaining how to treat your dirty genes, fix your broken heart, and live happily are part of the line-up along with some great series books including a new Dismas Hardy novel by John Lescroart and a new Alex Delaware by Jonathan Kellerman.
12 Rules for Life: An Antidote to Chaos by Jordan Peterson
A renowned psychologist and cultural critic discusses the importance of clear and honest thinking and offers 12 directives for living happily and keeping out the abundant chaos and nihilism in the modern, ever-changing world.
Bunk: The Rise of Hoaxes, Humbug, Plagiarists, Phonies, Post-facts, and Fake News by Kevin Young
Traces the history of the hoax as a distinct American phenomenon, exploring the roles of stereotype, suspicion, and racism as factors that have shaped fraudulent activities from the heyday of P.T. Barnum through the "fake news" activities of Donald Trump.
Dirty Genes: A Breakthrough Program to Treat the Root Cause of Illness and Optimize your Health
by Ben Lynch
A leading expert in epigenetics outlines a holistic and customizable approach to better health by improving how one's genes respond, explaining how genetic variations negatively react to environmental triggers and how healthy eating, detoxing, quality sleep, stress reduction and other natural practices can promote optimal gene functionality.
Enlightenment Now: The Case for Reason, Science, Humanism, and Progress by Steven Pinker
A follow-up to The Better Angels of Our Nature challenges the doom-and-gloom outlooks of today's media to present dozens of graphs and charts demonstrating that life quality, health, prosperity, safety, peace, knowledge and happiness are actually on the rise throughout the world as a result of the philosophies about an Enlightenment era that uses science to improve human existence.
How to Fix a Broken Heart by Guy Winch
A licensed psychologist and author explains how heartbreak works, how it impacts the human brain and behavior in dramatic and unexpected ways and offers a toolkit on how to handle the emotion and learn to move on.
If You Only Knew by Jamie Ivey
If You Only Knew is the utterly inviting, often humorous, incredibly authentic back-story of one woman's life, told for the purpose of helping you strip away both the inner and outward hypocrisy that cripples Christian freedom, choosing instead to live with courageous confidence in God's ability to make you truly one person.
The Kremlin's Candidate by Jason Matthews
Overhearing a Kremlin plot to install a spy in a high intelligence position so that the Russians can identify CIA assets in Moscow, Dominika Egorova launches a desperate mole hunt, only to be exposed and arrested.
Night Moves by Jonathan Kellerman
When an affluent family returns home from Sunday dinner to discover the murdered body of a complete stranger in their house, psychologist Alex Delaware and detective Milo Sturgis navigate unexpected consequences in a case that tests their intellectual and emotional limits.
Poison by John Lescroart
When the steely owner of a successful family business is murdered, attorney Dismas Hardy doubts the guilt of a chief suspect and instead combs through a maelstrom of dangerous secrets and gold-digger agendas to identify a killer among the victim's numerous heirs.
Surprise Me by Sophie Kinsella
When the fragile contentment in their marriage is shattered by someone's casual remark about how many more years they will be together, Sylvie and Dan agree to arrange surprises for each other to revitalize their relationship, only to encounter a comical series of mishaps.
The Triumph of Christianity: How a Forbidden Religion Swept the World by Bart Ehrman
The best-selling author of Misquoting Jesus traces the history of how Christianity evolved from the faith of a handful of peasants in rural Galilee to a dominant Western religion in less than four centuries, exploring how it was nearly fated to become an obscure sect of Judaism and how it has revolutionized culture, economics and law.
White Houses by Amy Bloom
After meeting the future first lady while covering Franklin Roosevelt's campaign, Lorena Hickock and Eleanor discover a powerful passion between them.