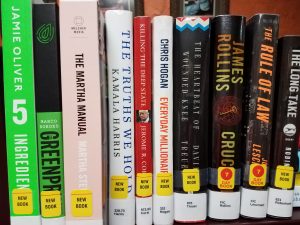 Whether you are wanting to cook healthy or cook fast, easy, and cheap, or if you are just needing an authoritative voice to give you domestic life-style tips or to give you tips on how to grow your wealth, you will find something to read on this shelf including great next-reads about Dismas Hardy and about Gray Pierce.
5 Ingredients: Quick & Easy Food by Jamie Oliver
With easy, quick, and cheap recipes that taste delicious, bestselling author Jamie Oliver's 5 Ingredients shows how accessible healthy food can be at home and will revolutionize the way readers cook.
Crucible by James Rollins
After his home is attacked and his pregnant girlfriend is kidnapped, Commander Gray Pierce and the Sigma Force confront deep spiritual mysteries tracing back to the Spanish Inquisition.
Everyday Millionaires: How Ordinary People Built Extraordinary Wealth by Chris Hogan
The path to becoming a millionaire is paved with ordinary tools–tools that you either already have or that you can learn through this book.
The Greenprint: Plant-Based Diet, Best Body, Better Planet by Marco Borges
Introduces a practical and revolutionary plant-based diet and lifestyle plan based on the author's "22 Laws of Plants," the most effective guidelines for losing weight, improving health, and minimizing the impact on the planet.
The Heartbeat of Wounded Knee by David Treuer
A sweeping history–and counter-narrative–of Native American life from the Wounded Knee massacre to the present.
The Long Take by Robin Robertson
A D-Day veteran with post-traumatic stress disorder makes his way from New York to Los Angeles and San Francisco and as a journalist explores the social and racial divisions, spiraling corruption, and collapse of inner cities in America.
The Martha Manual: How to Do (Almost) Everything by Martha Stewart
An authoritative handbook by the domestic-lifestyle expert shares hundreds of ideas and instructions for homemaker skills, from transporting a decorated cake and folding an American flag to playing a classic lawn game and bathing a cat.
The Rule of Law by John Lescroart
Dismas Hardy is called to defend the least likely suspect of his career: his longtime, trusted assistant who is suddenly being charged as an accessory to murder.
The Truths We Hold: An American Journey by Kamala Harris
A book about the core truths that unite us, the long struggle to discern what those truths are and how best to act upon them across the life of our country.