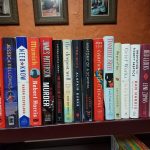 Minimalism is encouraged in books from this week's selections – both in bringing less into your home and in getting rid of more.  Also included are spy thrillers set in the past, the present and the near future, stories of the things we do for the family members we love, advice on how we can recover from childhood adversity, and a true crime story by James Patterson.
All-American Murder: The Rise and Fall of Aaron Hernandez by James Patterson
Patterson presents a detailed account of the Aaron Hernandez case, drawing on investigative reports, first-person accounts, and previously untold stories to share insights into the youth, fame, imprisonment, and suicide of the NFL star-turned-convicted murderer.
The Anatomy of a Scandal by Sarah Vaughan
Desperate to clear the name of her loving and charismatic public figure husband in the wake of scandalous accusations, Sophie clashes with a determined prosecution lawyer, Kate, who resolves to uncover the truth and bring Sophie's husband to justice.
The Deepest Well: Healing the Long-Term Effects of Childhood Adversity by Nadine Burke Harris
Harris explores the relationship between adverse childhood experiences and adult health problems, drawing on scientific insights and personal stories to outline beneficial health interventions.
Everything Here is Beautiful by Mira T. Lee
The bond between a responsible, self-contained older sister and her mentally ill, impulsive younger sister is shaped and tested over years marked by the loss of their mother, an impetuous first marriage, a fling that results in the birth of a baby, and painful sacrifices.
Fall from Grace by Danielle Steel
When her wealthy and devoted husband dies suddenly in an accident, Sydney is devastated to learn that he left his estate to his vindictive daughters, a situation that forces her to attempt to revive her career as a fashion designer.
The Gentle Art of Swedish Death Cleaning by Margareta Magnusson
A Swedish artist provides humorous commentary and advice on how to tidy up and declutter your unnecessary possessions to make life easier and more pleasant while you live it, as well as for those who will be cleaning up after you pass.
Gnomon by Nick Harkaway
A tale set in a near-future, high-tech surveillance state follows the suspicious death of a dissident in custody and finds state inspector Mielikki Neith immersing herself in the victim's world, where she encounters a panorama of characters and innovations that transform her perspectives.
Grief Works: Stories of Life, Death, and Surviving by Julia Samuel
Samuel shares optimistic and compassionate counsel for anyone suffering a loss, citing the taboos and cultural misunderstandings that alienate people who are grieving, in a guide that shares uplifting case studies from survivors who have journeyed through the process of grief to achieve healing, self-awareness and confidence.
Meditation for Fidgety Skeptics by Dan Harris
The co-anchor of Nightline and author of the best-selling 10% Happier presents a lighthearted, practical guide to meditation that debunks the myths, misconceptions and self-deceptions that make everyday people reluctant to participate.
The Mitford Murders by Jessica Fellowes
A Golden Age-style mystery based on a real unsolved murder and written by the best-selling author of the official companion novels to the Downton Abbey series follows the experiences of a lady's maid to the youngest of three wealthy sisters in an Oxfordshire countryside manor, whose dark secrets implicate them in a murder.
Munich by Robert Harris
A spy thriller set against the backdrop of the fateful Munich Conference of 1938 follows the experiences of a rising star in the British diplomatic service and his Oxford friend, a secret member of the anti-Hitler resistance, who, while on a disastrous collision course with each other, witness pivotal events involving Chamberlain, Mussolini and other historical figures.
Need to Know by Karen Cleveland
A dedicated CIA counterintelligence analyst assigned to uncover the leaders of Russian sleeper cells in the United States stumbles on a secret dossier of deep-cover agents before facing an impossible choice that tests her loyalties to the agency and her own family.
The Other Side of Everything by Lauren Doyle Owens
After the woman next door is murdered, Amy Unger begins to paint imagined scenes from the murder in an effort to cope with her own loss, but when her paintings prove to be too realistic she soon finds herself in the crosshairs of the police.
Sisters Like Us by Susan Mallery
Despite dealing with the chaos caused by her live-in mother, her virtual-assistant business, her rebellious teenage daughter, and her pregnant sister, Bunny can't help entertaining the notion that a handsome client that keeps coming around just may be for her.
The Super Metabolism Diet by David Zinczenko
The best-selling co-author of Eat This, Not That! draws on the latest scientific research and his 500-person test panel to outline a diet that improves the body's fat-burning systems and promotes muscle building without deprivation, in a guide that is complemented by a selection of customized workout plans.
Tell Me More: Stories about the 12 Hardest Things I'm Learning to Say by Kelly Corrigan
The best-selling author of Glitter and Glue assesses seven phrases that can lead to more qualitative adult lives, sharing poignant and whimsical stories of growth surrounding such expressions as "I don't know," "You got this" and "I was wrong."
The Wife by Alafair Burke
Marrying an economics professor she met while catering an East Hampton dinner party, Angela finds her tragic past coming under scrutiny at the same time she is asked to defend her husband against wrongful accusations.
The Wisdom of Sundays by Oprah Winfrey
A photographic chronicle of the global media leader's spiritual journey describes the inspirational wisdom and insights she has received from spiritual leaders who have been featured on "Super Soul Sunday" broadcasts.
The Year of Less by Cait Flanders
When she realized that nothing she was doing or buying was making her happy, Cait Flanders decided to set herself a challenge: she would not shop for anything but consumables – groceries, toiletries, and gas – for entire year.