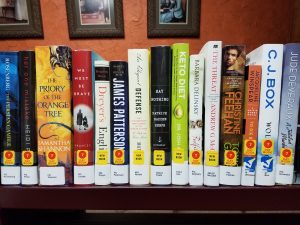 A varied mix of nonfiction and fiction awaits you on this week's list.
Dreyer's English: An Utterly Correct Guide to Clarity and Style by Benjamin Dreyer
A witty, authoritative guide to writing by the leading Twitter language guru and veteran Random House copy chief shares playful lessons on better writing that cover usage questions ranging from the series comma to split infinitives.
An Elegant Defense: The Extraordinary New Science of the Immune System by Matt Richtel
An exploration of the human immune system by the Pulitzer Prize-winning and New York Times best-selling author of A Deadly Wandering analyzes four `immunotherapy cases to explain how our defense systems protect and sometimes injure the body.
First Lady by James Patterson
When the First Lady disappears after her husband's affair goes public, Secret Service agent Sally Grissom takes on the investigation and is faced with a twisted case after the White House receives a ransom note along with the First Lady's finger.
Her One Mistake by Heidi Perks
What should have been a fun-filled, carefree day takes a tragic turn for the worse for one mother when her best friend's child goes missing.
Justified Murder by Jude Deveraux
When a longtime resident is found murdered by three possible methods, unlikely friends Sara, Kate, and Jack assist the authorities, only to discover unexpected realities about the victim's true nature.
Keto Diet: Your 30-Day Plan to Lose Weight, Balance Hormones, Boost Brain Health, and Reverse Disease by Josh Axe
The best-selling author of Eat Dirt outlines a 30-day, step-by-step plan that offers scientific insights and shares dozens of satisfying keto-diet recipes for losing weight, reducing inflammation and bolstering health.
Persian Gamble by Joel Rosenberg
Former Secret Service agent Marcus Ryker must track down nuclear weapons before they fall into the wrong hands by infiltrating enemy territory and forging an alliance with a Russian double agent.
The Priory of the Orange Tree by Samantha Shannon
A queen who would survive assassination attempts to continue her ruling line is protected with forbidden magic by a court outsider, while a secret society works to prevent a dragon war.
Say Nothing: A True Story of Murder and Memory in Northern Ireland by Patrick Radden Keefe
Keefe documents the notorious abduction and murder of Jean McConville in 1972 Belfast, exploring how the case reflected the brutal conflicts of Northern Ireland and their ongoing repercussions.
Threat: How the FBI Protects America in the Age of Terror and Trump by Andrew McCabe
The former deputy director of the FBI recounts his career; discusses how law enforcement battles terror threats, Russian crime, and attacks by the White House itself on the U.S. Constitution; and offers details of the events leading up to his firing by Donald Trump.
To Die But Once by Jacqueline Winspear
During the months following Britain's declaration of war on Germany, Maisie Dobbs investigates the disappearance of a young apprentice working on a hush-hush government contract.
Toxic Game by Christine Feehan
Infected with a deadly virus unleashed by a terrorist cell while on rescue mission, GhostWalker Dr. Draden Freeman begins eradicating those responsible, but when he is shot, a woman who is secretly tracking the virus steps in to save his life.
We Must Be Brave by Frances Liardet
Caring for a lost child during the chaotic 1940 evacuation of her once-quiet Southampton village, a woman who never believed she wanted children finds herself unexpectedly at a loss when the child is taken away.
Wolf Pack by C. J. Box
After Wyoming game warden Joe Pickett is ordered to ignore the activities of a wealthy poacher by the FBI and DOJ, four vicious killers working on behalf of a cartel target the man and everyone including Joe–who is associated with him.