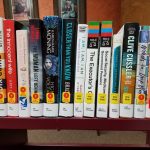 This week's selections include advice for baby boomers about navigating Social Security and Medicare, as well as help for those serving as executors, popular series titles by Karen Marie Moning and Laura Childs, the newest by Phillip Margolin, and one about the Tulsa Race Riots.
Closer Than You Know by Brad Parks
When Melanie Barrick finds herself being framed by on drug charges and her son taken by Social Services, her only hope is Amy Kaye, an assistant commonwealth attorney working a serial rapist cold case, a case from Melanie's past.
Everything Happens for a Reason: and Other Lies I've Loved by Kate Bowler
A divinity professor and young mother with Stage IV cancer shares her perspectives on friendship, love and death while describing her efforts to remain true to her faith in spite of impossible hardships.
Executor's Guide by Mary Randolph
Millions of baby boomers are currently (or will soon be) serving as executors, and this book shows exactly what to do NOW to make the job manageable.
High Voltage by Karen Marie Moning
With catastrophic magic seeping into the earth, Dani O'Malley teams up with immortal Ryodan to save the world, but she may have to pay an unspeakable price for the power to save mankind.
Improvement by Joan Silber
A young single mother living with her concerned eccentric aunt in New York makes fateful decisions that have unexpected implications, including her relationship with a Ryker's Island inmate who draws her into a cigarette smuggling scheme.
Innocent Wife by Amy Lloyd
Falling in love with a man on death row she believes was falsely accused, a young schoolteacher successfully campaigns for the man's release and becomes his wife, only to begin to wonder about his possible guilt in the aftermath of his release.
Plum Tea Crazy by Laura Childs
When it is discovered that banker Carson Lanier was hit by a crossbow, Theodosia is challenged to identify the killer among multiple suspects, including an estranged wife, a disgruntled co-worker, and a real-estate partner.
Social Security, Medicare and Government Pensions: Get the Most Out of Your Retirement & Medical Benefits by J. L. Matthews
A concise guide to navigating the often complex Social Security and Medicare systems shows readers how to determine the amount of their benefits, time their retirement to get the best benefits, fill out and file all the required forms and more, in a revised edition that includes coverage of Medicare Part D prescription drug coverage, medigap, veterans' benefits and more.
The Third Victim by Phillip Margolin
When a series of abductions, tortures and murders are traced to the home of a prominent attorney in rural Oregon, a rookie lawyer becomes a second chair to a legendary criminal defense attorney who holds a dangerous secret.
The Woman Left Behind by Linda Howard
In the aftermath of an attack that leaves her separated from the rest of the elite paramilitary team, communications expert Jina escapes to the desert determined to evade the enemy and reconnect with her unit before they are exfiltrated.