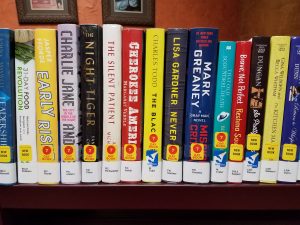 The latest in series by Charles Todd, Mark Greaney, Lisa Gardner, and Bill Crider along with new fantasy, sci fi, and suspense are awaiting you at your library!
31-Day Food Revolution by Ocean Robbins
An eater's guide to liberation from a toxic food world, offering an action plan for eating food that's healthy, ethical, sustainable, and delicious.
The Black Ascot by Charles Todd
An unexpected tip lands Inspector Ian Rutledge on the trail of a suspect behind a royal horse-race murder, only to find his own sanity brought into question by shocking events.
Brave, Not Perfect: Fear Less, Fail More by Reshma Saujani
The founder of the Girls Who Code nonprofit shares insights into the toxic cultural standards affecting girls today, explaining how girls can transition from perfectionism to more courageous practices that understand the value of imperfection.
Cherokee America by Margaret Verble
From the author of the Pulitzer Prize finalist Maud's Line, an epic novel that follows a web of complex family alliances and culture clashes in the Cherokee Nation during the aftermath of the Civil War, and the unforgettable woman at its center.
City in the Middle of the Night by Charlie Jane Anders
Reluctant revolutionary Sophie survives exile by forging an unusual, world-changing bond with a family of ice creatures that live outside the human confines of their dying planet.
Early Riser by Jasper Fforde
When an outbreak of viral dreams starts killing the sleeping masses, Charlie Worthing and the rest of the Winter Consuls must find out who or what is killing the people they have sworn to protect.
Leadershift: the 11 Essential Changes Every Leader must Embrace by John C. Maxwell
Maxwell, an author, coach, and speaker whose organizations train leaders around the world, identifies 11 shifts every leader must embrace to enhance organizational and personal growth in a rapidly changing world, in relation to the elements of focus, personal development, cost, relationship, abundance, reproduction, communication, improvement, influence, impact, and passion.
Mission Critical by Mark Greaney
Court Gentry is ordered to track down a group of assassins and rescue a mystery man that was kidnapped while being transported to England to be interrogated by a joint CIA/MI6 team.
Never Tell by Lisa Gardner
While D.D. Warren investigates a pregnant woman's suspicious role in the murders of her father and husband, Flora Dane draws on her own haunted past to identify an unsettling link to one of the victims.
The Night Tiger by Yansze Choo
A vivacious dance-hall girl in 1930s colonial Malaysia is drawn into unexpected danger by the discovery of a severed finger that is being sought by a young houseboy in order to protect his late master's soul.
The Silent Patient by Alex Michaelides
Criminal psychotherapist Theo Faber becomes dangerously obsessed with uncovering the truth about what prompted his client, an artist who refuses to speak, to violently murder her husband in a way that triggers mass public speculation.
That Old Scoundrel Death by Bill Crider
Texas sheriff Dan Rhodes tackles a final mystery involving an unidentified victim at a school demolition site, a band of dimwitted hoodlums, and a paranoid detective.