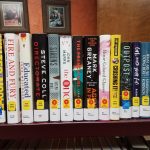 This week we offer some mystery series, science fiction and a few political books, which seem to somehow fit right it with the mysteries and sci-fi.  And psychological suspense, historical fiction, essays, and a business book are also in the mix.
Agent in Place by Mark Greaney
Taking a contract to abduct the mistress of a Syrian dictator to obtain any information she may possess, Court Gentry learns that the woman has given birth to the dictator's only son and that in order to secure her cooperation, he must retrieve the child safely out of Syria.
Atomic City Girls by Janet Beard
A novel inspired by the stories of everyday women who contributed to the Manhattan Project during World War II follows the experiences of 18-year-old June, who, in 1944, travels to a city that does not officially exist to work alongside hundreds of other young women operating massive secret machines in support of the war effort.
Crushing It! How ­Great Entrepreneurs Build their Business and Influence — and How You ­Can, Too
by Gary Vaynerchuk
The New York Times best-selling author of Crush It! shares new lessons and inspiration drawn from dozens of entrepreneurs who rejected traditional corporate careers in favor of pursuing their dreams, in a guide that includes profiles of such notables as Andy Frisella, Jared Polin and others.
Death of an Honest Man by M. C. Beaton
When an insensitive newcomer to the village of Cnothan is found dead, Sergeant Hamish Macbeth confronts a bewildering array of suspects at the same time his clumsy police sidekick, Charlie, resigns in protest of his treatment by Chief Inspector Blair.
Directorate S: the C.I.A. and America's Secret Wars in Afghanistan and Pakistan by Steve Coll
A follow-up to the Pulitzer Prize-winning Ghost Wars traces America's intelligence, military and diplomatic efforts to defeat Al Qaeda and the Taliban in Afghanistan and Pakistan in the years since 9/11.
Down the River Unto the Sea by Walter Mosley
After serving time in Rikers Island solitary for assault, Joe King Oliver, who is an ex-NYPD investigator working as a private detective, receives a note from a woman who admits she was paid to frame him, compelling him to investigate.
Educated: A Memoir by Tara Westover
Traces the author's experiences as a child born to survivalists in the mountains of Idaho, describing her participation in her family's paranoid stockpiling activities and her resolve to educate herself well enough to earn acceptance into a prestigious university and the unfamiliar world beyond.
Fifty Fifty by James Patterson
Violating protocol in her efforts to defend her brother against murder charges, Detective Harriet Blue is forced to relocate to a virtual ghost town in the outback, where a diary found on the roadside reveals shocking plans to massacre the community's few remaining residents.
Fire and Fury: Inside the Trump White House by Michael Wolff
With extraordinary access to the West Wing, Michael Wolff reveals what happened behind-the-scenes in the first nine months of the most controversial presidency of our time.
The French Girl by Lexie Elliott
Sharing an idyllic week in a French farmhouse, six university students find their deep bond tested by the arrival of a beautiful woman who undermines their loyalties and ignites tensions before an explosive event that places one of the students under suspicion for the woman's death a decade later.
Girl, Wash Your Face: Stop Believing the Lies About Who You Are So You Can Become Who You Were Meant to Be by Rachel Hollis
The popular online personality and founder of TheChicSite.com presents her signature frank and humorous advice on how to break the cycle of burnout and negativity to achieve self-confidence and pursue a life of exuberance, drawing on her personal experiences as a celebrity wife and mother to reveal her strategies for revitalizing postponed life goals.
The One by John Marrs
A decade after scientists discover that everyone has a "soulmate gene" that they share with just one other person, five people meet their matches, only to be torn by shocking secrets.
Outpost by W. Michael Gear
On a treacherous alien planet where corporate threats and dangerous creatures imperil the lives of its colonists, a career-driven ship supervisor, a Port Authority ruler in fear of her life, a power-hungry psychopath and a corporate enforcer engage in a deadly game of cat-and-mouse with a brutal killer.
Rosie Colored Glasses by Brianna Wolfson
Enraged by her parents' joint-custody arrangement after she expressed a preference to live exclusively with her mother, eleven-year-old Willow struggles to make sense of her changing world and loneliness when her mother's demons begin to surface and overtake her.
Sirens by Joseph Knox
An emotionally damaged Manchester detective takes an undercover assignment to rescue a politician's runaway daughter, who has developed an association with a brilliant and lethal drug lord.
Strength in Stillness by Bob Roth
A practical guide to meditation by a leading authority shares insights into the scientific principles behind why and how Transcendental Meditation works to reduce stress, access inner power, and build resilience.
What Are We Doing Here?: Essays by Marilynne Robinson
A new essay collection by the Pulitzer Prize- and National Book Critics Circle Award-winning author of Gilead assesses today's political climate and the mysteries of faith, from the influence of intellectual minds on society's political consciousness to the way that beauty informs and disciplines daily life.