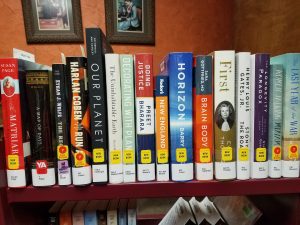 The incredible beauty of our planet and the danger it is in are topics of several of this week's books along with books about taking better care of our own bodies.  Throw in a few more about justice, or the lack thereof, and you have potential causes with which to get involved.  It can start at the library!
Brain Body Diet by Sara Gottfried
The New York Times best-selling author of The Hormone Reset Diet outlines a 40-day program for reconnecting the brain and body to counter common symptoms affecting today's women, from weight gain to digestive imbalance to depression.
Decorating with Plants by Baylor Chapman
The complete guide to "greening" your space, with ideas and inspiration for adding plants to every room in your home, plus a directory of versatile, easy-to-care-for specimens.
Doing Justice: A Prosecutor's Thoughts on Crime, Punishment, and the Rule of Law
by Preet Bharara
Using case histories and personal experiences, a one-time federal prosecutor for the Southern District of New York explains how the U.S. justice system works and shows the thought process Americans need to best achieve truth and justice in our daily lives and within our society.
First: Sandra Day O'Connor by Evan Thomas
Based on exclusive interviews and access to the Supreme Court archives, an authoritative portrait of America's first female Supreme Court justice covers her convention-breaking achievements and role in shaping decades of American law.
Fodor's New England by Fodor's Travel Guides
Written by locals, Fodor's New England is the perfect guidebook for those looking for insider tips to make the most out their visit.
Horizon by Barry Lopez
The National Book Award-winning author of Arctic Dreams presents a lyrical, intellectual account of his world travels and the extraordinary encounters with people, animals and natural elements that shaped his life.
The Last Year of the War by Susan Meissner
When Elise Sontag's father is arrested on suspicion of being a Nazi sympathizer, the family is sent to an internment camp in Texas where her friendship with a Japanese American teen from Los Angeles helps her hold tight the dream of a future beyond the fences.
The Longevity Paradox: How to Die Young at a Ripe Old Age by Dr. Steven R. Gundry
Dr. Steven Gundry maps out a new approach to aging well—one that is based on supporting the health of the "oldest" parts of us: the microorganisms that live within our bodies.
Matriarch: Barbara Bush and the Making of an American Dynasty by Susan Page
Drawing on diaries and more than one hundred interviews, a portrait of the former first lady covers her private struggles and public achievements, discussing how she helped to define two presidencies and a political era.
Our Planet by Alastair Fothergill
A companion guide to the Netflix series showcases the nature's beauty, the surprising lives of animals and the destruction that humans have wrought on wildlife and habitats with photos of the world's rarest animals and previously unseen parts of Earth.
Run Away by Harlan Coben
After discovering his drug-addicted daughter Paige, who he has not seen in six months, panhandling in Central Park, Simon follows her into a dark and dangerous world he never knew existed that puts his family and his life on the line.
Stony the Road: Reconstruction, White Supremacy, and the Rise of Jim Crow by Henry Louis Gates
Gates chronicles America's post-Civil War struggle for racial equality and the violent counterrevolution that resubjugated black Americans throughout the twentieth century, as seen through the visual culture of the era.
Uninhabitable Earth: Life After Warming by David Wallace-Wells
Wallace-Wells examines the profound ways global warming will impact the Earth's ability to sustain human life and civilization, from food shortages to millions of environmental refugees, and elicits a plea for action to stop climate change.
Women Talking by Miriam Toews
Based on real events, Women Talking is the story of eight women in a remote Mennonite colony who face an agonizing decision in the aftermath of a series of unspeakable sexual crimes.