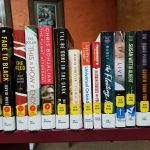 Technology addiction, travel guides, and lots of murder and mayhem are in store for those who read books from this week's list.
Fade to Black by David Rosenfelt
Attending an amnesia support group after being wounded in the line of duty, New Jersey state police officer Doug Brock is approached by a fellow member who has discovered a scrapbook of cold-case murder victims with possible ties to Doug's past.
The Feed by Nick Clark Windo
Living in a world where everyone is willingly addicted to The Feed, a technology that instantly connects everyone to news, information and the thoughts and feelings of others, Tom uses his skills of existing without being connected to help his family survive when The Feed collapses, decimating modern society.
The Flight Attendant by Chris Bohjalian
A binge-drinking flight attendant wakes up in an unfamiliar hotel room beside a dead body and sneaks back to her work, telling a series of lies that complicate her ability to figure out what really happened.
Frommer's Easyguide to Alaskan Cruises by Fran Wenograd Golden
Frommer's provides information on Alaskan cruise ships and itineraries, and suggests sights and excursions at each port of call.
I'll Be Gone in the Dark by Michelle McNamara
An account of the unsolved Golden State Killer case traces the rapes and murders of dozens of victims and the author's determined efforts to help identify the killer and bring him to justice.
I've Been Thinking  by Maria Shriver
The Peabody and Emmy Award-winning journalist and best-selling author of Just Who Will You Be? presents a book of reflections for those seeking wisdom, guidance, encouragement, and inspiration on the road to a meaningful life.
The Other Girl by Erica Spindler
The ritualistic murder of a beloved college professor forces small-town Louisiana police officer Miranda Rader to confront a traumatic night from her long-buried past.
Sunburn by Laura Lippman
A pair of travelers, one of whom may be playing a dangerous psychological game with the other, embark on a steamy summertime affair that is thrown into chaos by dark secrets and a suspicious death
This is How It Ends by Eva Dolan
A community activist and social protester squatting in a building slated to be converted to luxury condos, already well-known by the police, must clear her name after a gruesome murder is committed in her apartment while she attended a rooftop party.
Unofficial Guide to Universal Orlando 2018 by Seth Kubersky
Rates and describes rides, attractions, and restaurants in Universal Studios—including such new attractions as Skull Island: Reign of Kong and The Wizarding World of Harry Potter—and provides travel tips on hotels, shopping and parking. Includes charts and tables.