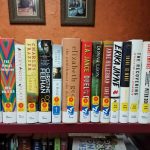 We offer a good mix of fiction and nonfiction that ranges in time from a fictional Civil War story of the wife of Jefferson Davis to the true, but lesser-known, inside story behind the dangerous Apollo 8 mission and ranges in topic from a fictional Amish story to the nonfictional exploration of addiction.
Alternate Side by Anna Quindlen
Living in a quiet Manhattan brownstone that has become its own little community, Nora discovers her true self in the wake of a violent attack that exposes the racial, economic, marital, and interpersonal tensions beneath her neighbors' facade of harmony.
Cave of Bones by Anne Hillerman
Preparing to speak at an outdoor character-building program for at-risk teens, Tribal Police Officer Bernadette Manuelito discovers the camp in a panic over a missing instructor and a traumatized girl's discovery of a human skeleton in the wilds of the mythology-steeped lava wilderness bordering the Ramah Navajo Reservation.
Covert Game by Christine Feehan
When one of the world's leading experts on artificial intelligence is captured by a criminal mastermind, a GhostWalker assassin desperate to escape from the demons of his past embarks on what could prove to be a suicide mission.
Duel to the Death by J. A. Jance
After taking down the man responsible for his best friend's death, Stuart Ramey is targeted by the killer's rogue artificial intelligence program known as Frigg and must enlist his fellow cyber security colleagues at High Noon Enterprises.
Every Note Played by Lisa Genova
A once-celebrated concert pianist who is gradually succumbing to ALS is forced to accept help from the estranged wife he pushed away, a situation that forces the couple to reconcile their past before time runs out.
The Evolution of Beauty by Richard Prum
Richard O. Prum, an award-winning ornithologist, discusses Charles Darwin's second and long-neglected theory–aesthetic mate choice–and what it means for our understanding of evolution.
The Female Persuasion by Meg Wolitzer
A shy college freshman finds her perspectives transformed by a mentor activist at the center of the women's movement who challenges her to discover herself in ways that take her far from the traditional life she envisioned at the side of her boyfriend.
Pretty Mess by Erika Jayne
The model, singer, and reality television star traces her rise to fame, her decision to accept a role on reality television, the ups and downs of her family life, and the obstacles she overcame to achieve success.
The Punishment She Deserves by Elizabeth George
Inspector Thomas Lynley of Scotland Yard and detective sergeant Barbara Havers are approached by a member of Parliament with a request to investigate the supposed suicide of a constituent's son.
The Recovering: Intoxication and Its Aftermath by Leslie Jamison
The best-selling author of The Empathy Exams presents an exploration of addiction that blends memoir, cultural history, literary criticism and journalistic reportage to analyze the role of stories in conveying the addiction experience, sharing insights based on the lives of genius artists whose achievements were shaped by addiction.
The Road Home by Beverly Lewis
Sent from Michigan to Pennsylvania, Lena Rose Schwartz grieves the death of her Amish parents and the separation from her siblings as well as her beau, Hans Bontrager.
Rocket Men: The Daring Odyssey of Apollo by Robert Kurson
Shares the lesser-known inside story of the dangerous Apollo 8 mission, focusing in particular on the lives and families of astronaut heroes Frank Borman, Jim Lovell and Bill Anders, while illuminating the political factors that prompted America to risk lives to save the Apollo program and define the space race.
Secret Empires by Peter Schweizer
The author of Throw Them All Out and Extortion draws on extensive research to reveal hidden practices of corruption among some of America's most high-profile and respected politicians.
The Temptation of Forgiveness by Donna Leon
A suspicious accident involving the father of a boy suspected of doing drugs finds Commissario Guido Brunetti pursuing a series of false and contradictory leads before uncovering a long-standing scam and unleashing unintentional consequences.
There Is More by Brian Houston
Using inspirational stories, the author provides spiritual advice about how finding and trusting in God's plan can learn to a more purposeful and fulfilling life.
Varina by Charles Frazier
Forced by limited prospects to marry much-older widower Jefferson Davis, teenaged Varina Howell finds her expectations as the wife of a Mississippi landowner upended by his appointment as the leader of the Confederacy, a situation that renders her and her children fugitives in a divided and increasingly hostile nation.