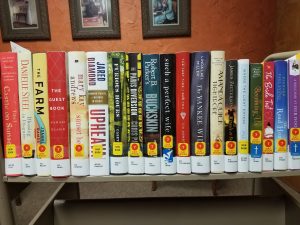 This week's list includes a book that has been compared to The Handmaid's Tale, a book about the book Harper Lee didn't write, and a plethora of books about family secrets, mysteries and love.
Becoming Us by Robin Jones Gunn
From the author of the best-selling Christy Miller and SisterChicks series comes a new book of community, friendship and tackling the hard things in life with God and loved ones around a table.
Blessing in Disguise by Danielle Steel
Loving three very different men throughout her lifetime, a single mother and art consultant examines the unique bonds she shares with her three daughters, before an unexpected twist of fate brings a past secret to light.
Bride Test by Helen Hoang
When his difficulties with processing emotions complicate the search for his bride, a Vietnamese-American on the autism spectrum is pursued by a hopelessly smitten girl from the Hot Chi Min City slums.
Castle on Sunset by Shawn Levy
The best-selling author of Rat Pack Confidential presents a deeply researched history of the iconic Hollywood hotel that explores its storied role in wild celebrity revelries, scandalous liaisons and creative breakthroughs.
The Farm by Joan Ramos
Ensconced within a Hudson Valley luxury retreat where expectant birth mothers are given luxurious accommodations and lucrative rewards to produce perfect babies, a Filipino immigrant is forced to choose between a life-changing payment and the outside world.
Furious Hours: Murder, Fraud, and the Last Trial of Harper Lee by Casey Cep
The stunning story of an Alabama serial killer and the true-crime book that Harper Lee worked on obsessively in the years after To Kill a Mockingbird.
The Guest Book by Sarah Blake
The bereaved matriarch of a powerful early-twentieth-century American family makes a fateful decision that reverberates throughout two subsequent generations further impacted by racism, reversed circumstances, and disturbing revelations.
The Last Time I Saw You by Liv Constantine
In the aftermath of her mother's murder, Dr. Kate English reaches out to her estranged best friend Blaire Barrington, a mystery author, who decides to investigate when Kate starts getting anonymous texts from the killer.
Miracle at St. Andrews by James Patterson
Former professional golfer Travis McKinley travels to Scotland to the mythical greens at St. Andrews in search of something that can help him achieve a higher plane.
The Paris Diversion by Chris Pavone
After a leisurely start to a normal day, American expat Kate Moore finds herself partnered with a French agent to investigate a bombing threat in Paris.
The Road Home by Richard Paul Evans
After finding out that his ex-wife, who he hoped to reconcile with, is engaged, Charles James continues his pilgrimage down Route 66 to Santa Monica, California.
Robert B. Parker's Buckskin by Robert Knott
When gold is discovered outside the town of Appaloosa, marshals Virgil Cole and Everett Hitch find their problems multiplying as two mining factions fight over the claim and anonymous letters to the editor of the local paper lead them to a series of murders and in pursuit of the killer.
Such a Perfect Wife by Kate White
True crime writer Bailey Weggins heads to Lake George to investigate the disappearance of Shannon Blaine, a case that appears to be straightforward until Bailey uncovers the work of a serial killer.
Sunset Beach by Mary Kay Andrews
Reluctantly accepting a job at her estranged father's law firm in the aftermath of her mother's passing, Drue is tangled in a decades-old mystery that threatens everyone she loves.
Tightrope by Amanda Quick
When her new bed-and-breakfast is threatened by a robot innovator's untimely death, a former trapeze artist teams up with an enigmatic man who would track down a cipher machine prototype.
Upheaval: Turning Points for Nations in Crisis by Jared Diamond
Diamond reveals how some nations successfully recover from crises while adopting selective changes–a coping mechanism more commonly associated with individuals recovering from personal crises.
A Welcome at Our Door Amy Clipston
After the death of her mother, Cindy Riehl was left grieving and wondering if her community was still the place for her, and when she meets and is drawn to an Englisher named Drew, she finds herself having to make very difficult choices.
Where the Light Enters: Building a Family, Discovering Myself by Jill Biden
The former Second Lady describes her marriage to Joe Biden and the role of politics in her life and teaching career, sharing intimate insights into the traditions, resilience and love that have helped her family establish balance and endure tragedy.
The Yankee Widow by Linda Lael Miller
A richly layered saga is set against the backdrop of the Civil War, The Yankee Widow explores the complexities and heartbreak that families experienced as men took up arms to preserve the nation and defend their way of life.