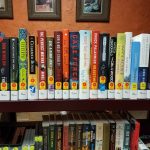 Everybody has a secret and in this week's list, those secrets can have devastating consequences.  A secret crime, a secret past, or secret motives can ratchet up the tension in the hands of a skilled author.  If you prefer real life, a couple of the titles below reveal the secret life of stars.
Adjustment Day by Chuck Palahniuk
A timely satire by the best-selling author of Fight Club lampoons the absurdities in society with a depiction of a world where politician warmongering, erupting economic divides and melodramatic doomsday predictions culminate in the rise of a mysterious book that issues directives for the approaching Adjustment Day.
Charmed Bones by Carolyn Haines
Called to an urgent school board meeting involving a dispute between local conservatives and a trio of Wiccan practitioners who want to open a school, Sarah and her partner, Tinkie, investigate when the Wiccan sisters are implicated in the untimely death of their landlord, a reclusive local artist.
The Crooked Staircase by Dean Koontz
Rogue FBI agent Jane Hawk tracks a powerful Department of Justice operative at the center of a high-tech conspiracy that killed her husband and now threatens those closest to her as part of an agenda to seize power.
Destiny Thief by Richard Russo
This collection of personal essays from the Pulitzer Prize-winning author of Everybody's Fool describes his broad interests and experiences, from an analysis on the value of Mark Twain, to accompanying a good friend on her pursuit of gender reassignment surgery.
The Force by Don Winslow
A haunting and heartbreaking story of greed and violence, inequality and race, crime and injustice, retribution and redemption that reveals the seemingly insurmountable tensions between the police and the diverse citizens they serve
The Forgotten Road by Richard Paul Evans
A follow-up to The Broken Road follows the inspirational pilgrimage of a man believed dead in a fiery plane crash who survives due to a remarkable twist of fate before embarking on a journey across Route 66 to pursue a second chance at life and opportunities to correct past mistakes.
Gale Force by Owen Laukkanen
After witnessing her father's death in a maritime accident and becoming the captain of a salvage boat, McKenna and her crew take a job helping a freighter only to discover that it contains cargo that is being targeted by enemies.
The Girl in the Woods by Patricia MacDonald
A woman returning to her hometown to visit her dying sister sets out to discover the truth about her best friend's murder 15 years earlier after learning a shocking secret that could exonerate the man serving time for the crime.
Give-a-Damn Jones by Bill Pronzini
A free-spirited itinerant typographer who hates both his nickname and the rumors attributed to his character arrives in a small Montana town rife with tensions related to a convict's efforts to prove his innocence, a cattleman's demand for respect, a snooping firebrand editor and a feud between a wily dentist and a violent blacksmith.
The High Tide Club by Mary Kay Andrews
Unexpectedly hired by an eccentric millionaire from a vast barrier island home, a young attorney learns the story of the new client's now-deceased circle of friends, her determination to protect the land from developers, disturbing clues about a long-unsolved murder and her ambitious plans for heirs and descendants.
Less by Andrew Sean Greer
Receiving an invitation to his ex-boyfriend's wedding, Arthur, a failed novelist on the eve of his fiftieth birthday, embarks on an international journey that finds him falling in love, risking his life, reinventing himself, and making connections with the past.
The Other Lady Vanishes by Amanda Quick
Escaping from a private sanitarium and taking a job at an herbal tea shop in a 1930s California seaside resort town, Adelaide bonds with a man hiding under the cover of a therapy-seeking widower before a local con artist is murdered, drawing them both into a shadowy underground of duplicity and misdirection.
Our Kind of Cruelty by Araminta Hall
A less-than-reliable male narrator describes his emergence from a brutal childhood and devotion to the happiness of a woman who he believes is not returning his calls because she is playing games with him and only pretending to be getting married to someone else.
Our Little Secret by Roz Nay
The interrogation-weary, longtime ex of a man whose wife has gone missing imparts the story of their relationship a decade earlier to a criminologist who appears to be the first person who believes her, an account that raises troubling possibilities about a group of retribution-seeking suspects.
Paul Simon by Robert Hilburn
A candid portrait of the Rock and Roll Hall of Fame member, written with rare input by Simon himself, discusses his creative process, his marriages, his decision to leave Simon and Garfunkel, and the challenges and sacrifices of living life at the ultimate level of music artistry.
The Perfect Mother by Aimee Molloy
A group of new moms who all gave birth in the month of May gather twice weekly at the park to offer support and companionship before one of the babies is shatteringly abducted, subjecting his traumatized mother to invasive questions and prompting the others to go to increasingly risky lengths to help.
The Perfectionists by Simon Winchester
The best-selling author of The Professor and the Madman traces the development of technology from the Industrial Age to the Digital Age to explore the crucial role of precision in advancement.
Queen of Sorrow by Sarah Beth Durst
Queen Daleina finds shattered the peace and prosperity she has fought hard to bring to her forest home when Naelin's children are kidnapped by spirits, in a conclusion to the series following The Reluctant Queen.
Robin by Dave Itzkoff
The New York Times culture reporter and author of Mad as Hell presents a compelling portrait of Robin Williams that illuminates his comic brilliance, conflicting emotions and often misunderstood character, sharing insights into the gift for improvisation that shaped his wide range of characters, his struggles with addiction and depression and his relationships with friends and family members.
A Shout in the Ruins by Kevin Powers
A novel that spans one hundred years and is set in Virginia during the Civil War and a century beyond explores the brutal legacy of violence and exploitation in American society as it examines the fates of the inhabitants of Beauvais Plantation and their descendants.
Tangerine by Christine Mangan
Arriving in Tangier with her new husband only to encounter the estranged best friend she has not seen in more than a year, Alice allows her friend to introduce her to the rhythms and culture of Morocco but is quickly stifled by the woman's controlling nature, a situation that turns sinister when her husband goes missing.