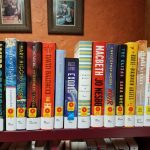 Nonfiction books can make you think such as two of the books in this week's group – Hans Rosling's book that Bill Gates says is one of the most important books he has ever read and Madeline Albright's book that offers a warning to beware fascism.
After Anna by Lisa Scottoline
When her daugher Anna is murdered and her new husband Noah is accused of the crime, Maggie searches for the truth, where she uncovers something darker than she could have ever imagined.
Dear Madame President by Jennifer Palmieri
An empowering letter from a former White House Communications Director, written to the first woman President, and by extension, all women working to succeed in any field, shares a forward-thinking framework of inspirational and practical advice on taking control of one's life and reevaluating women as leaders.
The Elizas by Sara Shepard
Unable to get anyone to believe that she was pushed before she was rescued from the bottom of a hotel pool, a rising author struggling with suicidal depression and memory loss begins to question her sanity as elements from her debut novel begin to mix up with events in her real life.
Factfulness: Ten Reasons We're Wrong about the World—and Why Things are Better than You Think by Hans Rosling
A Professor of International Health and popular global TED speaker and his son and daughter-in-law who co-founded the Gapminder Foundation, explain how the best guesses, thoughts and concepts we accept as fact are actually tempered and informed by unconscious and predictable biases.
The Fallen by David Baldacci
Visiting a friend's family home in an economically troubled western Pennsylvania community, Amos Decker, a detective with an uncanny eidetic memory, spots suspicious lights and discovers two dead bodies with no clear indication of how either victim died before corrupt local authorities and other mysterious roadblocks challenge his investigation.
Fascism: A Warning by Madeleine Albright
The former U.S. secretary of state presents a timely, considered, and personal look at the history and current resurgence of fascism and the virulent threat it poses to international freedom, prosperity, and peace.
Giada's Italy: My Recipes for La Dolce Vita by Giada de Laurentiis
The celebrity chef shares recipes for authentic Italian dishes infused with her signature fresh flavors, including such dishes as crab arancini, hazelnut chicken, savory crostata, and lamb osso buco, along with family stories and cooking tips.
Greeks Bearing Gifts by Philip Kerr
Taking a job as a claims adjuster for a major German insurance company in 1956 Munich, an undercover Bernie Gunther investigates the brutal murder of a thieving soldier in a case with ties to Nazi plunder that prompts his collaboration with a lieutenant who has been looking for an opportunity to bring an untouchable killer to justice.
The House of Broken Angels by Luis Alberto Urrea
Across one bittersweet weekend in their San Diego neighborhood, revelers mingle among the palm trees and cacti, celebrating the lives of family patriarch Miguel "Big Angel" De La Cruz and his mother, and recounting the many tales that have passed into family lore.
I've Got My Eyes on You by Mary Higgins Clark
After her eighteen-year-old sister is found murdered at the bottom of the family pool, Aline unknowingly makes herself a target when she teams up with the prosecutor's office to uncover the truth.
The Kremlin Conspiracy by Joel C. Rosenberg
As the American president's attention goes towards tensions in North Korea and Iran, former U.S. Secret Service agent Marcus Ryker targets a threat from Moscow that could destroy the NATO alliance and bring Washington and Moscow to the brink of war.
Macbeth by Jo Nesbo
Reimagines Shakespeare's "Macbeth," set in a rundown industrial town, where Hecate, a drug dealer, tells Inspector Macbeth he will replace the chief of police Duncan and his lover Lady plots to make it happen.
Make Trouble by Cecile Richards
The president of Planned Parenthood shares the story of her lifetime spent fighting for women's rights and social justice, offering insight into her work as a labor organizer, the challenges of balancing career and family, and her views about the importance of taking risks.
Miss Julia Raises the Roof by Ann B Ross
Learning that a nosy local gossip has teamed up with a new pastor to set up a secret home for wayward teens in the lot beside Hazel Marie's home, Miss Julia is shocked to discover that the venture has a sinister underlying agenda with the power to permanently disrupt their quiet and peaceful community.
A Nantucket Wedding by Nancy Thayer
The long-awaited nuptials of a woman to the love of her life are thrown into turmoil and drama by family dynamics involving her daughters, including one whose husband has just revealed an affair and another who falls for her soon-to-be stepbrother.
Natural Causes by Barbara Ehrenreich
The respected cellular immunologist and author of the best-selling Nickel and Dimed shares cautionary insights into today's healthcare practices to identify the cellular sources of aging and illness while revealing how most treatments are aggressive and offer only an illusion of control and better survivability at the cost of life quality.
Noir by Christopher Moore
A mad-cap noir set on the streets of post-World War II San Francisco follows a smitten barkeep and unofficial fixer-for-hire as he investigates his paramour's disappearance amid a series of weird events involving an unidentified flying object and a mysterious plane crash.
Women in Sunlight by Frances Mayes
Four American women become unexpected friends during a magical year in Tuscany marked by a writer's complicated relationship with the subject of her biography, long-postponed dreams, and shifting senses of adventure and bravery.