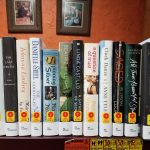 Family relationships are prime topics in this week's small, but interesting, list of books.  From finding out dark secrets about family, to rethinking family bonds, to the intricate workings of blended families, many of these books examing the strings attached to the ties that bind.
All These Beautiful Strangers by Elizabeth Klehfoth
Seventeen-year-old Charlie seeks to become a member of an elite secret society at her school by playing The Game, a semester-long, high-stakes scavenger hunt that will reveal the terrible truth about her family, her school, and her own life.
Caged by Ellison Cooper
Focusing on her research after the death of her fiancé, an FBI neuroscientist investigates the torturous murder of a senator's daughter before discovering that her dangerously obsessed killer has abducted a second victim.
Clock Dance by Anne Tyler
After receiving a call from a stranger about her son's ex-girlfriend being injured, Willa flies across the country to Baltimore to take care of her and her nine-year-old daughter.
A Gathering of Secrets by Linda Castillo
A deadly fire resulting in the death of an Amish teen exposes the dark side of the community to which Chief of Police Kate Burkholder once belonged.
The Good Fight by Danielle Steel
A young debutante's decides to become a lawyer and fight civil rights injustices at the sides of the unsung heroes who become her inspiration during the tumultuous transitions of the 1960s.
The Last Cruise by Kate Christensen
A final voyage for a 1950s vintage ocean liner is disrupted by strife and malfunctions above and below decks, unexpectedly testing a former journalist, a sous-chef, and a violinist.
Marry Me by Sundown by Johanna Lindsey
An American heiress turns to a rugged mountain man to help her locate her father's fortune in gold fever-stricken 1880s Montana.
A Question of Trust by Penny Vincenzi
A charismatic politician in 1950s London pursues an affair with a sultry fashion model before a child's illness forces him to rethink his principles, career and family bonds.
The Rational Bible: Exodus by Dennis Prager
In a commentary on the second book of the Bible, Prager uses rational arguments to demonstrate that the spiritual lessons contained in these books are true and are relevant to the challenges of the contemporary world.
Some Die Nameless by Wallace Stroby
An ex-mercenary and an embattled journalist find themselves unlikely allies against a corrupt defense contractor.
Spinning Silver by Naomi Novik
Deciding to collect on the outstanding debts owed her family of moneylenders, a young woman is overheard boasting about being able to turn silver into gold by the creatures who haunt the wood, in this reimagining of the Rumpelstiltskin story.
Summer Wives by Beatriz Williams
Drawn into and then banished from exclusive Winthrop Island when a complex relationship between her stepsister and a working-class college youth ends in violence, a Shakespearean actress returns after 20 years to pursue justice.
When We Found Home by Susan Mallery
Three very different people navigate the complicated discovery that they share the same late father and a wealthy grandfather who would surround himself with his blended family.