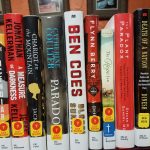 From the humor of Miranda Sings to the suspense of Catherine Coulter, this week's small shelf offers a variety of reads.  Health, politics, slavery, cults, and North Korea are all part of the mix.
Bloody Sunday by Ben Coes
CIA top special forces operative Dewey Andreas goes undercover in Macau, where he must foil Iran and North Korea's plot to acquire nuclear and long-range attack capabilities.
Chariot on the Mountain by Jack Ford
A story based on true events recreates a female slave's struggle for freedom in the decades before the Civil War as she is freed by her owner, kidnapped by slave catchers and returned to Virginia, and brings criminal charges against her kidnappers.
Death of a Nation by Dinesh D'Souza
An India-born conservative public policymaker challenges views that American society is built on racist policies, outlining controversial arguments that the nation's progressive agendas are actually destroying its history, culture and constitutional order.
A Double Life by Flynn Berry
Thirty years after Claire's father was suspected of murder and promptly disappeared, he is found by police, causing Claire's carefully calibrated existence to fracture as she wonders if she's the daughter of a murderer or a wronged man.
The Hope Jar by Wanda Brunstetter
Assuming the identity of a long-lost Amish granddaughter, a homeless woman discovers a jar filled with written prayers, quotes and thoughts and begins to question her deceit.
The Incendiaries by R. O. Kwon
A dark tale of violence, faith and loss follows the experiences of a young Korean-American woman at an elite university who is drawn into acts of domestic terrorism by a cult with ties to North Korea.
The Lady of Tarpon Springs by Judith Miller
When lawyer Zanna Kryko agrees to run her friend's inherited sponging business, the company's new Greek diver Nico Kalos questions whether an inexperienced young woman can do the job.
A Measure of Darkness by Jonathan Kellerman
Attending the scene of a mass shooting at a West Oakland party, Alameda County Coroner's Deputy Clay Edison discovers a mysterious victim and is drawn into a bizarre counterculture world of blurred moralities.
My Diarrhe by Miranda Sings
Presents the "leaked" diary of YouTube comedic personality Miranda Sings, including pages from her baby book, poems from her teenage years, secrets from her dating life, and stories of her rise to fame.
Paradox by Catherine Coulter
When divers discover the bones of multiple murder victims during a search of Lake Massey, agents Sherlock and Savich make a connection between the bones and an escaped psychopath who attempted to kidnap five-year-old Sean Savich.
The Plant Paradox by Steven Gundry
The cardiac surgeon and author of Dr. Gundry's Diet Evolution identifies hidden lectin compounds in otherwise healthy plant foods that are behind weight gain and chronic disease, outlining simple steps for removing or minimizing harmful lectins to safeguard health.