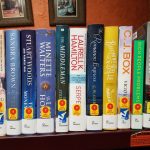 Choose from our latest selection of books that includes popular authors, next in series, and some outstanding nonfiction.
Becoming Belle by Nuala O'Connor
The charming eldest daughter of a nineteenth-century middle-class military family reinvents herself to gain entry into London's cultural and social circles before falling in love with a young aristocrat whose brutal father disapproves of the match.
Dopesick: Dealers, Doctors, and the Drug That Addicted America by Beth Macy
In a book that includes deeply human and unforgettable portraits of the families and first responders affected, the author chronicles America's more than twenty-year struggle with opioid addiction, from the introduction of OxyContin in 1996, through the spread of addiction in distressed communities in Central Appalachia, to the current national crisis.
Fly Girls: How Five Daring Women De­fied al­l Odds and ­Made Avi­a­tion His­to­ry by Keith O'Brien
An award-winning journalist traces the lesser-known story of five women, including Amelia Earhart, who successfully fought to compete against men in the high-stakes national air races of the 1920s and 1930s.
Four Funerals and Maybe a Wedding by Rhys Bowen
Lady Georgiana Rannoch's establishment as mistress of a grand estate is stymied by the property's disarray, the curious incompetence of the staff, and a suspicious gas leak.
The Last Hours by Minette Walters
Assuming control of her despised late husband's people in the wake of the Black Death, a 14th-century noblewoman struggles to protect formerly oppressed people who have been rendered superstitious and fanatical by the plague.
The Middleman by Olen Steinhauer
The rise and fall of a domestic left-wing terrorist group is traced from the perspectives of an FBI agent, an undercover agent, a convert and a writer on the sidelines.
The Money Shot by Stuart Woods
Disguising himself as a stuntman to investigate blackmail threats against an actress starring in a new production, Teddy Fay discovers that the perpetrators are looking for something other than money.
The Romanov Empress by C. W. Gortner
Marrying the Romanov heir, nineteen-year-old Danish princess Minnie becomes empress of Russia and treads a perilous path of compromise in a beloved but resistance-torn country where her son becomes the last tsar.
Serpentine by Laurell K. Hamilton
While visiting Florida for her friend and fellow U.S. marshal Edward's wedding, Micah uncovers a horrific new form of lycanthropy and Anita faces a strange power unlike any she's ever encountered.
Tailspin by Sandra Brown
Hired to deliver a mysterious box to a fogbound Georgia town, daredevil pilot Rye Mallett is targeted by saboteurs and law enforcement before teaming up with an attractive but suspicious doctor to determine the box's significance.
Tiffany Blues by M. J. Rose
Jenny Bell, a candidate at Louis Comfort Tiffany's Jazz Age artists' colony, navigates her attraction to her host's grandson and competes for a gallery spot before an unknown rival exposes her traumatic past.