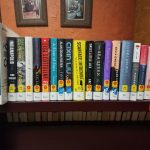 This week's list offers several new science fiction books with dystopias, apocalypses, plauges and viruses, and even alien abductors.   In addition, there are some nonfiction books covering such topics as the worst sea disaster in U. S. Naval history,  Americans in combat in Afghanistan and Iraq,  Al Capone and Eliot Ness, and the reading brain in a digital world.
Ball Lightning by Cixin Liu
After witnessing his parents' bizarre death by ball lightning, Chen uncovers a new frontier in particle physics that pits him against a weapons-obsessed army major and an unscrupulous physicist.
The Breakers by Marcia Muller
The disappearance of a young recovering addict in southwest San Francisco leads private investigator Sharon McCone to the site of a Prohibition-era nightclub, where she discovers a ghastly chamber of horrors.
The Distance Home by Paula Saunders
Two siblings enduring a hardscrabble existence in 1960s rural South Dakota pursue separate but equally extreme measures to find creative outlets and escape the dark, secretive elements of their community.
Feared by Lisa Scottoline
When nemesis Nick Machiavelli targets her family with frivolous legal claims and slander that escalate to an unthinkable tragedy, Mary DiNunzio discovers her own unsettling capacity for dark retaliation.
The Fighters: Americans in combat in Afghanistan and Iraq by C. J. Chivers
The Pulitzer Prize-winning author of The Gun traces the wars in Afghanistan and Iraq through its most at-risk participants, offering insights into such events as the hunt for bin Laden and counterguerilla warfare in the mountains of the Korengal Valley.
Indianapolis by Lynn Vincent
An account of the sinking of the USS Indianapolis during World War II draws on original research and new reporting to trace the half-century battle to exonerate Captain Charles McVay after a wrongful court martial.
Our Homesick Songs by Emma Hooper
Aidan and Martha Conner and their children Cora and Finn, residents of a once-idyllic fishing community decimated by mysteriously dwindling fish populations, each struggles in their own way to survive in a town they may soon need to abandon.
Reader, Come Home by Maryanne Wolf
Wolf draws on her extensive research from Proust and the Squid to consider the future of the reading brain and its capacity for critical thinking, empathy and reflection in today's highly digitized world.
Relic by Alan Dean Foster
The lone human survivor of a destructive engineered virus becomes a research subject for his alien rescuers, who outmaneuver his reluctance by offering to help him find the mythical planet Earth.
A River of Stars by Vanessa Hua
Betrayed by the boss who is also the father of her unborn child, an undocumented Chinese factory worker is forced to flee and reinvent herself in San Francisco's Chinatown in the desperate hopes of securing American citizenship for her baby.
Scarface and the Untouchables by Max Allan Collins
A groundbreaking dual biography of notorious gangster Al Capone and Prohibition agent Eliot Ness explores the violence and corruption of 1930s Chicago and the history-shaping raids and arrests made by the legendary Untouchables.
The Sea Queen by Linnea Hartsuyker
Ragnvald navigates increasingly treacherous political and military uprisings on behalf of King Harald, while his adventure-craving sister, Svanhild, longs for a more stable home for her son.
Severance by Ling Ma
A survivor of an apocalyptic plague maintains a blog about a decimated Manhattan before joining a motley group of survivors to search for a place to rebuild, a goal that is complicated by an unscrupulous group leader.
Sweet Little Lies by Caz Frear
A London policewoman from a troubled family is forced to investigate dark secrets in her estranged father's past to solve the murder of a young housewife and the disappearance of a teen girl years earlier.
Tailspin by Sandra Brown
Hired to deliver a mysterious box to a fogbound Georgia town, daredevil pilot Rye Mallett is targeted by saboteurs and law enforcement before teaming up with an attractive but suspicious doctor to determine the box's significance.
Texas Ranger by James Patterson
Dedicated Texas Ranger Rory Yates is wrongly implicated in the murder of his ex-wife and finds his skills pushed to the limit in his effort to discover the real killer and prove his own innocence.
Where the Crawdads Sing by Delia Owens
Viewed with suspicion in the aftermath of a murder, Kya Clark, who has survived alone for years in a marsh near the North Carolina coast, becomes targeted by unthinkable forces.