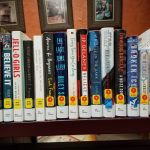 Disappearance is a recurring theme in this week's list.  Two teens disappear from a small town, a boyfriend disappears abruptly, a young girl's bunkmates disappear from summer camp, and a daughter disappears and is later found with no memory of what happened.  Check out these new books before they disappear from our shelves!
America for Beginners by Leah Franqui
A widow from India travels to California to learn the truth about what happened to the son who was declared dead shortly after he revealed his sexual orientation to their traditional family.
Aroused: the History of Hormones and How they Control Just About Everything
by Randi Hutter Epstein
An exploration of the history and science of hormones reveals the stories behind the discovery of hormones, the imbalances that cause illness, and the functions of specific hormones.
Believe it:  My Journey of Success, Failure, and Overcoming the Odds Nick Foles
The author describes how he separates himself from his football career and how his past mistakes have shaped him into the man he is today.
Believe Me by J. P. Delaney
An out-of-work British actress plays both sides of a murder investigation while working as a decoy for unfaithful husbands for a New York City divorce firm, in a twisted psychological thriller by the best-selling author of The Girl Before.
Broken Ice by Matt Goldman
The disappearance of two teens from a hockey community becomes more urgent when one of the girls is found dead, pitting Minneapolis private detective Nils Shapiro against dangerous small-town secrets.
Closed Casket by Sophie Hannah
Lady Athelinda Playford announces her decision to cut her children out of her will and leave her fortune to an invalid with just weeks to live, a declaration Hercule Poirot senses was made to provoke a murder.
Day of the Dead by Nicci French
When a series of murders announce the return of the serial killer that sent psychologist Frieda Klein into hiding, Frieda emerges to confront the psychopath.
Every Time You Go Away by Beth Harbison
Returning to the beach house where her husband died suddenly years earlier, Willa is overwhelmed by memories and reaches out to her son and friends to reconnect and heal.
Ghosted by Rosie Walsh
An idyllic romance between Sarah and her boyfriend, Eddie, is shattered when Eddie abruptly disappears, prompting Sarah to ignore her friends' advice and investigate what really happened.
The Handmade Quilt by Carolyn Forster
With one quilt of 15 blocks, master teacher Carolyn Forster takes readers on a quilt making journey that begins with the basics and progresses to more intricate techniques with each new block.
Jell-O Girls: A Family History by Allie Rowbottom
A descendant of the Jell-O dynasty traces the privilege, addiction, and illness that have impacted generations of her family, tracing her late mother's obsessive research into a link between their family's lifestyle and poor health.
The Last Time I Lied by Riley Sager
An artist who witnessed the disappearance of her bunkmates at summer camp as a young girl accepts an opportunity to return to Camp Nightingale as a painting instructor and tries to discover what really happened to her friends.
The Mermaid by Christina Henry
A mermaid living on the land teams up with P.T. Barnum in his latest money-making scheme, mistakenly believing she can leave any time she likes.
New Poets of Native Nations by Heid E. Erdrich
New Poets of Native Nations gathers poets of diverse ages, styles, languages, and tribal affiliations to present the extraordinary range and power of new Native poetry.
A Noise Downstairs by Linwood Barclay
Battling PTSD and depression after accidentally stumbling into a murder scene, a college professor begins writing his novel on a vintage typewriter that he comes to believe is possessed and somehow linked to the crime he survived.
Thrawn: Alliances by Timothy Zahn
The Hugo Award-winning author of Heir to the Empire presents a sequel to Thrawn that traces the rise of Grand Admiral Thrawn to the heights of Imperial power while exploring his past encounters with a fledgling Darth Vader.
What to Read and Why by Francine Prose
The New York Times best-selling author of Reading Like a Writer celebrates the pleasures of reading and pays homage to the works and writers she admires above all others, from Jane Austen to Charles Dickens to Jennifer Egan.
Whistle in the Dark by Emma Healey
After her missing daughter, Lana, is found injured and with no memory of what happened to her, Jen Maddox retraces Lana's steps–a journey that will lead her to a deeper understanding of the daughter she thought she knew.