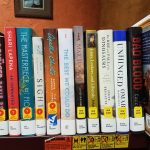 Almost weekly there are new publications portraying our politically polemic climate.  We don't offer them all, but a few are on this week's list.  From a Presidential Twitter Library to Judge Jeanine, you are sure to find something with which to agree or to be offended.
Bad Blood: Secrets and Lies in a Silicon Valley Startup by John Carreyrou
Prize-winning journalist John Carreyrou recounts the story behind Theranos, the medical equipment company that misled investors to believe they developed a revolutionary blood testing machine, detailing how its CEO, Elizabeth Holmes, perpetuated the lie to bolster the value of the company by billions.
The Best We Could Do: an Illustrated Memoir by Thi Bui
The author describes her experiences as a young Vietnamese immigrant, highlighting her family's move from their war-torn home to the United States in graphic novel format.
The Bouncer by David Gordon
After bouncer Joe Brody is arrested during a crackdown on his friend's strip club, he agrees to help FBI Agent Donna Zamora in a hunt for terrorists, as they race against time to stop a criminal mastermind who is plotting to unleash a mass attack.
The Donald J. Trump Presidential Twitter Library by The Daily Show with Trevor Noah
Comprising hundreds of Trump tweets, and featuring a foreword by Pulitzer Prize-winning historian Jon Meacham, The Donald J. Trump Presidential Twitter Library is a unique portrait of an artist whose masterworks will be studied by historians, grammarians, and mental health professionals for years to come.
Liars, Leakers, and Liberals by Jeanine Pirro
The judge and host of "Judge Jeanine Pirro" shares some of the most outrageous falsehoods she has seen behind the high-profile issues and narratives depicted on her show.
The Masterpiece by Fiona Davis
A recently divorced information-booth worker stumbles on an abandoned art school within a crumbling Grand Central Terminal before learning the story of a talented woman artist who went missing fifty years earlier.
The Mystery of Three Quarters by Sophie Hannah
Accused by strangers of trying to set them up for murder, Hercule Poirot teams up with Scotland Yard policeman Edward Catchpool to investigate the drowning death of an elderly man.
Pieces of Her by Karin Slaughter
The daughter of a woman who has wanted nothing more than a quiet life in her small beachside home embarks on a desperate search for answers when she discovers the explosive truth about her mother's true identity.
The Rise and Fall of the Dinosaurs by Steve Brusatte
A narrative scientific history of the dinosaur eras examines their origins, habitats, extinction, and living legacy, chronicling their evolution from small shadow dwellers through the emergence of prehistoric ancestors that became more than ten thousand modern bird species.
Sight by Jessie Greengrass
With forays into the history of psychoanalysis and the origins of modern surgery, our unnamed narrator shines a light on those hidden parts that lie at the heart of us, to reveal an examined life laid bare in all its desire and grief.
Unhinged: An Insider's Account of the Trump White House by Omarosa Manigault Newman
The former Assistant to the President and Director of Communications for the Office of Public Liaison in the Trump White House provides an eye-opening look into the corruption and controversy of the current administration.
Unshakable Hope by Max Lucado
Offers encouraging, practical advice for overcoming difficult circumstances and creating a better future, focusing on twelve of God's promises and how considering them can help one meet challenges, find security, and make wise decisions.
Unwanted Guest by Shari Lapena
Weathering a storm that has cut them off from the outside world, the guests at a Catskills skiing lodge panic as an unknown assailant starts killing them off one by one.