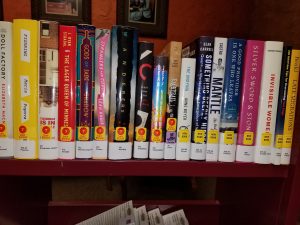 Dead Astronauts by Jeff VanderMeer
In a city with no name of its own, in the shadow of the all-powerful Company, lives human and otherwise converge in terrifying and miraculous ways with the fate of Earth at stake.
The Doll Factory by Elizabeth MacNeal
In 1850s London two people meet by happenstance, Iris, an arrestingly attractive aspiring artist, and Silas, a curiosity collector enchanted by all things strange and beautiful and whose obsession is darkening by the day.
Feast Your Eyes by Myla Goldberg
A female photographer grapples with ambition and motherhood, a balancing act familiar to women of every generation.
Figuring by Maria Popova
Figuring explores the complexities of love and the human search for truth and meaning through the interconnected lives of several historical figures across four centuries–beginning with the astronomer Johannes Kepler, who discovered the laws of planetary motion, and ending with the marine biologist and author Rachel Carson, who catalyzed the environmental movement.
Fleishman is in Trouble by Taffy Brodesser-Akner
Dr. Toby Fleishman never dreamed that his ex-wife, Rachel, would suddenly disappear after dropping their children off at his place, and she is never coming back.
Gods of Jade and Shadow by Silvia Moreno-Garcia
The Mayan god of death sends a young woman on a harrowing, life-changing journey in this dark, one-of-a-kind fairy tale inspired by Mexican folklore.
A Good Provider is One Who Leaves by Jason Deparle
A portrait of a family across three generations, as migration reorders economics, politics, and culture across the world.
Invisible Women: Data Bias in a World Designed for Men by Caroline Criado Perez
Perez describes how so much fundamental data fails to take into account gender, treating men as the default and women as atypical, and because of this bias and discrimination are baked into our systems.
The Lager Queen of Minnesota by Ryan Stradal
A family is split when their father leaves their shared inheritance entirely to Helen, his younger daughter.
Late Migrations: A Natural History of Love and Loss by Margaret Renkl
In brief essays, Renkl traces a tender and honest portrait of her complicated parents–her exuberant, creative mother; her steady, supportive father–and of the bittersweet moments that accompany a child's transition to caregiver.
Mantle: The Best There Ever Was by Tony Castro
Tony Castro makes the impassioned argument that Mickey Mantle truly was the greatest ballplayer of all time.
Silver, Sword, and Stone: Three Crucibles in the Latin American Story by Marie Arana
Against the background of a thousand years of vivid history, acclaimed writer Marie Arana tells the timely and timeless stories of three contemporary Latin Americans whose lives represent three driving forces that have shaped the character of the region: exploitation (silver), violence (sword), and religion (stone).
Something Deeply Hidden: Quantum Worlds and the Emergence of Spacetime by Sean Carroll
The holy grail of modern physics is reconciling quantum mechanics with Einstein's general relativity — his theory of curved spacetime.
Stalingrad by Vasily Grossman
The prequel to Vasily Grossman's Life and Fate, the War and Peace of the 20th Century.
Strangers and Cousins by Leah Hager Cohen
A novel about what happens when an already sprawling family hosts an even larger and more chaotic wedding.
The Undying: Pain, Vulnerability, Mortality, Medicine, Art, Time, Dreams, Data, Exhaustion, Cancer, and Care by Anne Boyer
The Undying is a startling, urgent intervention in our discourses about sickness and health, art and science, language and literature, and mortality and death.
Wanderers by Chuck Wendig
In the tradition of The Stand and Station Eleven comes a gripping saga that weaves an epic tapestry of humanity into an astonishing tale of survival.