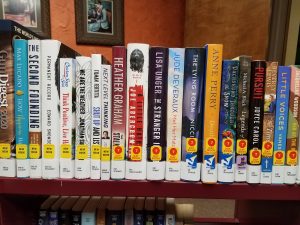 This week's shelf of new books includes an exciting thriller by a Miami native, Vanessa Lillie, along with a host of mysteries, romance, and thought-provoking nonfiction to while away a chilly fall evening.
Chicken Soup for the Soul: Think Positive, Live Happy: 101 Stories About Creating Your Best Life by Amy Newmark
Your attitude is a powerful tool, and these stories from real people show you how to think yourself into a more fulfilling, happier life.
Dachshund Through the Snow by David Rosenfelt
Wanting to grant the selfless Christmas wishes of a child in need, lawyer Andy Carpenter and his wife track down the boy's father, who has been arrested for a murder that his family swears he did not commit.
Death in Focus by Anne Perry
In a series debut by the best-selling author of the William Monk mysteries, an intrepid young photographer carries her imperiled lover's final, urgent message into the heart of pre-World War II Berlin as Hitler is ascending to power.
Gun Digest 2020 by Jerry Lee
A latest edition of a leading resource collects informative and historical articles by top field writers to profile the newest models and accessories, sharing additional coverage of subjects ranging from hunting and defense to target practice and collecting.
How Happiness Happens: Finding Lasting Joy in a World of Comparison, Disappointment, and Unmet Expectations by Max Lucado
The best-selling author of Anxious for Nothing and Unshakeable Hope challenges societal norms about the pursuit of happiness, counseling readers on Scriptural approaches to making decisions and enabling a life of sustainable, lasting fulfillment.
A Little Hatred by Joe Abercrombie
A battlefield hero, a ruthless socialite and a woman with the ability to glimpse into the future find their world and prospects transformed by escalating tensions among the disparate supporters of magic and machine development.
Little Voices by Vanessa Lillie
Haunted by postpartum problems that manifest as a cruel voice in her head, Devon Burges is bent on proving a close friend not guilty of murder, but as Devon digs into the evidence the voice in her head grows more insistent and the danger more intense.
The Lying Room by Nicci French
A married woman's affair with her boss spirals into a dangerous game of chess with the police when she discovers his murdered body and clears the crime scene of all evidence.
Met Her Match by Jude Deveraux
The daughter of an abandoning reprobate fights her feelings for a wealthy engaged man, triggering scandal and revelations throughout the community of Summer Hill, Virginia.
Next Level Thinking: 10 Powerful Thoughts for a Successful and Abundant Life by Joel Osteen
Osteen asserts that when we leave behind the negative mind-sets, the scarcity mentality, and the limits others have put on us, we'll experience the life of victory, favor, and abundance that was meant for us all along.
Permanent Record by Edward Snowden
Edward Snowden, the man who risked everything to expose the US government's system of mass surveillance, reveals for the first time the story of his life, including how he helped to build that system and what motivated him to try to bring it down.
Pursuit by Joyce Carol Oates
A new bride experiences a recurrence of a childhood nightmare before attempting suicide, compelling her husband to uncover her torturous upbringing by an abusive parent.
Red at the Bone by Jacqueline Woodson
Two families from different social classes are joined together by an unexpected pregnancy and the child that it produces.
The Second Founding: How the Civil War and Reconstruction Remade the Constitution by Eric Foner
The Pulitzer Prize-winning author of The Fiery Trial presents a timely history of the constitutional changes that built or compromised equality within America's foundation, documenting alarming parallels between the Jim Crow era and the present day.
Shut Up and Listen!: Hard Business Truths That Will Help You Succeed by Tilman Fertitta
For aspiring entrepreneurs or people in business, this book will help you take your company to the next level, know what you're doing right and what you're doing wrong to operate your business, and if you're just getting started, it will help set you up for success.
The Stalking by Heather Graham
A police officer teams up with an FBI consultant, her former high-school classmate, to investigate a possible serial killing that may exonerate an innocent man.
The Stranger Inside by Lisa Unger
A woman is forced to confront the dark secrets of her past when a serial killer strikes too close to home.
The Timepiece by Beverly Lewis
Adeline Pelham shows up unexpectedly in Hickory Hollow and her very existence is a reminder of the painful secret that has so recently upended the Miller household, making this a challenging time to welcome an Englisher — especially this Englisher — into their midst.
We Are the Weather: Saving the Planet Begins at Breakfast by Jonathan Safran Foer
An urgent call to action on climate change by the author of Eating Animals shares insight into the climate denial mindset while identifying meat farms as a primary source of environmental pollutants.