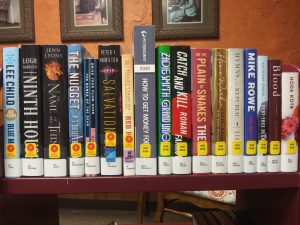 Blood: A Memoir by Allison Moorer
Moorer turns her lyrical storytelling powers to recount the events leading up to the moment that forever altered her own life and that of her older sister, Shelby.
Blue Moon by Lee Child
Jack Reacher offers aid to an elderly couple only to be confronted by the most dangerous opponents of his career.
Catch and Kill: Lies, Spies, and a Conspiracy to Protect Predators by Ronan Farrow
The untold story of the exotic tactics of surveillance and intimidation deployed by wealthy and connected men to threaten journalists, evade accountability, and silence victims of abuse, and the story of the women who risked everything to expose the truth and spark a global movement.
Debt-Free Degree: The Step-by-Step Guide to Getting Your Kid Through College Without Student Loans by Anthony OnealDebt Free Degree teaches parents how their kid can graduate from college without debt, even if they haven't saved for it.
Drive Your Plow Over the Dead by Olga Tokarczuk
When her neighbor turns up dead, and then other bodies turn up under strange circumstances, Janine, a recluse in a remote Polish village who prefers the company of animals over humans, inserts herself into the investigation, certain she knows whodunit.
Grand Union: Stories by Zadie Smith
The award-winning author of White Teeth presents a first collection of 10 original short stories and selections from her most-lauded pieces as first published in The New Yorker and other prestigious literary magazines.
Home Work by Julie Andrews
Andrews describes her years in the film industry, from the incredible highs to the challenging lows and her collaborations with giants of cinema and television, as well as her personal story of adjusting to a new and often daunting world, dealing with the demands of unimaginable success, being a new mother, the end of her first marriage, embracing two stepchildren, adopting two more children, and falling in love with the brilliant and mercurial Blake Edwards.
How to Get Money for College 2020 by Peterson's
This directory contains information on financial opportunities for college including federal grants, work-study programs, need-based and non-need-based gift aid, and athletic awards from more than 2,500 four-year colleges.
Hymns of the Republic by S. C. Gwynne
From the New York Times best-selling and award-winning author of Empire of the Summer Moon and Rebel Yell comes an epic account of the dramatic conclusion of the American Civil War.
I Really Needed This Today by Hoda Kotb
An inspiring collection of quotes by the Emmy-winning Today anchor and best-selling author of Hoda features personal selections from her popular Instagram account and urges readers to establish connections and find meaning in everyday life.
The Name of All Things by Jenn Lyons
A fugitive Kihrin navigates a secret rebellion and a formidable dragon to help a mysterious Joratese woman prevent the wizard Relos Var from obtaining an artifact of extraordinary power.
Ninth House by Leigh Bardugo
Alex Stern is offered a chance to attend one of the world's most prestigious universities on a full ride by mysterious benefactors who, in return, want her to monitor the activities of Yale's secret societies whose occult activities are more sinister and more extraordinary than any paranoid imagination might conceive.
The Nugget by P. T. Deutermann
Compelled by the Pearl Harbor attack to serve in some of World War II's most dangerous air battles, a young naval aviator leads a mission to rescue prisoners from a secluded POW camp.
On the Plain of Snakes: A Mexican Journey by Paul Theroux
Legendary travel writer Paul Theroux drives the entire length of the US-Mexico border, then goes deep into the hinterland, on the back roads of Chiapas and Oaxaca, to uncover the rich, layered world behind today's brutal headlines.
Salvation Lost by Peter Hamilton
The comparative utopia of twenty-third century Earth is about to go dreadfully awry when a seemingly benign alien race is abruptly revealed to be one of the worst threats humanity has ever faced.
The Way I Heard It by Mike Rowe
Emmy-award winning gadfly Mike Rowe presents a ridiculously entertaining, seriously fascinating collection of his favorite episodes from America's #1 short-form podcast, The Way I Heard It, along with a host of memories, ruminations, illustrations, and insights.