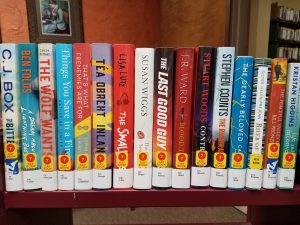 Some authors are known for spinning a good yarn.  Tea Obrecht, author of The Tiger's Wife, has spun a new one that comes highly recommended and is on this week's shelf.
The Bitterroots by C. J. Box
Former police officer Cassie Dewell is starting over with her own private investigation firm and an old friend calls in a favor: she wants Cassie to help exonerate a man accused of assaulting a young girl from an influential family.
Blood Truth by J R Ward
After his sire's unexpected death, Boone is removed from rotation in the Black Dagger Brotherhood and finds himself working for a human homicide cop to catch a serial killer.
Contraband by Stuart Woods
While in Florida, Stone Barrington joins forces with a local detective to investigate the disappearance of cargo from a plane crash, and when, by chance, a Manhattan case sheds light on the case, Stone sets out to connect the dots between the crimes.
The Dearly Beloved by Cara Wall
In a novel that spans decades, the lives of two young couples become intertwined when the husbands are appointed co-ministers of a venerable New York City church in the 1960s.
A Dream about Lightning Bugs by Ben Folds
The genre-defying musician offers reflections on art, life, and music in a memoir that chronicles his artistic coming of age, from his working class childhood in North Carolina to the challenges of sustaining a multidecade career in the music business.
Inland by Tea Obreht
An unflinching frontierswoman riding out the Arizona Territory drought of 1893 finds her life intertwined with that of a former outlaw whose ability to see ghosts has inspired a momentous expedition.
The Last Good Guy by T. Jefferson Parker
While searching for a missing teenager, private investigator Roland Ford uncovers a dark conspiracy involving an American Nazi compound and a celebrity evangelist.
Life and Other Inconveniences by Kristan Higgins
Emma has built a wonderful life for herself and her teenage daughter,  but is surprised by a phone call for help from the grandmother who raised her and then kicked her out when she became pregnant.
The Oysterville Sewing Circle by Susan Wiggs
Forced by scandal to return to her Pacific coast childhood home, a Manhattan fashionista assumes guardianship over two orphans and bonds with a circle of fellow seamstresses before an unexpected challenge tests her courage and heart.
The Peaceful Valley Crime Wave by Bill Pronzini
In the quiet town of Peaceful Valley, Montana, Sheriff Lucas Monk must deal with an unexpected crime wave, which is ignited by the theft of a wooden cigar store Indian.
River of Fire: My Spiritual Journey by Helen Prejean
An activist nun known for campaigning to end the death penalty describes her spiritual journey from a person who prayed for God to solve the problems of the world to someone who actively works to transform social injustices.
The Russia Account by Stephen Coonts
Burglar-turned-CIA-officer Tommy Carmellini finds himself assigned to a French-led European Anti-Terrorism Task Force after Islamic extremists attack and burn a wing of the Louvre Museum in Paris.
The Swallows by Lisa Lutz
When one of her creative writing assignments generates some disturbing responses from students, new teacher Alexandra Witt ignites a gender war, with deeply personal–and potentially fatal–consequences for everyone involved.
That's What Frenemies are For by Sophie Littlefield
A Manhattan socialite transforms her spin instructor into a fitness superstar to reclaim her own fading influence over her privileged friends only to find herself overwhelmed by her husband's arrest, her friends' disloyalty and her protégé's over-the-top ego.
Things You Save in a Fire by Katherine Center
When a family emergency compels her move from Texas to Boston, a skilled firefighter becomes the only woman in her new firehouse and navigates discrimination, low funding and her private edicts about falling in love with another firefighter.
The Wolf Wants In by Laura McHugh
In rural Blackwater, Kansas, Sadie Keller confronts a dark secret about her brother's death while eighteen-year-old Henley Pettit becomes increasingly desperate to escape their opioid-ravaged community.