Employment and small business

What is a Resumé? 
A resumé is a short account of your employment history, qualifications and accomplishments.  Resumés are often required when applying for a job or for college applications.  The resumé is often the first introduction you are giving to your prospective employer or school.  When well written, it can make you stand out above the other applicants.
What Should You Include in a Resumé?
The main items that need to be included:
Name and Contact information
Summary Paragraph
Employment History
Skills
Education
Optional items you can include:
Community Involvement/Volunteer work
Awards/Achievements You've Received
Where Should You Start?
Before you dive in, consider watching training videos, reading sample resumés or taking a course on resumé writing.  With your library card, you have access to various resources on how to write a strong resumé.   The best part is, they are FREE to you as a Miami Public Library member.  Choose which site you want to start, create an account using your library card number (your PIN will be the phone number associated with your library card) and search "resumé", select which video or course you want and you are ready to get started.


Job Search Links:

A lot of people across the country are finding themselves without jobs due to the COVID-19 pandemic. Many businesses are having to reduce hours or close completely, leaving many people without a job.  You or someone you know may even be one of those unlucky persons.  Just know, you are not alone. This pandemic and quarantine are new for all of us.  For some people, this is the first time they have been in the situation where they are unemployed. They are confused, worried and are unsure of what to do.
What is unemployment exactly?
Oklahoma Employment Security Commission says:
Unemployment Insurance pays benefits to workers who have lost their job through no fault of their own. Anyone who is separated from a job may file a claim for unemployment benefits. You can file if you quit, were discharged, got laid off or are even out on strike.

You may be eligible for UI benefits if you meet all eligibility requirements. If you qualify, you may receive weekly payments to help cover your living expenses while you search for new employment. To collect benefits, you must be able, available, and actively looking for work during each week in which you are claiming benefits. You must continue to file a weekly claim to continue to receive benefits and meet eligibility requirements in order for the Oklahoma Employment Security Commission to pay you benefits.

Unemployment benefits are made available through taxes paid by your former employer (s) to partially replace your regular earnings and help you meet expenses while you look for another job.

Individuals filing for unemployment benefits are required to register for reemployment services and complete a resume within seven days of initially filing their claim. This must be done online at OKJobMatch.com. This interactive job search tool is designed to help you connect with employers and their job openings. If you live outside of Oklahoma, you must register for work with the employment service in your resident state and provide proof of registration within seven days of filing your claim.  – OESC
Where should you start?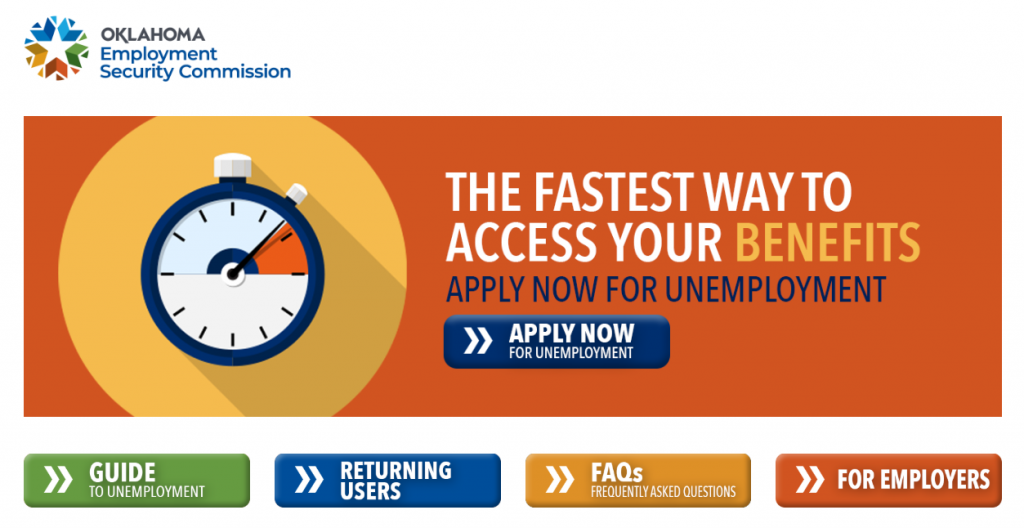 The OESC website has a  Guide to Unemployment available that walks you through the steps as well as answers the most common Frequently Asked Questions. So that you may find out more about how to navigate the way through unemployment.  If you have any questions you can call any of the numbers listed on the Quick Reference Guide page of the Unemployment guide booklet.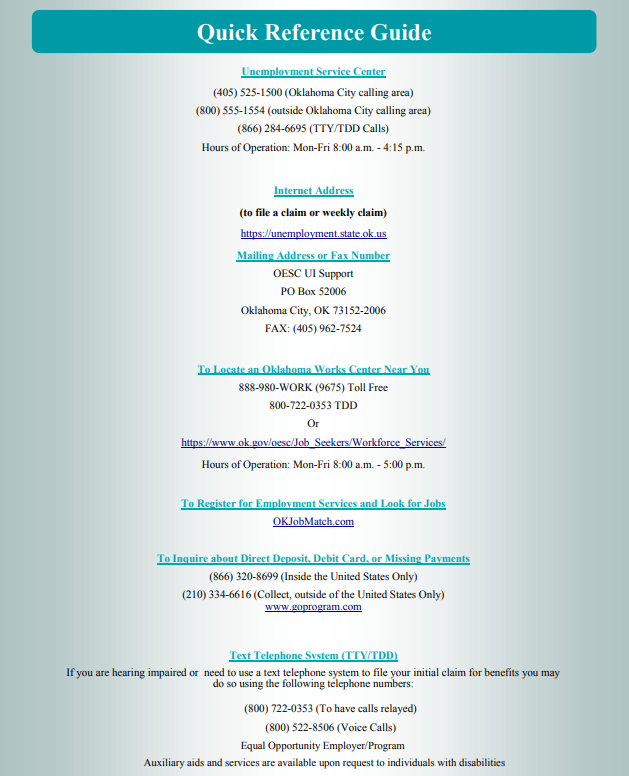 Helpful Links:
Unemployment and COVID-19 in Oklahoma

Looking for a job is hard work!  The Miami Public Library can help you in your search for a job, in creating a resume, and preparing for the interview.  Check out the resources below and search our catalog to find even more.  Call 918-541-2292 or come by for additional help in getting a library card, creating an email account (which you will need for online applications), or using our job search computers.
FINDING A JOB
BOOKS, EBOOKS, AND AUDIOBOOKS
What color is your parachute?: a practical manual for job-hunters and career-changers by Richard Nelson Bolles
Bolles demystifies the entire job-search process, from writing resumes to interviewing to networking, expertly guiding job-hunters toward their dream job.
Knock 'em dead: the ultimate job search guide by Martin John Yate
Completely updated with new material, this bestselling job search guide can help you keep up with changes in the job market–from updating the language of your resume to using social media networking to make professional connections that are essential in finding new employment opportunities.
Roadmap to federal jobs by Barbara A. Adams and Lee Kelley
Learn proven processes for finding, applying for, and landing U.S. Government jobs.
OverDrive eBook Knock­ 'em dead­ se­cret­s & s­trate­gies ­for first-time job seek­ers by Martin John Yate
You'll learn how to: Develop social networks that deliver results for the new professional you, build a resume that gets you interviews, complete your job search in record time with a killer plan of attack, turn job interviews into job offers and paychecks, build a professional brand that delivers credibility, and bring your entrepreneurial dreams to life.
OverDrive Audiobook The 2-Hour Job Search: Us­ing Tech­nol­o­gy ­to Get the Right Job Faster by Steve Dalton
Through a prescriptive approach, Steve Dalton explains how to wade through the Internet's sea of information and create a job search system that relies on mainstream technology such as Excel, Google, LinkedIn, and alumni databases to create a list of target employers, contact them, and then secure an interview-with only two hours of effort.
ONLINE RESOURCES
OKJobMatch (http://www.okjobmatch.com/)
Click on Login/Register. Create a Job Seeker account by entering information in the required fields.  You must have an account in order to apply for a job.
To search for a job, click on Job Seekers, enter a location and radius.  Enter keywords for a more accurate search.  Click on a job title for more information or to apply for that job.  You may also create a resume with your account.
Indeed.com (http://indeed.com/)
Monster.com (http://monster.com/)
SnagAJob.com (http://snagajob.com/)
OTHER RESOURCES
Oklahoma Works (formerly Workforce Oklahoma) – They offer job seekers tremendous resources, including job search assistance and help with preparing for interviews.  Their office is located at 121 N Main Street, phone (918) 542-5561
Check the Help Wanted section of your local newspaper.  The library subscribes to The Miami NewsRecord, the Joplin Globe, and the Tulsa World.  They are available to use in the library.
Lynda.com is a  leading online learning company that helps anyone learn business and job search skills to achieve personal and professional goals.  It can be accessed free with your library card on the library's website at www.miamipl.okpls.org.
RESUMES AND COVER LETTERS
BOOKS, EBOOKS, AND AUDIOBOOKS
Un­beat­able ré­sumés: Amer­i­ca's ­top re­cruiter re­veal­s what re­al­ly get­s y­ou hired by Tony Beshara
Takes readers step-by-step through the resume creation process, including tips on how to utilize keywords effectively, use gaps in employment and job changes to your advantage, and enhance your resume with a concise, dynamic cover letter.
Ré­sumé ­mag­ic: ­trade se­cret­s of a pro­fes­sion­al ré­sumé writ­er by Susan Britton Whitcomb
Combines great tips with before-and-after resume transformations to explain the 'nuts and bolts' of resume creation.
OverDrive eBook Knock­ 'em Dead­ Cover Let­ter­s: Cover Let­ter Sam­ples and S­trate­gies You Need ­to Get the Job You Want by Martin John Yate
Learn how to use proven methods to: Determine the relevant keywords that will send your application to the top of database searches, effectively display your personal brand and the transferable skills you bring to a job, conduct a simple web search to find contact information and get your material in front of managers and recruiters, and figure out when you should mail a hard copy of your application to the recruiter instead of sending an e-mail.
RBdigital Audiobook The el­e­ments of re­sume style: essen­tial rules ­for writ­ing re­sumes and ­cov­er let­ter­s that ­work by Scott Bennett
Bennett explains how to craft clear, compelling, targeted resumes and cover letters that actually work and that whether it's on paper or online, the rules are the same: use clear, dynamic language–and keep it short and focused.
ONLINE RESOURCES
Purdue OWL Resume Workshop (https://owl.purdue.edu/owl/job_search_writing/resumes_and_vitas/index.html)
INTERVIEWS
BOOKS, EBOOKS AND AUDIOBOOKS
Knock­ 'em dead­: with­ ­great an­swer­s ­to ­tough in­ter­view ques­tions by Martin John Yate
From preparing for the first interview to polishing existing skills, this book arms you with the knowledge of what to say and how to say it, giving you the advantage over competitors and the confidence to succeed. 
The ev­ery­thing prac­tice in­ter­view ­book: ­make the best im­pres­sion– and get the job y­ou wan­t! by Dawn Rosenberg McKay
Topics include: Preparing for the interview — First impressions count — Revealing your personality — Discussing your skills and abilities — Highlighting your accomplishments — Questions about your education — Discussing your work history — Your interpersonal skills — Did you do your homework? — What would you do if you were hired? — Difficult or embarrassing questions — Dealing with illegal questions — Behavioral interviews — Do you have any questions? — What to do after the interview.
101 job interview questions you'll never fear again by James Reed
James Reed, chairman of one of the world's largest recruiting agencies, takes you into the minds of top interviewers and reveals the answers that will land your dream job.
This is how to get your next job: an inside look at what employers really want by Andrea Kay
Leading career expert and syndicated columnist Andrea Kay asked numerous employers why they didn't hire the last ten people they interviewed and passed on, and the overwhelmingly common answers she received time after time were not about skills or experience but about how applicants behaved and spoke during the interview.  In this well-researched book based on candid insights from real-life employers, job hunters can learn how to take control of how they come across to the people in charge of giving them the exciting, rewarding opportunities they are seeking.
OverDrive eBook Knock­ 'em Dead­ Job In­ter­view: How ­to Turn Job In­ter­view in­to Pay­checks by Martin John Yate
You'll learn how to prepare for job interviews and pick up tips for answering over 300 of the most frequently asked interview questions, including behavioral questions.
OverDrive eBook 101 S­mart Ques­tion­s ­to Ask on Your In­ter­view by Ron Fry
OverDrive Audiobook  101 S­mart Ques­tion­s ­to Ask on Your In­ter­view by Ron Fry
Asking questions in your interview is your moment to shine – to show off the depth and breadth of your research, to remind the interviewer of how perfectly your credentials fit the job description, and to actually ask for the job!
ONLINE RESOURCES
Most Common Interview Questions (http://www.eduers.com/resume/Reviewing_the_most_Common_Interview_Questions.htm)
100 Potential Interview Questions (http://career-advice.monster.com/job-interview/interveiw-questions/100-potential-interview-questions/article.aspx)
Interview Questions & Answers (http://www.jobinterviewquestions.org/interview-questions-and-answers)
Interview Appearance (http://career.vt.edu/job-search/presenting_yourself/interviewing/interview-attire.html)
Dress to Impress: A Guide (http://amdt.wsu.edu/research/dti/)