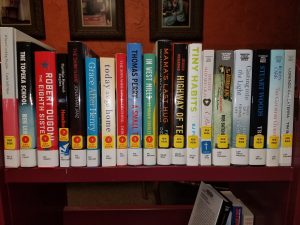 Love stories, cook books, religion, history, self-help, and suspense.  This week's shelf has something for everyone.
The Dark Game by Jonathan Janz
Ten writers think they are signing up for a weeklong writing retreat with the most celebrated author in the world, but they are really entering the twisted imagination of a deranged genius, a lethal contest pitting them against one another in a struggle for their sanity and their lives.
The Eighth Sister by Robert Dugoni
CIA case officer Charles Jenkins is offered a risky new assignment: travel undercover to Moscow and locate a Russian agent believed to be killing members of a clandestine US spy cell known as the seven sisters in a deadly game of cat and mouse.
Grace after Henry by Eithne Shortall
A quirky love story set in Dublin about one woman learning what it means to move on and to let go.
Headlong by Cynthia Harrod-Eagles
When one of London's best-known literary agents is found dead in strange circumstances, having fallen headlong from his office window, DCI Slider is under pressure from the Borough Commander to confirm a case of accidental death.
Highway of Tears by Jessica McDiarmid
Jessica McDiarmid meticulously explores the effect of a long history of the disappearances and murders of Indigenous women on an isolated stretch of highway, and how systemic racism and indifference towards Indigenous lives have created a culture of "over-policing and under-protection," simultaneously hampering justice while endangering young Indigenous women.
In West Mills by De'shawn Charles Winslow
An intimately told story about a woman living by her own rules and the rural community that struggles to understand her.
Mama's Last Hug: Animal Emotions and What They Tell Us about Ourselves by Frans de Waal
A fascinating exploration of the rich emotional lives of animals.
The Man Who Saw Everything by Deborah Levy
An author's girlfriend will shoot a photograph of him standing in the crosswalk on Abbey Road, for a Beatle-loving fan, but as he waits for his girlfriend to arrive, he is grazed by an oncoming car, which changes the trajectory of his life.
A Small Town by Thomas Perry
Twelve conspirators meticulously plan to throw open all the gates to the prison that contains them, so that more than a thousand convicts may escape and pour into the nearby small town.
Tiny Habits: The Small Changes that Change Everything by B. J. Fogg
The world's leading expert on habit formation shows how you can have a happier, healthier life: by starting small.
Today We Go Home by Kelli Estes
Larkin Bennett, a soldier suffering from PTSD discovers an unexpected treasure: the diary of Emily Wilson, a young woman who disguised herself as a man to fight for the Union in the Civil War.
The Topeka School by Ben Lerner
The story of a family, its struggles and its strengths: the mother's reckoning with the legacy of an abusive father, the father's marital transgressions, and the challenge of raising a good son in a culture of toxic masculinity.
Where Cooking Begins: Uncomplicated Recipes to Make You a Great Cook by Carla Lalli Music
The food director at Bon Appetit, Music creates intuitive recipes inspired by the meals she makes at home for her family and friends and the joy she takes in feeding them.
Why Religion?: A Personal Story by Elaine Pagels
Elaine Pagels interweaves a personal story with the work that she loves, illuminating how, for better and worse, religious traditions have shaped how we understand ourselves; how we relate to one another; and, most importantly, how to get through the most difficult challenges we face.