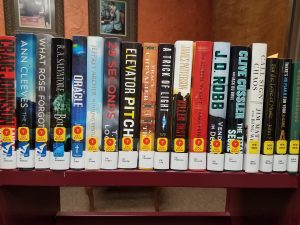 Nineteen titles to get your heart racing or help you change your life.  As George R.R. Martin says, A reader lives a thousand lives before he dies . . . The man who never reads lives only one." Stop by your library and add to your lives.
29 Seconds by T. M. Logan
When a manipulative co-worker valued for the millions he brings to their university targets her with sexual harassment, a young professor rescues the child of a powerful man who offers to repay her by making her co-worker disappear.
Boundless by R. A. Salvatore
Restored to life centuries after his death, Zaknafein, the father of Drizzt, struggles to adapt to a world where different races and genders are accepted, before dark forces compel him to reclaim his warrior heritage.
Call Sign Chaos: Learning to Lead by Jim Mattis and Bing West
A former secretary of Defense and a former assistant secretary of defense and combat Marine join forces to off an account of how they learned to lead in a chaotic world.
Elevator Pitch by Linwood Barclay
When an outbreak of fatal elevator crashes in Manhattan coincides with a sinister drop in emergency response services, two seasoned New York detectives and a straight-shooting journalist race against time to find answers.
For the Love of Music: A Conductors Guide to the Art of Listening by John Mauceri
In this beautifully written guide, a protégé of Leonard Bernstein, his colleague for 18 years, draws on his profound knowledge to answer the questions: Why should I listen to classical music? How can a get the most from the listening experience?
How to: Absurd Scientific Advice for Common Real-World Problems by Randall Munroe
The creator of the web comic xkcd and best-selling author of What If? and Thing Explainer shares inadvisable advice for responding to today's problems, from using social media for weather forecasts to powering a home by destroying the fabric of space-time.
Killer Instinct by James Patterson
The suspicious death of a professor reunites Dr. Dylan Reinhart and Detective Elizabeth Needham against a terrorist plot targeting New York City.
Land of Wolves by Craig Johnson
Investigating the suspicious suicide of a Wyoming shepherd, sheriff Walt Longmire uncovers disturbing connections to a violent family before the case is further complicated by the appearance of a giant wolf.
The Long Call by Ann Cleeves
When a man with an albatross tattoo on his neck is murdered in North Devon, Detective Matthew Venn is forced to return to the strict evangelical community of his childhood, where his investigation uncovers deadly secrets.
Nothing Ventured by Jeffrey Archer
Investigating the theft of a priceless Rembrandt painting, London detective William Warwick comes up against a suave art collector and his brilliant lawyer, who are willing to bend the law to the breaking point to stay one step ahead of William.
The Oracle: The Jubilean Mysteries Unveiled by Jonathan Cahn
The best-selling author of The Harbinger and The Paradigm takes inspiration from the seven mysteries of the jubilean prophecies, documenting an investigation into an elusive Oracle and an ancient prophecy about the modern world.
Risen Motherhood: Gospel Hope for Everyday Moments by Emily Jensen
Emily Jensen and Laura Wifler help you understand and apply the gospel to common issues moms face so you can connect your Sunday morning faith to the Monday morning tantrum and experience hope, freedom, and joy in every area of motherhood.
The Secrets We Kept by Lara Prescott
At the height of the Cold War, two secretaries are pulled out of the typing pool at the CIA and given the assignment of a lifetime – to smuggle Doctor Zhivago out of the USSR, where no one dare publish it, and help Pasternak's magnum opus make its way into print around the world.
A Single Thread by Tracy Chevalier
After countless meals of boiled eggs and dry toast, Violet Speedwell saves enough to move out of her mother's place and into the town of Winchester, home to one of England's grandest cathedrals where she is drawn into a society of broderers–women who embroider kneelers for the Cathedral, carrying on a centuries-long tradition of bringing comfort to worshippers.
There's No Plan B for Your A-Game by Bo Easton
Former pro athlete, playwright, and acclaimed leadership coach Eason shows exactly what it takes to be the best using proven tools and training that has worked for Olympic medalists, military leaders, bestselling authors, professional athletes, and business executives and their teams.
The Titanic Secret by Clive Cussler
When NUMA Director Dirk Pitt finds a document inside an antiquated submersible left behind a century earlier by legendary detective Isaac Bell, it reopens a mystery involving an international power scheme aimed at seizing control of a rare element.
A Trick of Light by Stan Lee
Two heroic teenagers—one born with extraordinary gifts, one unwillingly transformed—together can change the world … or put it in the destructive hands of a danger beyond imagination.
Vendetta in Death by J. D. Robb
Homicide detective Eve Dallas investigates the sordid past of a wealthy businessman for clues to help her track down a vigilante killer who calls herself Lady Justice.
What Rose Forgot by Nevada Barr
Waking up in a nursing-home Alzheimer's Unit with no memory of how she got there, Rose Dennis orchestrates an escape but does not know who to trust.