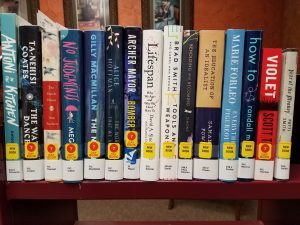 Ever wonder how to: survive in the digital age, reverse aging, respond to today's problems following inadvisable advice, figure everything out, or cook stylishly accessible recipes?  We've got the latest scoop on this week's shelf of new books.
Antoni in the Kitchen by Antoni Porowski
The food guru and breakout star of the Netflix smash hit Queer Eye unveils the stylishly accessible, healthy recipes fans have been waiting for.
Beholding and Becoming: The Act of Everyday Worship by Ruth Chou Simons
Simons asserts that we become what we behold when we set our hearts and minds on Christ and His redemption story here in the details of our daily lives.
Bomber's Moon by Archer Mayor
An investigative reporter and a private investigator reluctantly team up to connect a double homicide under investigation by Joe Gunther to the crimes of a small-town drug dealer.
The Dutch House by Ann Patchett
When Cyril Conroy becomes wealthy, his first order of business is to buy the Dutch House, a lavish estate in the suburbs outside of Philadelphia, but the purchase sets in motion the undoing of everyone he loves.
The Education of an Idealist: A Memoir by Samantha Power
The Pulitzer Prize winner and former U.N. Ambassador traces her journey from an Irish immigrant to a human rights activist, sharing insights into her career as a war correspondent and her influential views on foreign policy.
Everything is Figureoutable by Marie Forleo
The award-winning star of MarieTV and host of "The Marie Forleo Podcast" outlines a simple mindset that significantly increases the odds of pursuing goals successfully, sharing advice on how to manage self-doubt, haters and making high-risk decisions.
Lifespan: Why We Age—And Why We Don't Have To by David Sinclair
The acclaimed Harvard professor and one of Time's "Most Influential People" identifies common misconceptions about aging, sharing provocative insights into the cutting-edge, global effort to slow, stop and reverse aging.
The Nanny by Gilly MacMillan
Growing up blaming her mother after the mysterious disappearance of her beloved nanny, an embittered woman is forced to return home decades later when the discovery of human remains forces her to question everything she thought she knew.
No Judgments by Meg Cabot
A young woman has to deal with the aftermath of a fierce hurricane — and an equally stormy romance.
Tools and Weapons: The Promise and Peril of the Digital Age by Brad Smith
The president of Microsoft shares frank insights into the responsibilities of companies that create technology to work with governments, keep pace with innovation and safeguard their innovations from being used as weapons.
Violet by Scott Thomas
Returning home to Lost Lake where she lost her mother to cancer 30 years earlier, newly widowed Kris Barlow, determined to take a stand against grief along with her young daughter, is soon plunged into a nightmare when she is haunted by her long-abandoned imaginary friend.
The Water Dancer by Ta-Nehisi Coates
Hiram Walker almost drowns when he crashes a carriage into a river but is saved from the depths by a force he doesn't understand, a blue light that lifts him up and lands him a mile away.
The World That We Knew by Alice Hoffman
Sent away to 1941 Paris when Berlin becomes too dangerous for Jewish families, a young girl bonds with her protective mystical golem; while her friend, a rabbi's daughter, rises to become a defender of their people.
Year of the Monkey by Patti Smith
Taking us from California to the Arizona desert; to a Kentucky farm as the amanuensis of a friend in crisis; to the hospital room of a valued mentor; and by turns to remembered and imagined places, this haunting memoir blends fact and fiction with poetic mastery.