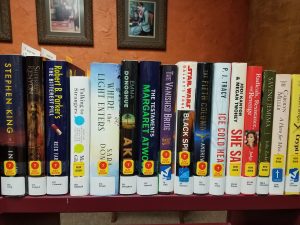 The long-awaited sequel to The Handmaid's Tale is on this week's shelf along with a book by the Pulitzer Prize-winning reporters who broke the story of Harvey Weinstein's sexual abuses.
Akin by Emma Donoghue
A funny, heart-wrenching tale of an old man and a boy, born two generations apart, who unpick their painful story and start to write a new one together.
At Death's Door by Sherrilyn Kenyon
Trapped inside a voodoo doll after a spell gone wrong, a cursed woman is offered a chance at a new life by fighting against the beast that is consuming her world.
The Fifth Column by Andrew Gross
A tense, stirring thriller of a family torn apart set in 1939 against the backdrop of a nation plunged into war.
Black Spire by Delilah Dawson
With the help of a traitorous trooper and her acerbic droid, General Leia Organa begins to gather a colorful band of outcasts and misfits, and embarks on a mission to spark the fire of resistance on Batuu–before the First Order snuffs it out entirely.
Ice Cold Heart by P. J. Tracy
With the help of Grace MacBride and her partners at Monkeewrench Software, Detectives Magazine and Rolseth investigate a grisly murder that exactly mirrors a previous homicide.
The Institute by Stephen King
In the most sinister of institutions, the director, Mrs. Sigsby, and her staff are ruthlessly dedicated to extracting from kidnapped children the force of their extranormal gifts.
Radicals, Resistance, and Revenge: The Left's Plot to Remake America by Jeanine Pirro
The host of Justice With Judge Jeanine presents a highly anticipated follow-up to the best-selling Liars, Leakers and Liberals that outlines arguments for why the author believes current progressive agendas are underlying basic American values.
Robert B. Parker's the Bitterest Pill by Reed Farrel Coleman
When a popular cheerleader dies of a suspected overdose, Police Chief Stone battles school administrators, teachers, distrustful students, and overprotective parents as he tries to unravel the drug supply chain and expose the criminals behind it.
Saving Jemima: Life and Love with a Hard-Luck Jay by Julie Zickefoose
For fans of Wesley the Owl and The Soul of an Octopus, the story of a sick baby bird nursed back to health and into the wild by renowned writer/artist Julie Zickefoose.
She Said: Breaking the Sexual Harassment Story That Helped Ignite a Movement by Jodi Kantor
The Pulitzer Prize-winning reporters who broke the story of Harvey Weinstein's sexual abuses discuss the suspenseful untold story of their investigation, the way it changed their careers and whether or not the #MeToo movement changed things for the better.
Talking to Strangers: What We Should Know About People We Don't Know by Malcolm Gladwell
The popular podcast host and author explores how people interact with strangers and why these exchanges often go wrong, offering strategic tips for more accurate and productive interactions.
The Testaments by Margaret Atwood
Set fifteen years after Offred stepped into an unknown fate, this sequel to "The Handmaid's Tale" relates the experiences of three female narrators from Gilead.
The Vanished Bride by Bella Ellis
In 1845 Yorkshire, a young wife and mother has gone missing from her home, leaving behind two small children and a large pool of blood, and it is up to the Brontë sisters to investigate.
Where the Light Enters Sara Donati
Dr. Sophie Savard returns home to help Dr. Anna Savard, her dearest friend, cousin, and fellow physician, continue her work aiding disadvantaged women, but both are drawn into some mysterious murders by Anna's Detective-Sergeant husband.