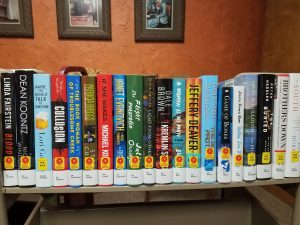 A fat shelf full of great reads, both fiction and nonfiction.  Stock up for your summer vacation!
The Big Kahuna by Janet Evanovich
When unlikely partners FBI agent Kate O'Hare and con man Nicholas Fox investigate a missing Silicon Valley billionaire known as the Big Kahuna, they go undercover as a married couple in Paia, Maui, to find the man's son.
The Book Woman of Troublesome Creek by Kim Michele Richardson
Thanks to Roosevelt's Kentucky Pack Horse Library Project, Troublesome's got its very own traveling librarian, Cussy Mary Carter who is not only a book woman, she's also the last of her kind, her skin a shade of blue unlike most anyone else.
Brothers Down: Pearl Harbor and the Fate of the Many Brothers Aboard the USS Arizona
by Walter Borneman
A deeply personal and never-before-told account of one of America's darkest events, the sinking of the USS Arizona during the Pearl Harbor attack.
The Buried: An Archaeology of the Egyptian Revolution by Peter Hessler
From the acclaimed author of River Town and Oracle Bones, an intimate excavation of life in one of the world's oldest civilizations at a time of convulsive change.
Collusion by Newt Gingrich
An FBI terrorism expert and a disgraced Navy SEAL team up to prevent the assassination of a high-ranking Kremlin official with knowledge of a planned terrorist attack on U.S. soil.
The Flight Portfolio by Julie Orringer
Orringer presents a fictionalized account of American journalist Varian Fry's 1940 trip to France to save the lives and work of Jewish artists fleeing the Holocaust.
The Gordian Protocol by David Weber
Shattered by a psychotic episode that leaves him with traumatic battlefield memories not his own, an unassuming history teacher is approached by a mentally ill man who claims the memories are from an alternate-reality world.
If She Wakes by Michael Koryta
An insurance investigator finds herself on the run from a mysterious young hit man while examining the case of a young college student who has been rendered a locked-in syndrome patient by a suspicious accident.
The Kremlin Strike by Dan Brown
When a new administration challenges the Russian aggression head on, Brad McLanahan and the Iron Wolf Squadron devise a plan to destroy Russia's new high-tech space station that has the ability to destroy satellites and attack strategic targets around the globe.
Light from Other Stars by Erika Swyler
Decades after her grieving father, a laid-off NASA scientist, triggers chaotic changes in his pursuit of life-extending technology, an astronaut confronts dangerous family secrets to stop a world-threatening crisis.
Maybe You Should Talk to Someone by Lori Gottlieb
From a New York Times best-selling author, psychotherapist, and national advice columnist, a hilarious, thought-provoking, and surprising new book that takes us behind the scenes of a therapist's world—where her patients are looking for answers (and so is she).
The Never Game by Jeffery Deaver
Hired to locate a missing young woman from Silicon Valley, Colter Shaw finds himself tracking a madman who stages scenes from his favorite game.
Once More We Saw Stars by Jayson Greene
Devastated by his 2-year-old daughter's accidental death, a father in Upper West Side Manhattan navigates unendurable pain and taps the healing power of love to rebuild his shattered family.
The Pioneers by David McCullough
Best-selling author David McCullough tells the story of the settlers who began America's migration west, overcoming almost-unimaginable hardships to build in the Ohio wilderness a town and a government that incorporated America's highest ideals.
Rules for Visiting by Jessica Francis Kane
Forty-year-old May Attaway, a university gardener, sets out on an odyssey to reconnect with four old friends over the course of a year.
Storm Cursed by Patricia Briggs
After the Tri-Cities are declared a neutral zone, Mercy Thompson investigates the activities of a witch newcomer, while Adam provides security for a secret meeting between the government and the fae.
A Woman is No Man by Etaf Rum
Three generations of Palestinian-American women in contemporary Brooklyn are torn by individual desire, educational ambitions, a devastating tragedy and the strict mores of traditional Arab culture.