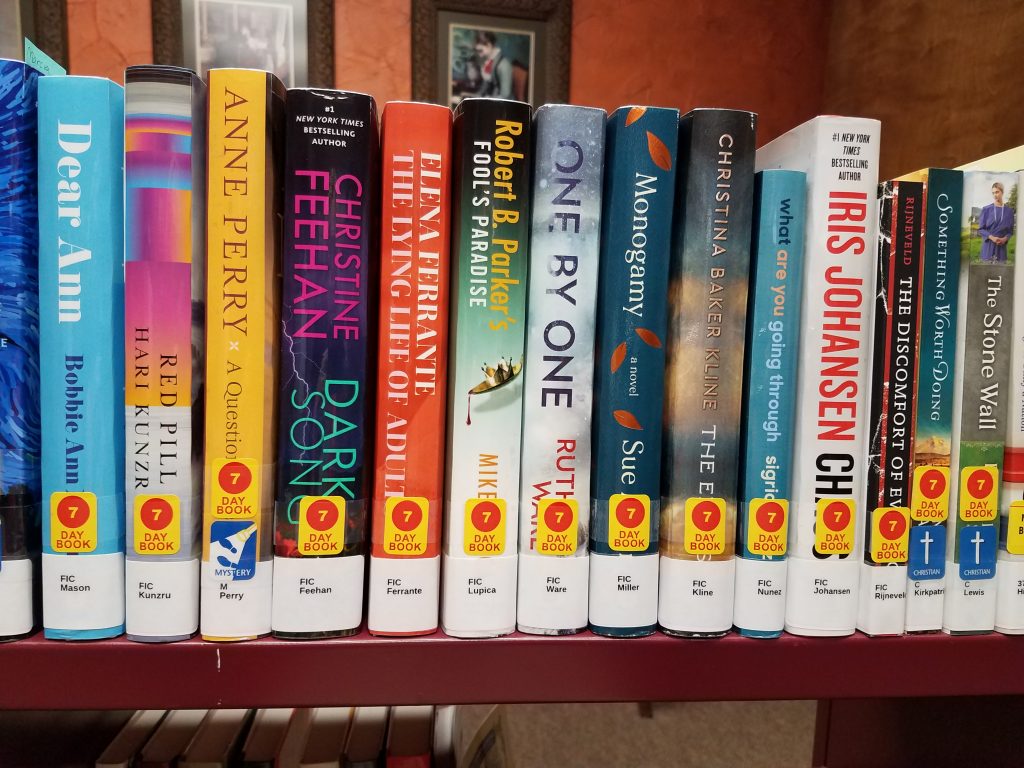 Many of the books on this week's cart are written by well-known authors or authors you should get to know. There are some suspense thrillers with or without vampires, some family books about choices taken or not taken, historical fiction and history that is true. Read more about each of them below.
All the Devils are Here by Louise Penny
Chief Inspector Armand Gamache of the Sûreté du Quebec investigates a sinister plot involving his godfather and a dark secret in the City of Lights.
Chaos by Iris Johansen
When CIA agent Alisa Flynn flaunts the rules by breaking into a mansion in the middle of the night, she is caught by the owner billionaire Gabe Korgan, and she has only a spit second to try to convince him to join her on the most important mission of her life.
Cynical Theories: How Activist Scholarship Made Everything About Race, Gender and Identity—And Why This Harms Everybody by Helen Pluckrose
While acknowledging the need to challenge the complacency of those who think a just society has been fully achieved, Pluckrose breaks down how often-radical activist scholarship does far more harm than good, not least to those marginalized communities it claims to champion. 
Dark Song by Christine Feehan
Before he found Elisabeta, Ferro Arany was an ancient warrior without emotion, but he knows it will take more than kind words and soft touches to convince the fractured woman that they are partners, not master and prisoner.
Dear Ann by Bobbie Ann Mason
A woman looks back on her life, her first love and the choices she made in a tale of grief, regret and memory, wrapped in a compelling story of first love.
The Discomfort of Evening by Marieke Lucas Rijneveld
A best seller in the Netherlands, this book offers readers a rare vision of rural and religious life in the Netherlands that asks: In the absence of comfort and care, what can the mind of a child invent to protect itself? 
The Exiles by Christina Baker Kline
An emotionally resonant, historical novel that captures the hardship, oppression, opportunity and hope of a trio of women's lives—two English convicts and an orphaned Aboriginal girl — in nineteenth-century Australia.
His Truth is Marching On: John Lewis and the Power of Hope
by Jon Meacham
An intimate and revealing portrait of civil rights icon and longtime U.S. congressman John Lewis, linking his life to the painful quest for justice in America from the 1950s to the present–from the Pulitzer Prize-winning author of The Soul of America.
How to Educate a Citizen: The Power of Shared Knowledge to Unify a Nation by E. D. Hirsch
A clear and well-grounded argument for why a knowledge-centric education is critical for enhancing educational equity. 
The Lying Life of Adults by Elena Ferrante
An up-close portrait of a woman reflecting back on the mysterious years of her adolescence, the transition from child to adult, from youthful ignorance to a deeper, more complicated understanding about her city, those around her, and ultimately, herself
Monogamy by Sue Miller
Derailed by the sudden passing of her husband of thirty years, an artist on the brink of a gallery opening struggles to pick up the pieces of her life before discovering harrowing evidence of her husband's affair.
The Old Farmer's Almanac 2021 by Old Farmers Almanac
A best-selling annual, the handy yellow book fulfills every need and expectation as a calendar of the heavens, a time capsule of the year, an essential reference that reads like a magazine.
One by One by Ruth Ware
A trendy London-based tech startup, organizes a weeklong trip for the team in the French Alps, but as tensions between coworkers mount a storm is also brewing outside causing an avalanche that leaves them cut off from all access.
A Question of Betrayal: An Elena Standish Novel by Anne Perry
As Elena gets word of a secret group working to put Austria in the hands of Germany, her older sister, Margot, is in Berlin to watch a childhood friend get married–to a member of the Gestapo.
Red Pill by Hari Kunzru
An author receives a prestigious writing fellowship in Germany, but he soon finds himself searching for order in a world that frames madness as truth.
Robert B. Parker's Fool's Paradise by Mike Lupica
When a body is discovered at the lake in Paradise, Police Chief Jesse Stone is surprised to find he recognizes the murder victim–the man had been at the same AA meeting as Jesse the evening before.
Shadows in Death by J. D. Robb
When a night out at the theatre is interrupted by the murder of a young woman in Washington Square Park, it seems like an ordinary case for Detective Eve Dallas, but when Roarke spots a shadow from his past in the crowd, Eve realizes that this case is far from business as usual.
Something Worth Doing by Jane Kirkpatrick
Pioneer Abigail Scott denies herself the joys of a simpler life to achieve her dream of securing rights for women, but running a controversial newspaper and leading suffrage efforts in the Northwest carry a great personal cost.
The Stone Wall by Beverly Lewis
Eager to begin a new chapter as a Lancaster County tour guide, Anna searches for the answers of her grandmother's past–a mystery due to the elderly woman's Alzheimer's, but Anna is also faced with a difficult choice between a Mennonite man and an Amish widower.
What Are You Going Through by Sigrid Nunez
A woman describes a series of encounters she has with various people in the ordinary course of her life, all with the common need to talk about themselves and to have an audience to their experiences, but when one of them makes an extraordinary request she finds herself drawn into an intense and transformative experience of her own.